2017 Top Women in Foodservice Technology Awards
According to the National Center for Women & Information Technology, more than half (57%) of professional occupations in the U.S. workforce are held by women, but they only occupy one out of four professional computing jobs. When looking at Fortune 500 Chief Information Officers (CIO), only 17% of those titles are women.

In its inaugural year, Hospitality Technology's Top Women in Foodservice Technology Awards seek to recognize outstanding women from both restaurant and solutions provider companies for helping to turn the tide and encouraging more women to enter technology fields.

Each of the following recipients are reimagining restaurant processes and operations while demonstrating excellence in leadership, inventiveness and skill. This year's nominees were among a pool of candidates that all demonstrated incredible passion and accomplishments. It gives great hope for future generations knowing that these women are not only shattering gender stereotypes but also simultaneously accomplishing great feats that are raising the bar for everyone — regardless of gender.

RISING STAR



Driving Business with Innovation
KRISTEN HOUSE Paytronix Systems

Shepherding more than 250 features through the product pipeline, House has handled some of the seismic changes in the Paytronix interface, including introducing cloud-based pay-at-the-table mobile apps, Campaign Center changes, one-to-one survey functionality, location-based geofence messages, and more.

House facilitated the launch of more than 65 mobile applications for Paytronix customers, such as Sprinkles, Pinkberry, Lettuce Entertain You, and Garbanzo. She was the driving force behind the Paytronix white-label mobile apps, designed to get apps in the hands of the guests quickly for merchants without the heavy price tag of custom applications.

House helped introduce Paytronix app Geofencing which enables restaurants to leverage spatial and temporal data on program members who are in the vicinity of a restaurant. As a program member crosses a customizable radius of a specific store, the geofencing module surfaces a message to the member's device. Because each message is integrated into the rewards platform, retailers and restaurants can ensure that each is targeted appropriately.

According to House, her greatest accomplishment to date involves her collaboration with California Pizza Kitchen (CPK) CIO Andy Mai on the development of a next-generation CPK mobile app, which includes pay-at-the-table functionality. The app syncs with the Paytronix Rewards Platform, which underlies the entire CPK Pizza Dough Rewards program, via the Paytronix API. CPK's pay at the table mobile app is the foundation for much of Paytronix's next wave of its white label mobile application.

"As the competitive set heats up with fast casual concepts stealing share from casual dining and delivery and convenience stores stealing share from quick service brands, I see technology enabling restaurant brands to win that slipping share back," House says. "Delivering convenience to the guest will always require technology coupled with a vision that brings forth innovations that are serious business drivers rather than pure noise."




Giving Back Control of the Back-of-House
JOY UGI Orderly

In less than a year, Ugi increased Orderly's website traffic 3,006%, increased inbound leads 2,122%, increased sales qualified leads 6,100%, and played a crucial role in helping the company increase new sales 4,600% and overall revenue 125%. In the process, Ugi has helped more than 3,000 restaurants through the launch of Orderly's free mobile app, an invoicing and inventory app for restaurants.

Ugi has also been the sole producer of "50 Free Apps for Restaurants" and "The Quarterly Business Review" which are downloadable resources for restaurants that help them with efficiency and cost savings. She has also produced dozens of articles through the Orderly blog and guest posts that focus completely on restaurant technology, operational efficiency, and food purchasing trends.

"I like to say a career in foodservice technology chose me," Ugi said. "I was looking for a chance to build something big in a space that was untouched by competition. It was 'a match made in heaven.'"

Ugi is most excited about affordable, easy-to-use back-of-house technology, specifically technology that helps restaurants control costs and gives them back their most valuable asset: time.

"It just isn't talked about enough by restaurant industry experts, consultants, or media outlets," she says. "Yet it's the one thing that can make a practical improvement in a restaurant operator's quality of life and success as a business owner. Technology that helps you control these costs is going to make the difference in whether restaurants make it or break it."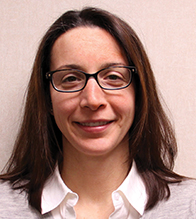 SQL Star Streamlines Enterprise-wide Ops
STEPHANIE NARDINI Jersey Mike's Franchise Systems
Nardini was hired in April of 2014 as the Database Administrator for Jersey Mike's Franchising Systems, a 750+ location fast casual franchise company. She was responsible for all aspects of a complex SQL Server 2012 Merge Replication environment with 1,200+ subscribers. Her responsibilities included: determining hardware requirements and assisting in selection of new hardware for a mission-critical database/application environment; installing, configuring, and supporting two SQL Server 2012 Failover Clusters; lead DBA on upgrade projects; and installing and configuring SQL Server 2012 and 2014.

During early planning sessions Nardini distinguished herself with strategic vision and management skills that were critical to the ongoing development of the department.

"From the day Stephanie started, I knew we had a star on our hands," says Scott Scherer, CIO. "Within her first few weeks she jumped in and took ownership of our databases. After months of analyzing, she highlighted our weakness in performance and barriers to scale. She then led a team of developers in a project that required the updating of every database in 750+ locations without any downtime for the stores."

Scherer says that at that point he recognized that Nardini was being underutilized. Following one promotion to lead the entire development staff, she was promoted again to Senior Director of IT. In this role, she is responsible for direction, coordination, and evaluation of the department.

Nardini develops and implements IT processes to consistently implement software changes and minimize issues. She is responsible for developing and planning strategic initiatives of the IT department, controls all aspects of line-of-business databases and applications, and is in charge of planning, reviewing, and directing all changes to applications and database platforms.

Among Nardini's accomplishments is the planning and implementation of the migration of mission-critical databases to a new hardware environment, which increased performance by more than 50% and ensured future scalability. She also led a team to create a proprietary online ordering system. Since the system's launch in April, online sales have doubled. Nardini coordinated the launch of a restaurant management system that has reduced labor and food cost by an average of 4% systemwide and under her leadership, her team was able to increase performance of key database functions by 99%.




Making Smarter Systems
MUKTA JOGLEKAR BlueCart

As a senior engineer for BlueCart, Joglekar has many responsibilities. In addition to writing application code for BlueCart's platform, Joglekar helps monitor and manage the company's infrastructures hosted on Amazon Web Services. She also created monitoring and alert agents on its virtual servers to detect abnormal behavior or server issues that might occur, and she supports the company's operations team on a weekly basis in troubleshooting customer inquiries.

Described by coworkers as the "most dependable, well-rounded engineer on the team," she is able to break down problems into smaller components and present both the advantages and disadvantages of various implementation options to the management team.

Proficient in Javascript-based technologies, specifically AngularJS framework, she uses the program to create HTML pages that are dynamically loaded based on user actions. Each page is optimized and rendered so that a user can perform actions on the page as soon as they land on it.

Joglekar also designed a system where all user click events are stored. These click events are stored in a dedicated data storage where a separate application is built to retrieve and perform analytics. This helps BlueCart to understand how its users are using each button, link and menu option. With this data, BlueCart can review feature offerings and make appropriate adjustments.

INNOVATOR



Where Marketing & Technology Collide
SHERRILL KAPLAN Dunkin' Brands

Staying current with technology can be daunting when you have legacy systems and a vast franchise network to contend with. Kaplan, a marketing technology expert with 15+ years' experience, faced this challenge head-on when she joined the Dunkin' Brands team five years ago, ultimately helping to transform the 65-year-old restaurant brand into a leader in the digital space.

As the vice president of digital marketing & innovation; Kaplan led the development of the DD Mobile App, the DD Perks Loyalty Program, Dunkin's mobile first loyalty program; On-The-Go Ordering; digital wallet integrations; Apple Pay and Android Pay integrations in restaurant, as well as delivery and catering pilot programs. She leads all digital innovation for the brand,and is responsible for all digital platforms including DunkinDonuts.com, customer relationship management, the DD email, plus payment innovation including the DD Card, Dunkin's proprietary stored value card.

Since its launch in 2012, there have been more than 16 million downloads of the DD Mobile App and among retail-branded apps, Dunkin' Brands has 3% penetration of all U.S. smartphone users according to Parks Associates research. Since its launch in 2014, less than two years ago, the Perks Loyalty Program, which ties to registered stored value cards, has reached more than five million members and is the fastest growing program of its type. In addition, Dunkin' mobile payments have been transformative to enable continuing improvements to speed of service and guest satisfaction.

"Kaplan's keen understanding of how disruptive innovation can drive the business forward is directly responsible for Dunkin' position as a leader in both digital and payments," David Starmer, VP of IT for Dunkin' Brands says. "By introducing and advocating a mobile first approach to consumer engagement, her vision helped transform Dunkin' into a leader in the digital space through the growth and development of a digital and innovation team at Dunkin' as well as numerous products, programs and platforms."

Starmer also reveals that improvements in top line sales, guest traffic and consumer sentiment is directly tied to Kaplan's efforts.

Kaplan continues to be thrilled when marketing and technology collide.

"I'm eager to see where mobile ordering and order anywhere goes next," she says. "I am excited by possibilities involving how the guest experience can be further transformed using technology that brings food/beverages to guests wherever they are."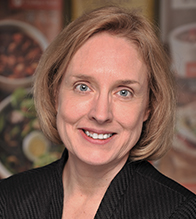 Innovating for Omni-Experience
ANITA KLOPFENSTEIN Panera Bread

With more than 25 years' experience managing high-pressure IT departments, Klopfenstein joined Panera Bread in 2013, right as the company was in the midst of its digital e-commerce evolution that came to be known as Panera 2.0. The timing was fortuitous as Klopfenstein was looking for an opportunity to take a leadership role at a foodservice company as the industry began to move into eCommerce, IoT and automation. After hearing Panera CEO Ron Shaich speak on how technology can change the face of the food service industry, she knew she needed to be a part of the company.

Klopfenstein took on responsibility for Panera's digital ordering capabilities, paving the way for delivering an omni-channel experience. Over the course of 18 months, Klopfenstein assembled a high-performance technology team that drove the consolidation of a fragmented third party eCommerce platform into a robust Panera owned and managed ecosystem that has outpaced the industry in functionality and scale. She played a key part in taking Panera from zero digital ordering to 50% of catering orders placed digitally and more than 22% of customer orders coming in through panerabread.com, an Apple mobile app, an Android mobile app, in-cafe kiosks, or catering websites. In addition she manages the myPanera loyalty platform as well as the digital marketing platforms.

"All businesses as well as technology have to innovate to be successful," Klopfenstein says. "I have always wanted to know how things work and how to make them better. At Panera, I have the opportunity to feed my passion. How can we use technology to enable a better guest experience?"

Klopfenstein believes that personalization is going to be a big push for foodservice technology as operators will all try to learn enough about guest preferences and order patterns to be able to ultimately suggest menu items.

"I am most proud of the consumer systems and IT teams we have built at Panera," Klopfenstein says. "Our team doesn't see walls or limitations. This award is a reflection of our team's collective efforts. I hope this award will encourage other women to get involved in technology so they too can have a seat at the leadership table. By celebrating our successes I hope we inspire a new generation of girls so they can use their passion for innovation to be the next leaders in our industry."



Catering Connections for Catering
STEFANIA MALLETT ezCater

Upon seeing a need in the marketplace to help foster an easier way for businesses to connect to catering companies, Mallett conceived the idea for ezCater, a nationwide marketplace that connects caterers and restaurants to businesspeople across the United States.

"I have been finding ways to enable business processes with technology since my very first job in high school, when I convinced the owner of the store where I worked to buy an electric calculator," Mallett said.

When ezCater was founded nine years ago, online food ordering and delivery was still in its infancy, as was the on-demand marketplace model. Today, consumer food delivery has become mainstream. As companies compete in an increasingly fragmented consumer market, ezCater is building its lead as the only nationwide marketplace focused specifically on business catering. To date, the company has established relationships with more than 47,000 restaurants and caterers, and has served more than 13 million business people and counting.

Notable milestones include: doubling the company size year-over-year for the past four consecutive years; adding more than 4,000 restaurant and caterers to a partner network last year for a total of more than 47,000; and more than doubling the number of people served on the platform — up to more than 13 million from six million in 2015.

Describing herself as "born impatient," Mallett constantly looks for ways to improve everything around her. Her high standards for improvement can be summed up by her philosophy that "impatience is the mother of invention." Not one to get hung up on something not working as well as it could, she figures out a way to make it better — and quickly.




Supply & Demand for Innovation ?to Streamline Ops
NA'AMA MORAN Sourcery

In founding Sourcery, a SaaS platform for invoicing and payments specializing in foodservice and hospitality businesses, Moran has leveraged her technical expertise in a myriad of areas to drive the company's vision, financing, business development and partnerships.

In 2016, Moran led Sourcery to 200% growth year-over-year, signing long-term contracts with new clients including Snap Kitchen, a fast growing fast-casual chain. In addition to running Sourcery, Moran has overseen the rapid growth of Restaurant Cheetah (340% y/y) — a last mile restaurant supplies delivery startup. Moran is responsible for signing an exclusive partnership with the largest foodservice retailer in the country, recruiting and coaching the leadership team and funding the company's operations. Restaurants buying ingredients via Restaurant Cheetah's mobile app have seen 10 to 40% savings on food costs, which amount to tens of thousands of dollars per restaurant per year.

"I am particularly passionate about online payments as well as foodservice logistics," Moran said. "I believe foodservice logistics and online payments are entering a new dawn, and for restaurants and service providers to keep up, they must meet growing market demand in the logistics and digital payments spaces.

Apart from continuing to grow Sourcery, Moran said she intends to enter a new area of FinTech (a line of business based on using software to provide financial services), with a new business that will launch in 2017.

INFLUENCER: LIFETIME ACHIEVEMENT AWARD



Fostering the Next Generation of Technology & Tech Leaders
KAREN BIRD Buffalo Wild Wings

In 2011, Bird joined Buffalo Wild Wings as vice president, information technology. Prior to joining Buffalo Wild Wings, she held leadership technology positions at a number of restaurant chains including: Whataburger, Brinker International, Advantica Restaurant Group, and Dunkin' Brands.

In Bird's five years with Buffalo Wild Wings, she established the technology architecture and framework that delivers all core business information to the Buffalo Wild Wings Enterprise. She was instrumental in the development of the strategy and plan that provides a unified technology platform for all domestic and international restaurants. This technology platform provides a standard POS system for the integration of guest-facing and business technologies in both company-owned and franchised locations. After implementing the standard POS system, Bird and her team were able to deploy tableside technology in the form of tablets. The tablets are the next generation of gaming and replaced the original physical games BWW provided its guests. Moving forward, BWW plans to enable the tablets to be payment capable, especially for EMV. Guests will then be able to pay when and how they want in a totally secure manner.

As for the future of foodservice technology, Bird sees it moving to the mobile space. "Both team members and guests are looking for us to interact with them using mobile technology," she said. "Last year we rolled out mobile scheduling to our team members, and I firmly believe that mobile will be the future iteration of these tablets."

After decades in the foodservice technology industry, Bird is a huge proponent of mentoring. She credits a general manager at the Burger King where she worked during high school for launching her career by asking her if she wanted to work in the home office. Currently, Bird offers guidance to coworkers through BWW's mentoring program, and has advised students from the University of Phoenix, her alma mater. Bird serves on the North Memorial Foundation Board, the NCR Advisory Board, and chairs the Franchisee Technology Subcommittee for Buffalo Wild Wings, North America.



Bringing a Human Touch to Technology
PAT DARLING Ctuit

With more than 20 years' experience in operations, customer service, and restaurant management, Darling joined Ctuit in 2006 to lead the Client Services Department. Darling steadily advanced up the ranks throughout her tenure, until achieving the position she holds today. Darling's ultimate goal is to help customers make their restaurant the best it can be. One of the ways she is able to achieve this is ensuring that customers fully understand the benefits of Ctuit's technology.

"Darling has a gift for marrying practical knowledge with highly technical software," one colleague notes. "She can break down the technology so that customers can embrace it, understand it, and not be intimidated by it."

Cultivating customer relationships has always been a top priority. She developed a forum where clients can request new product features and product enhancements. Each request is noted, reviewed and researched by Darling on a quarterly basis. She continuously mentors the client services team on best practices to cultivate strong relationships.

One of her biggest accomplishments was helping to develop a user-friendly product to assist customers in supporting state and federal labor laws. Being met with resistance, she had to convince developers there was a hole in the software industry that needed to be filled and the stakeholders it would be worth their investment. After two years, it is now one of the most sought after features by new and existing clients. Now, 100% of clients utilizing the Ctuit Special Pay Feature that Darling helped create are in compliance with state and federal labor laws.

"I am proud that I get to pass my passion on to others by leading a continuously growing team that provides unparalleled customer service," Darling says. "Technology is great, but there is no substitute for the human touch."