05/16/2019
Rapid-Fire Growth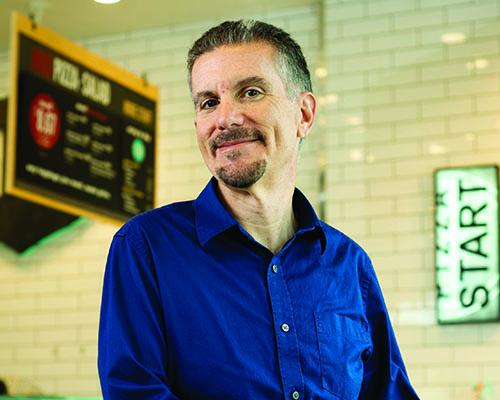 MOD Pizza was born out of a need to meet a very specific demand. Co-founders Scott and Ally Svenson had moved back to their hometown in Washington State and were struggling to find quick, affordable and customizable lunch options that weren't "traditional fast food" for their four growing sons.
The Svensons seem to have a knack for identifying opportunities for meeting "demand." The co-founders of Seattle Coffee got into the bean business in 1994 while the duo was based in London and Ally could not find a latte to her liking. After growing that chain to 75 locations, the Svensons sold the company to Starbucks.
Eleven years ago, after identifying the void of affordable lunch options — MOD Pizza was born. The fast casual pizza concept allows customers to build their own pizzas — with as many toppings as they want at the same price — and offers salads and classic artisan-style pizzas as well. The name itself, rumored to be an acronym for "Made on Demand," is actually a throwback to the "MODs" of the rebellious '60s in the UK and represents that guests have the option to MODify their pizza. The MOD story doesn't stop at pizza. For Ally and Scott, launching another brand would need to have purpose and that centers around people. This has proven to be the brand's differentiator — an emphasis on people first — from both the customer and employee perspective.
In 2018, the brand's leadership recognized a need to put more focus on its technology strategy and brought on industry veteran Robert Notte as vice president of IT. Notte was not only intrigued about helming the technology team of a brand with such high-trajectory growth — it is the fastest growing chain in the U.S. — but he also appreciates the opportunity to be part of building upon the success of a brand focused on creating authenticity powered by its digital components.
"It's a place where I can exercise my service leadership muscle," Notte says. "The brand leadership instills the people-first mentality in every aspect."  
scaling for success
While MOD is an 11-year-old company, 80% of the company's growth has occurred in the last three years. Today, the brand has just over 420 locations with approximately 70% corporately owned and 30% franchised. It also has nine stores in the UK. After Notte joined the brand as the leader of the technology team, he identified three main objectives to focus on.
First: implement an appropriate infrastructure that would support the brand's growth trajectory on platforms that will scale. Second: leverage new technology to optimize and automate workflows. Notte believes this is key to being nimble. Third: drive innovation in order to elevate customer experience both in-store and digitally. To deliver in all of these areas, he prioritized his focus on data. The company had a data platform that was initially built to handle the immediate needs of the company, but was not built to scale.
"We need data to better understand what's driving customers' actions," Notte says. "It was essential to invest more capital toward building a scalable data warehouse with AI and the right front-end BI platform.  Capturing the right data and having the right tools will allow us to perform more thoughtful analysis and make better business decisions."
A key goal for MOD is to build a one-stop shop for all its data needs to have the right data for the right users at the right time.
With so much growth happening over the course of just a few years, the company has not been immune to growing pains. To address them, Notte focused on making sure he had the right technology partners in place. Key was having stable and cloud-based POS, ERP and HRS platforms that could scale. 
Being 100% cloud-based has been a strategic advantage for MOD. Without the need for network administrators and server administrators, resources have been reallocated to have more of a business focus. Employees are now able to focus on things that have more of a direct impact on driving business.
"Another big advantage for us is that it simplifies the management of software," Notte explains, noting that SaaS providers generally manage software releases. "And cloud-based systems often simplify the ability to access data."   
MOD Pizza was a cloud-based company when Notte joined the organization. Since taking the helm of the IT department, he pays particular attention to how SaaS providers test updates. Since an update will hit all stores at once, Notte has seen the importance of monitoring how SaaS partners test, deploy and support software releases. 
empowering ops with integrations to grow biz vs. it functions
 
MOD Pizza's back-office follows a best-of-breed approach that Notte acknowledges makes integrations and open APIs mission critical. Beyond finding technology platforms that fit the company's needs, Notte stresses the need to make sure that a company won't hinder access to third-party data with restrictions or costs. 
To achieve integration across disparate systems operating in the cloud, MOD uses Dell Boomi an on-demand multi-tenant cloud integration platform for connecting cloud and on-premises applications and data. This enables MOD's cloud systems to talk to each other when an existing integration does not exist.   "Some of our current cloud platforms, such as Olo for online ordering and Punchh for loyalty, already have pre-built integration to Brink POS from ParTech, but for cloud platforms that don't, that's where Boomi comes into play," Notte explains.
MOD's back-office also runs Data Central inventory/labor management from Restaurant Magic and SAP S/4HANA Cloud plus SAP SuccessFactors. With a self-described "lean and mean" IT team, Notte explains that approximately half of the technology staff focuses on "keeping the lights on" and the administration and support of various cloud platforms. The other half is more analytics and BI-minded, more involved in meeting business development needs with technology.
"The goal is to optimize technology so our team doesn't have to grow at the same rate as the business," Notte says. "To do this we are looking to take advantage of more features and functionality from our current technology, enabling us to grow headcount minimally."
4 MUST-HAVES FOR MOD TECH PARTNERS
1) Ability to Scale
"Just because you're working with a cloud technology partner doesn't mean they're the right fit," Notte cautions. "Because of MOD's growth trajectory, our ability to scale is key and that goes for our cloud platform as well. We can't find out that systems are crawling because the cloud platform can't keep up."
2) Offers Access to Data
As an insights-focused business, a technology partner must make it easy for MOD to get to important insights from back-office (inventory and labor data) to customer insights. As part of its business intelligence strategy, Notte calls out the importance of adding a consumer data platform (CDP) to be able to look at consumer purchasing behaviors including: when and how often they are visiting; what they are buying; what promotions they are taking advantage of and then being able to critically analyze that information to leverage opportunities.
3) Innovation & Collaboration
"We're looking for strategic partnerships, not just transactional partnerships," says Notte. "We want partners that are willing to put skin in the game and that will offer a spirit of collaboration that will maximize value and benefits for both parties. We are Interested in what they have to offer in the field of innovation as we are always looking for that next new thing. We want partners that will provide us the competitive edge and elevate the consumer experience at MOD."
4) Strong Vendor Roadmap
Notte advises making sure potential tech partners have a cohesive plan for growth – both their own and for your company. "Look at their current customers. What companies do they have as customers that are bigger than you? It's not necessarily a deal breaker, but I might have concerns if we were the biggest fish in their pond."
enhancing digital customer engagement
 
MOD launched a loyalty program with its mobile app earlier in 2019. Notte expresses that the digital footprint of the brand is an extension of the in-store experience. The loyalty app is used to deepen engagement with guests through surprise and delight offers, gamification and opportunities for philanthropy. In the case of the latter, customers can choose to donate rewards to MOD's charity partner, Generosity Feeds, a nonprofit organization that helps feed hungry children.  
Examples of surprise and delight offers for loyalty members include sending messages to app users who regularly order a particular item and invite them to enjoy an order on MOD or regular patrons will be randomly incentivized to try an item they've never ordered before.
"It always starts with data," Notte admits. "We need data and the right tools to understand consumer behavior and shopping patterns. Having a loyalty program and mobile app allows us to access guest action data, enabling us to better understand behavior and deepen our relationship with guests."
Its recent loyalty deployment has given MOD access to data it didn't have before. Now the brand can marry that loyalty data with insights from the POS, demographic and psychographic data to get a more meaningful picture.
 Notte believes that the lines between in-store and online should be blurred so that the two experiences are as similar and as seamless as possible. As the company works to streamline ordering across channels, the brand is testing a number of different delivery options. MOD continues to look for ways to automate the complete journey from ordering to delivery, while capturing key data metrics along the way. By making specific operational aspects digital-first, Notte hopes to reduce friction, ultimately saving time and giving "MOD Squad" members more time to put attention on guests.
The focus on digital is paying off; in the last 18 months, the brand has seen online ordering almost double in growth as a percentage of sales. Notte attributes this partially to the steady improvement and reliability of the platform as well as the improved guest digital ordering experience. 
"Our vision in IT is delivering a better experience," Notte says. "This also applies to employees. Anything we can do to make their lives simpler, so they can focus more on guests, is important."