06/13/2019
Solving the Off-Premise Paradox
Between 2018 and 2023, delivery is projected to grow at more than three times the rate of on-premise sales, with the preponderance going to digital orders, according to L.E.K. Consulting's report, "Meal on Wheels: The Digital Ordering and Delivery Restaurant Revolution." From mobile ordering for in-store pickup to placing an order for third-party delivery, the customer experience is more digitally driven than ever. To deliver, both literally and figuratively, restaurants need to optimize technology infrastructure, with consideration for user experience, operations and data usage.
Diners opting for takeout and delivery are seeking convenience and will not tolerate clunky ordering processes. According to The NPD Group's report, "Delivering Digital Convenience," restaurant digital orders have grown at a 23% annual rate since 2013 and are predicted to triple by 2020.
A restaurant's app or website represents 70% of digital orders, and the remaining orders are through third-party apps or other types of apps or websites.
"Digital orders will remain an outsized source of growth for the restaurant industry over the next few years, and operators who desire to grow need to embrace a digital strategy," said David Portalatin, NPD food industry advisor, in a statement.
Managing an influx of orders from multiple channels can be crippling if the proper technology isn't in place. As the number of channels through which customers can engage with restaurants continues to grow and evolve, there's increasing need for omnichannel communication across restaurant systems. 
When it comes to third-party delivery, many operators are hindered by legacy platforms and point-to-point integrations. 
Direct integration of third-party delivery orders into the POS led to labor savings and order accuracy for Venezia's NY Style Pizzeria's five locations in Arizona. Venezia's signed on with several of the national third-party delivery services two years ago. In the beginning it was difficult because the orders were not integrated into the POS. 
"We had to constantly watch tablets or email for orders and re-enter them," explains Domenick Montanile, president. "Every week we were comping orders because of incorrect data entry. When you're entering the order manually, there's a chance for human error — sometimes wrong items are entered, address apartment numbers are wrong." A partnership with Chowly, a third-party delivery order integrator that worked with Speedline, Venezia's POS system, eliminated the need for manual order entry. Montanile notes the labor savings and increased order accuracy the company now enjoys as key benefits.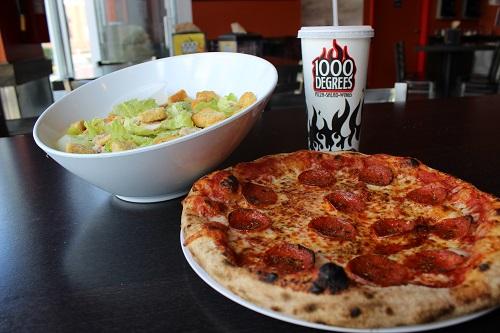 1000 Degrees Pizzeria launched its concept in 2014, but quickly adapted its format for third-party delivery. Its first locations were around 2,500 square feet in highly visible A-list areas. That was before the rise of third-party delivery. Forseeing the trend to order delivery and eat at home, the company downsized its floorplan.
"As soon as these [third-party delivery] apps began to come up everywhere, we knew we'd be relying on delivery in the future," explains John Feltes, director of franchise operations. "We brought locations down to approximately 1,600-1,800 square feet to reduce overhead. We could go into small shopping centers. With those savings, we could take that cut of 25-30% (for third-party delivery fees)." 
The New Jersey-based franchisor operates 44 locations and works with 25+ delivery services. Since its inception, 1000 Degrees has used Revel Systems integrated online ordering. Revel offers a cloud-based point of sale (POS) that has an API that directly integrates with delivery platforms or can be indirectly integrated. For some of its locations, third-party delivery now accounts for up to 40% of sales,
Feltes explains. 
Third-party delivery has presented quality control concerns for Kevin Melott with Reid Dorsett's Chick-fil-A franchise in Bloomington, Minn. Dorsett found a way for his Chick-fil-A to retain control of its lunch catering orders while driving sales with Foodsby. The platform allows office professionals in participating office buildings to place orders online or from the Foodsby mobile app with local restaurants and get it delivered for $1.99. Orders are managed and aggregated via Foodsby.com and the restaurant makes and delivers all of the meals at once. To retrieve the orders, the catering manager logs into the Foodsby website, prints the order which removes them from the queue. Each building receiving an order has a different symbol to mark the orders. Orders are loaded onto and moved into the building on a kiosk cart. Customers are notified when the order is delivered. Orders have to be placed by a specified time for same-day lunch delivery, and restaurant partners can select specific days that they would like to be featured on the app. Dorsett's Chick-fil-A offers a limited menu; it's a chance for the catering department to get out Chick-fil-A's "hero" products.
The four-year partnership has offered a level of control that other platforms don't. "We know exactly the time the order comes in and we're able to set the parameters," Melott says. That control also extends to concerns regarding data safety and security. With data breaches on the rise, Melott made the conscious decision not to integrate into the POS. "How do you keep your house from being robbed? You close the windows and lock the door," says Melott.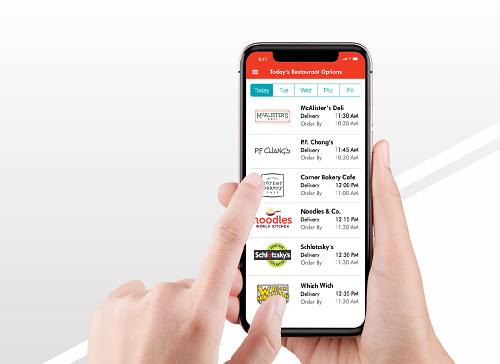 POS: Point of Self-Service 
The next generation of takeout will be greatly influenced by the increasing adoption of automated service options. By 2020, 85% of all guest transactions will be managed without interaction with a human, according to research from Oracle Food and Beverage's "What Matters Most to Restaurant Guests."
eatsa, the QSR turned tech company, was an early adopter with self-service ordering and pickup solutions when it debuted in San Francisco in 2015. Customers place orders solely via a mobile app or via self-ordering kiosks and pick up food from personalized cubbies.Tim Young, CTO and cofounder of eatsa, believes self-service transcends generations as long as it delivers on ease of use and personalization. "The more personal you can make it, the better customers feel about the experience and the more they want to re-engage," he says.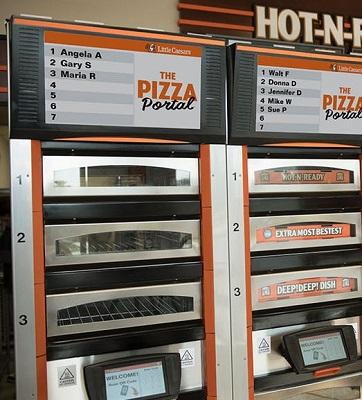 Little Caesars is "continually researching to understand what customers want, both now and in the future," David Scrivano, president and CEO said in a company statement. Last year, the company rolled out Pizza Portal, a heated, self-service mobile order pick-up station that was co-developed with Apex Supply Chain Technologies. The company's solution combines the convenience of mobile ordering and pre-payment with heated self-service pickup.
Customers can order favorite menu items or create their own pizza via the "custom pizza builder" on the Little Caesars mobile app, which notifies customers when the order is ready. When customers arrive they can skip the line and go directly to the Pizza Portal pickup and input a 3-digit pin or scan a QR code to open the secured compartment and pick up their order.
"We're using our Pizza Portal pickup and mobile app to expand our offerings, as well as evolve our business model in an increasingly diverse and digital marketplace," said Scrivano.Some brands that have embraced third-party delivery and mobile pickup "are struggling with operations and customer flow," says Young. "The orders pile up. Even if there's a pickup zone, guests don't know if their order is there and have to search through other bags."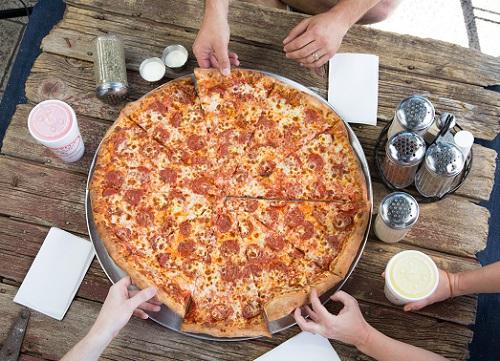 When it comes to order pickup, "we like to create a bit of magic in that moment," Young says. eatsa's two locations feature self-service pickup cubbies. It's an enclosed spotlight system that displays the guest's name and order number, "which makes the standard fixture come to life," Young says. It also keeps the order warm and prohibits customers from picking up the wrong order.
Data that Delivers
As customers are increasingly accustomed to using digital methods to order, there exists a greater opportunity to leverage systems to mine for data. 
"It is all about engaging with them the way they want to engage, and when you do engage with them, you can capture a digital footprint of them," says Young.
QSR giant McDonald's has had great success with third-party delivery worldwide and is working towards obtaining more data. By the end of the year, it plans to integrate delivery into its global mobile app, giving customers two ways to order delivery. In a recent earnings call with analysts, CEO Steve Easterbrook said the move will give McDonald's ownership of its customer data. 
"Whilst protecting all necessary privacy concerns, clearly we will be able to gather more customer data to begin to build up a better understanding of customers behaviors," Easterbrook says.
Venezia, which sees third-party delivery with integrated ordering as must-haves, recently built its own mobile app for pickup and delivery orders and plans to drive more direct orders through targeted offers. An integrated loyalty program is in the works, Montanile adds.
By the end of the year, 1000 Degrees aims to have 15-20% of its orders coming through its personal app for delivery, in-store pickup and dine in. Already, Feltes is seeing customers using the app in-store, "like a handheld kiosk."
eatsa has built a digital system that is tightly connected with customer data and the operational data in the back of house — it knows everything that's going on in the business, according to Young.
"It's more lucrative to provide digital channels where customers want to interact with you," Young says. "Looking at data, we know people's visit patterns, and we've learned a lot on how to tweak the experience to drive the best experience to make them long for that brand."