10/22/2018
Del Taco Reveals Plans for Mobile App, Third-Party Delivery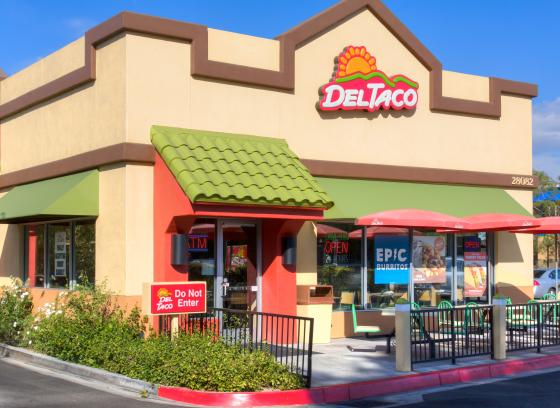 During Del Taco's third-quarter 2018 conference call, John Cappasola, President and CEO, revealed Del Taco's plans to launch both a mobile app and third-party delivery service in the near future.
In November, the company will launch the Del Taco mobile app with "enhanced marketing capabilities, including targeted promotional offers to drive guest frequency and the ability to support a future of loyalty program," Cappasola said.  "Our guests have been eagerly awaiting the launch of our app, and we believe this will help us limit any impact from deep discounts many competitors are offering on their own apps as we build our consumer database over time."
Cappasola went on to talk about the company's partnership with third-party delivery services including GrubHub, Postmates and DoorDash. Del Taco expects to offer delivery to the entire Los Angeles market beginning in November 2018 with a system-wide launch expected in 2019. Initially the company will only offer its products via GrubHub – which is "fully integrated into our POS" – as it expands third-party delivery nationally. Eventually it will add Postmates and DoorDash to its list of delivery providers.
"We believe moving toward a multiple DSP (delivery service provider) approach will position us to optimize driver coverage and maximize consumer demand across trade areas, as our testing to date indicates a significant increase in delivery occasions upon adding an additional DSP," Cappasola explained. "Our test and learn approach allowed us to optimize all aspects of our delivery program and we are now in a position to successfully provide another convenient channel to attract new guests."
During the Q&A portion of the call, Del Taco was asked further about its delivery model and rollout. The company, which had been testing delivery in Sacrament, Vegas and at a number of stores in Los Angeles for "some time now" said it was moving forward with third-party delivery primarily because of the positive results the testing had returned.
According to Steven Brake, EVP and CFO, the company took its time with testing to make sure it could optimize the delivery program to be seamless for its operators. Del Taco was also testing a variety of pricing models aimed at measuring guest sensitivy to premium menu pricing for delivery.
"So far, this testing definitely indicates a relatively low level of sensitivity and that puts us in a position to implement premium pricing for delivery transactions when we launch here soon," Brake noted. "So the good news there is that this premium pricing is going to go a long way to help offset potential restaurant margin pressure from the commissions paid to the delivery service providers. So we feel very good about that, and that it's going to be a favorable part of our another channel that's going to lead to same-store sales potential with appropriate margins."