MURTEC 2019 Delivers on Insights & Inspiration for Restaurant Tech Leaders
Get great content like this right in your inbox.
Subscribe
Dateline: Las Vegas
The 24th annual MURTEC (Muti-Unit Restaurant Technology Conference) concluded its 2019 installment on March 13 after three inspiring days of networking, idea-sharing and learning. With sold-out sponsorship and record-breaking attendance, MURTEC 2019 hosted nearly 900 technology executives from quick service restaurants, fast casual, full-service, upstart brands and solution providers attended.
With the theme "Powering the Possible," MURTEC fostered an environment for IT leaders to embrace an innovation mindset. Restaurant technology experts regardless of segment type and brand size, agreed that they face many of the same challenges and aspire to similar goals.
Throughout the event through lines emerged as presenters and attendees addressed the major issues facing restaurants today. As all restaurants seek to tread a line of service and providing customized convenience for today's digital-first diners, the need for technology solutions is greater than ever. MURTEC covered it all – from Artificial Intelligence (AI) to delivery to kiosks and of course how all of that needs a strong integrated infrastructure to support it.
There was much to take in, but here are six fast key takeaways from this year's event:
1. Spike It. "Inspire an innovation mindset in your technology teams. Train staff to think outside of the box to solve business problems." – Kesha Williams, Chick-fil-A, shares how she leads quarterly "Spike It" teams. These teams of four to five members have a 24 hour period to pick an innovative idea, pursue what's next and develop a proof of concept.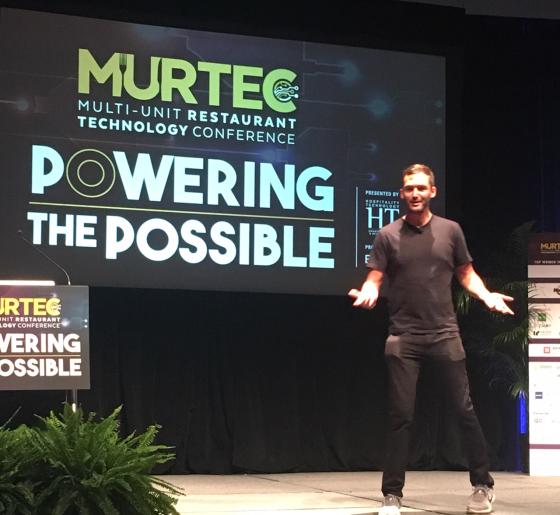 2. Probe the Adjacent Possible: Matter Becomes Mind. Keynote Jason Silva, encouraged attendees to explore what exists at the edge of comfort zones. He envisions a world where AI meets IoT (Internet of Things) creating a new Intelligence of Things. In this space, physical things will be "enlivened with intelligence" and we will live in a world that "knows what we want before we do."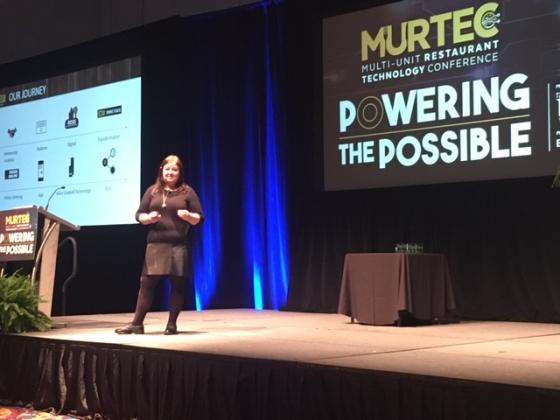 3. Solve for your Biggest Detractor. Laura Rea Dickey, CEO of Dickey's BBQ shared how the brand gets buy-in from its operators by making sure that any solutions get a seal of approval from the toughest to please. "You have to get the fundamentals right," she says. "It might not be sexy, but look at the problems and challenges you have and be solutions-driven and never forget to solve for the end-user."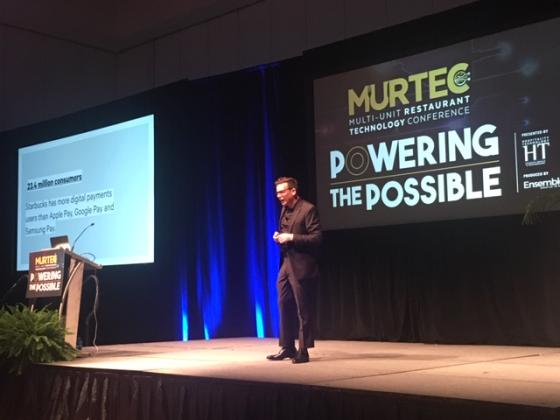 4. Don't Chase KPIs. Kelly Smith, chief digital officer of MGM, reminds that it's impossible to write checks for digital disruption. He cautions against chasing key performance indicators. Instead he suggests the mindset shift of thinking of KPIs as validation of a goal when it comes to technology investment.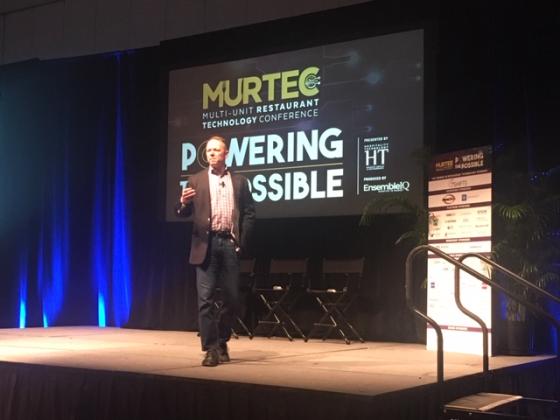 5. Emotional AI. Oliver Wagner, analytics consultant, encouraged attendees to build infrastructure to support the fundamentals of AI. With this the next generation is closer than you may think. Disney is already using facial recognition to gauge audiences' emotions and reactions to movies – "it leverages what people do versus what they say," Wagner explains.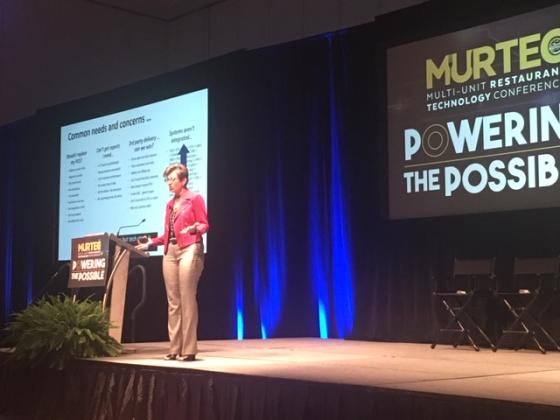 6. Delivery: An Old, But New Disruptor. The 800-pound gorilla in the industry is delivery as no segment is immune. As one attendee said, "providing the option for food delivery is a must" and enabling this will require a thoughtful look at systems. Delivery was the topic du jour in many MURTEC sessions. The Restaurant Technology Network hosted a brainstorming session at MURTEC on March 12, that revealed the hyper-focus on delivery. The session "Meet RTN and Help Mold Workgroups that Work," was hosted by Patrick Dunphy, CIO at HTNG (Hospitality Technology Next Generation, www.htng.org) and the output from that session will launch a first workgroup focused on solving the struggles restaurants face with delivery. 
Tamy Duplantis, CIO, Return on Information Consulting, delivered a presentation on simplifying the tech stack for success that echoed the struggles many restaurants face with third party delivery. Duplantis outlined the need for systems integration in order for restaurants to "win" with third party delivery and getting the appropriate data needed to leverage for sales growth.