12/19/2016
Frictionless POS: 2017 POS Software Trends Report
Some call it the Uber Effect, some might say it is just a natural shift in generational practices and preferences, but all businesses — and therefore the point of sale — have been disrupted by the transformative power of mobility. With this, restaurants have been making investments in mobile payment and ordering options as they seek to find the perfect blend of agility, personalization
and security.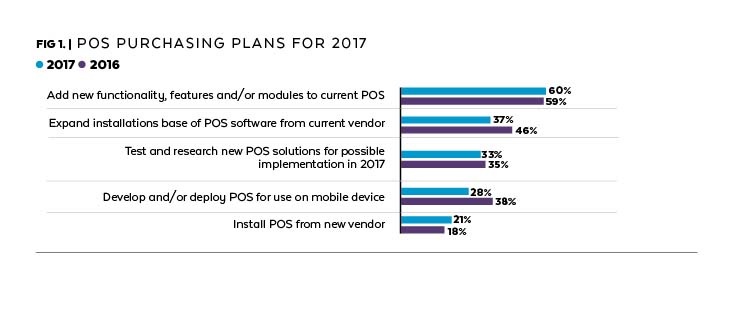 Every year, Hospitality Technology produces its POS Software Trends Report to gauge the current landscape and see what the near-future holds for POS investments.  To do so, HT queries restaurant operators during Q4 regarding POS purchasing plans. The upward trajectory of mobile is evidenced as you look back at these reports over the last four years. In 2012, only 38% of operators were interested in mobile POS. In 2017 more than half of operators (52%) say mobile POS capabilities will influence their next upgrade.  
 
This shift to enable mobility mirrors guests' increasing preference for mobile payment and ordering. According to HT's 2016 Customer Engagement Technology Study, 56% of diners say the ability to use mobile pay will influence their restaurant selection; this number goes up to 66% for take-out/delivery operations. One executive, when asked to identify the biggest trend that will impact POS software in 2017, said, "Mobility and accessibility to sell outside the traditional four walls while not creating a need for duplicate entry into the POS."

Technology suppliers are recognizing the need for enabling omni-channel experiences for restaurants. In a prediction for 2017 POS trends, Verifone told HT, "brick and mortar stores that begin to offer check-out and in-store experiences that are equal to or better than those available online, will have a major impact on POS software trends. This will happen as more customers become accustomed to sharing personal information with retailers, allowing them to create an engaging client experience where the customer can pay on their smartphone, at the counter or online."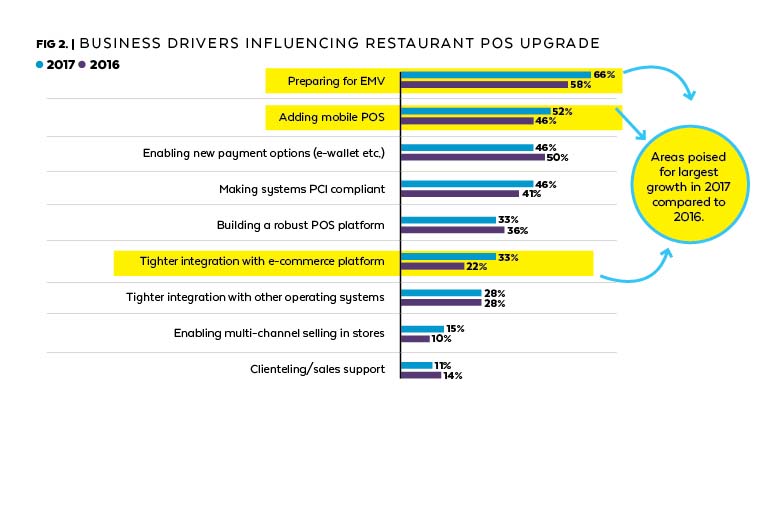 HT's survey shows a slight dip in spending overall in 2017 (Fig. 1). One of only two areas that saw modest growth from 2016 was those restaurants looking to add new functionality or features to existing POS software (60% in 2017 up from 59% in 2016). Also seeing an increase from 2016 was operators planning to install a new vendor's POS (21%, up from 18% in 2016). The next highest area of investment is expanding the installation base of POS software from a current vendor (37%), which is a dip from 46% last year.  Slightly more than a quarter of respondents (28%) plan to develop and/or deploy POS for use on a mobile device.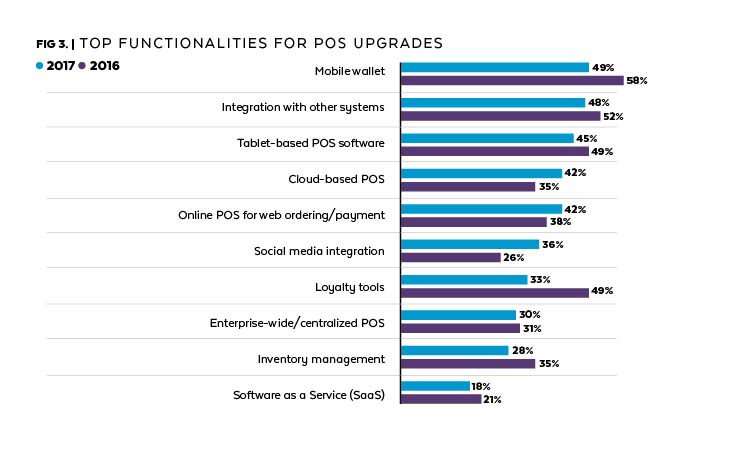 When asked to identify what business drivers will be influencing POS upgrades, the top two choices held their positions from last year: Preparing for EMV (66%) and adding mobile POS (52%). This is evidence that despite the EMV Liability Shift, which went into effect in October of 2015, many operators have delayed the implementation of EMV devices, due to costs still outweighing potential chargebacks. Also interesting to note is that the three areas that saw the largest increase from 2016 include: prepping for EMV (66% from 58%), adding mobile POS (52% from 46%) and e-commerce integration (33% from 22%). Figure 2 offers the complete list of business goals for POS software spending in 2017, plus a comparison to last year's ranking.

Finally, HT asked survey takers to rank the top functionalities for a subsequent POS upgrade. Mobile payment, integration and tablet-based POS held onto the top three slots with mobile wallet at 49%, integration with other systems at 48%, and tablet-based POS software garnering 45% of votes. The complete results are depicted in Figure 3 along with last year's standings.

One meaningful way to analyze technology trends is to probe the supplier community on where their focus will be in 2017. HT gathered insight from a wide range of POS software companies to find out about noteworthy 2016 technology releases as well as plans for 2017. Suppliers were also asked to detail what is being done to specifically address mobility and the shift to EMV, in addition to their predictions for what will impact POS software trends in 2017.

POS SOFTWARE SUPPLIER REPORT:
2016 RECAP & LOOKING AHEAD TO 2017
ACTION SYSTEMS INC. (www.rmpos.com) made significant advancements in bringing its two POS product lines to market. Duet POS went into a final round of beta testing in multiple concepts around the country while ASI's legacy POS product, Restaurant Manager, made SaaS solution advancements. Most innovative feature: ASI offers an RM Loyalty Service that communicates with diners' mobile devices and the RM Monitor app which restaurant owners and managers use to receive alerts and real-time reports about their businesses. In 2017, ASI plans to develop mobile payment integrations for both of its POS product lines. It's also working with several payment processing companies to provide fully integrated, omni-channel payment solutions.

AGILYSYS (www.agilysys.com) made advancements to its InfoGenesis POS and InfoGenesis Flex products including EMV-certified stationary and mobile terminals, hospitality-certified, durable and mobile tablets, EMV- and PCI-validated P2PE with rGuest Pay gateway, and improved offline capabilities. Most innovative features: EMV chip-and-signature, EMV chip-and-pin processing, PCI-validated P2PE, enhanced business intelligence with data analytics and reporting to evaluate business performance using rGuest Analyze, improved guest service with rGuest Buy kiosk, and integrated reservation, wait list and table management with rGuest Seat.  To address payment security: InfoGenesis POS and InfoGenesis Flex are EMV-certified and offer PCI-validated P2PE (point-to-point encryption) with rGuest Pay gateway. In 2017, Agilysys will continue its focus on streamlining operations across the organization and providing improved management controls. Additional focus will on reducing overhead and minimizing costs through increased workflow efficiency while also increasing guest satisfaction.     

CARDFLIGHT (www.cardflight.com) accelerated its rollout of EMV-enabled solutions by adding many processor certifications and card reader types. As of September 2016, 73% of its merchants are EMV-enabled. Most innovative features: Cardflight SDK offers a semi-integrated solution that allows iOS and Android app developers to incorporate EMV chip card acceptance into their own custom mobile apps without having to take on any PCI scope or perform their own EMV certifications – cutting nine to 12 months of development time down to a few days.

CLOVER NETWORK (www.clover.com) reduced EMV transaction wait times to under three seconds and debuted Clover Go, a Bluetooth payment EMV-enabled card reader that plugs into any tablet or smartphone and connects via WiFi or cellular network and allows businesses to accept payments outside the traditional brick-and-mortar setting. Clover also built Clover Online as a way of getting small businesses the tools they need to create and design websites, create a virtual shopping cart, and facilitate safe, secure online transactions. The integration between Clover Online Store and a Clover POS device allows a business owner to monitor sales on one platform regardless of whether the transactions take place online or in-store. Most innovative feature: Clover transformed POS from a device to a platform, enabling merchants to run the applications they need without having to support multiple different devices and environments.

CUSTOM BUSINESS SOLUTIONS INC. (www.cbsnorthstar.com) finalized its EMV certification with Vantiv, TSYS, Heartland and First Data and integrated with HotSchedules and Compeat. Most innovative features: A cloud-based POS system built for multi-units, it offers operators an online portal where restaurant professionals can manage all of their restaurants in the same space. Within that portal, operators can leverage handheld POS, order-at-table, online ordering, mobile ordering and kiosk ordering. In 2017, the NorthStar platform will be available on Microsoft Windows.

FUTURE POS (www.web.futurepos.com) will release Version 6 by the end of 2016. It offers a web-based back-office that includes a built-in drag-and-drop analytics tool. It will also launch Android-based pay-at-the-table solutions for EMV that uses its cross-platform mobile POS app. In addition, Future POS will deliver SQL data in the cloud. Most innovative features: Future POS offers a mobile POS app that runs on both Android and iOS. In 2017, Future POS will leverage its new HTML5 Back Office to offer a serverless "tablet to cloud" solution as an entry level product for customers who can't afford a full Future POS system. It will use its new web-capable back office as the foundation for its multi-store cloud Enterprise.

NCR (www.ncr.com) extended access to its core Aloha POS capabilities by expanding its APIs. Doing so provided a consistent and robust method to integrate with the POS. Most innovative feature: Extending the consumer's ability to connect directly into the kitchen of their favorite restaurant using their own smartphone. To address payment security: Rather than offer a single product or solution, NCR addresses the broader issues around payment and security — point-to-point encryption, EMV and mobile wallets — by extending its Connected Payments platform into restaurants. Through this platform, restaurants are able to choose their preferred payment device hardware and their preferred processor.

ORACLE HOSPITALITY (www.oracle.com) moved its enterprise food and beverage platform into the Oracle Cloud with the release of Simphony 2.8. With its move, Oracle is able to offer greater security and improved performance to food and beverage operators. Oracle brought Simphony to cruise ships, hostels, casinos, and sports and entertainment venues. Plus, the Oracle MICROS Workstation 6 became the Workstation 6 Series with two additional models added to offer greater processing speeds and memory power. Most innovative feature: Simphony can run without Internet connectivity and operators are able to access POS and back office applications on mobile devices. In 2017, Oracle Hospitality will be continuing to invest in its Simphony Cloud platform, ensuring support for all types of food and beverage operations as they innovate and grow, from limited service and table service, to stadiums and leisure facilities.

PARTECH INC. (www.partech.com) invested in and began building a new digital platform which is 100% integrated into its cloud-based Brink POS Software Solution. The initial focus was on mobile self-ordering, but the company also built a "mobile first" cloud reporting solution for its PixelPoint POS Software. It's a reporting solution with pivot capabilities designed for all touch screen devices and web browsers. Most innovative feature: The company built online ordering, loyalty, and kitchen display capabilities into its existing cloud-based Brink POS technology solution eliminating the need for the additional work and cost of external integrations, while still offering Web API for integration partners to make sure its customers have choices and migration paths. In 2017, the company will offer the convergence of ordering, payment, loyalty, and marketing through a single built-in self-service digital ordering platform, The Brink POS Software Mobile App.

PCMS (www.pcmsdatafit.com) redesigned its UI to make it easier to setup in the back-office and for front-of-house staff to use, added new sign-on methods and screen flows to make the staff journey simpler, enhanced mobile solutions by allowing tablets/mobile POS to be carried to the customer, and implemented mobile printer and card machine options so fixed tills are no longer necessary. Most innovative feature: Its POS platform allows functionality to be shared and makes it easier to implement, train, use and maintain. It also updated table management to allow multiple table statuses rather than just "occupied," helping staff easily identify the stages of the customer journey.

REVEL SYSTEMS (www.revelsystems.com) developed RevelGuard, a self-healing device that is able to detect all issues in a client's network including POS peripherals and then report the issue back to the user and support team. Most innovative features: When a credit card is swiped on an iPad, the information goes straight to the processor without touching the cloud or retailer, preventing common security breaches. In the event of an internet outage, Revel's Always On Mode allows customers to continue processing transactions. To address payment security: Revel Systems refuses to store credit card information in its POS system, backend server or on the cloud. Doing so provides hackers with the opportunity to steal the data. Instead, Revel encrypts data during the card swipe and that data is only unencrypted through the processor or gateway so that no one can access the unencrypted data. In 2017, Revel is looking to automate all store operations with IoT devices.

SALIDO (www.salido.com) incorporated user feedback to customize the reporting, user interface design and integrations capabilities. The company introduced labor management and inventory beta solutions for several customers. Most innovative feature: Offering full stack functionality across POS, labor and inventory. Chefs, owners and managers can access this data via Salido's dashboard, viewing multiple locations at once on one system. In 2017 Salido will be releasing labor management and inventory solutions to all of its customers. The solutions will allow restaurants to see their sales, labor costs and food costs on one platform.

SHIFT4 CORP. (www.shift4.com) enabled 70+ POS and PMS software companies to quickly adopt EMV with all major processors by completing a single integration to its DOLLARS ON THE NET payment gateway. Beyond offering EMV, Shift4 also offers the layered security of point-to-point encryption and tokenization. Most innovative feature: Ability to centralize auditing, reporting and card-data security across complex hotel environments, compensating controls to supplement the weaknesses of EMV including layered security and offline capabilities to keep lines moving even when Internet connectivity is lost. In 2017, Shift4 will grow its mPOS solution, VT4, which allows hoteliers to extend their payment processing by adding mobile revenue centers at the pool, golf course or anywhere else.

SHOPKEEP (www.shopkeep.com) enhanced its reporting and inventory tracking functionality, created new payment plans, and offered payment plans with no up-front hardware costs to make its services more accessible. Most innovative feature: ShopKeep's Pocket App allows operators to access real-time business performance from their smartphone.  In 2017, ShopKeep plans to further leverage its acquisition of Ambur, an iPad POS system designed specifically for restaurants, to empower restaurant owners and managers to run an enhanced, smarter business operation.

SOFTTOUCH POS (www.softtouchpos.com) integrated EMV payment processing, including tip adjust functionality, and released its second generation of DineBlast Mobile which offers online ordering, mobile payments and 1-click reordering. Most innovative features: Touchless SignOn authenticates POS users based on proximity to workstations and Mobile Dashboard which offers real-time data analytics and reporting on a mobile device.

SPEEDLINE SOLUTIONS INC. (www.speedlinesolutions.com) offered a range of menu enhancements to make it easier for a chain to administer a core master menu across the brand, while allowing exceptions for individual regions or locations. It also introduced a way of connecting multiple third-party online ordering systems and aggregator apps with the POS allowing restaurants to deliver orders from third-party systems faster and more efficiently, saving operators thousands of dollars in labor costs. Most innovative feature: The LiveMaps visual dispatch system offers live-traffic visual dispatch technology, digital wall maps, heat map analytics and native navigation to support restaurant deliveries.

SQUIRREL SYSTEMS(www.squirrelsystems.com) enhanced its management and reporting features to support multiple revenue centers at larger properties such as hotels and resorts, made scalability enhancements to support a larger number of POS terminals and/or mobile devices, and completed certifications with several U.S.-focused processors for both pay at the table and tethered EMV devices. Most innovative feature: Operators have secure access to their data and the ability to integrate with an ecosystem of third party solutions. The platform can be customized to meet the enterprise-level needs of professional restaurant operators. In 2017, Squirrel will focus on mobility enhancements to support improved front-of-house efficiencies and guest experiences, as well as cloud-based above store reporting enhancements to provide greater insight to restaurant managers.

TABLESAFE (www.tablesafe.com) took steps to achieve PCI, PTS and EMV certification. Most innovative feature: RAIL, a PTS certified pay-at-the-table platform designed for full-service restaurants. It's housed inside a patented billfold that replicates the traditional folio a restaurant uses to deliver the guest's check. RAIL accepts both current and future payment methods including traditional Mag stripe, EMV, NFC, QR/UPC code and credit card companies' mobile payment applications. It allows guests to securely self-insert or self-swipe credit, debit or chip-enabled cards or pay with their phone while keeping their credit card and identity securely under their control.  It allows the guest to auto-calculate the tip, split the bill multiple ways, pay-by-item, and receive email receipts. In 2017 TableSafe is pursuing EMV certification.

TALECH (www.talech.com) launched a redesign of its iPad POS app to improve usability and navigation. Most innovative features: Kiosk Mode, a self-service experience which allows customers to order and pay using the iPad. It also offers Customer Insights and Campaigns which gives a real-time view into customer behavior including visit frequency, spend and preferences. To address payment security: talech uses PCI-compliant payment gateways for credit card processing, and its Register app is PA-DSS certified. It follows stringent development processes and runs its application through static and dynamic security analysis for each major release as well as extensive security penetration testing. It has layered security and access controls including and instruction detection system to protect cloud data.
 
TCPOS (www.tcpos.com/us/) allows third party applications such as mobile, e-commerce and call centers to access its business logic and data to deliver a seamless and consistent experience to the consumer. Its omni-channel web service API allows these channels to access single pricing, promotion, and its loyalty engines to simplify the workflow and eliminate the existence of redundant business logic for these processes throughout the enterprise. Most innovative features: The flexible platform allows a technical business analyst to adapt specific POS and back-office functions to execute to a customer's specific needs. If it is not flexible enough, the POS platform is architected with many user exits so a developer can build a custom plugin to meet the customer's requirement. In 2017, TCPOS will move additional back-office business logic to be cloud-based, extend its omni-channel web service API to address real-time scenarios with ERP and other third party loyalty systems, and add additional capabilities to its "conversational ordering" feature.

TOAST INC. (https://pos.toasttab.com/) launched self-serve kiosks, streamlined the integration of its online ordering capabilities into the company's entire platform, began tracking customer data through multiple touchpoints in a central database so operators can better understand who their customers are, and became compatible with Samsung Pay. Most innovative feature: Toast debuted a new API Partner Program allowing its POS data to power platforms such as CrunchTime, Paytronix, Compeat, CTUIT and Peachworks, and partnered with Elo to offer touchscreen computers in tandem with Toast's restaurant software platform.

TOUCHBISTRO (www.touchbistro.com) integrated with applications such as Avero, 7Shifts, QuickBooks, Square, iZettle, the Moneris IWL220 and the PayPal Chip reader to streamline operations and improve the customer experience. It invested in its cloud infrastructure and expanded its cloud-based functionality, such as automated daily cloud backups, new cloud management reports, and the ability to export all cloud reports in a CSV format. Most innovative features: Wait staff can take customer orders and payments at the table from an iPad, orders taken on an iPad are transmitted to the kitchen or bar electronically which reduces wait times for customers, and the interface incorporates time saving features such as one-tap item ordering, automated bill splitting, multiple menus, and drag-and-drop floor plan editing.

VERIFONE (www.verifone.com) will focus on the consumer experience during 2017 with further development in customization and personalization at the POS. In 2017, Verifone is bringing Verifone Carbon to market. It's designed as a portable countertop with dedicated merchant and consumer-facing tablets for business and consumer management and is powered by Intel's high-speed chipset for fast processing.

VIVONET (www.vivonet.com) moved its entire Cloud POS platform to Amazon Web Services (AWS) for improved security and stability and improved its API for integration with PMS like Opera, during 2016. It also linked its cloud-based back-office tools to its POS platform, giving users rich insights and information to make decisions that improve their business, developed a dual-mode POS system that can flip to a self-serve kiosk, allowing customers to continue to generate revenue and provide products during those non-peak hours with no overhead, and began offering the ability to consolidate various POS systems data to a single source. In 2017, the company will invest heavily in its cloud architecture, to be able to offer a more reliable and powerful SaaS platform. It will also offer a tighter integration with POS and back-office tools for richer data insights, multiple language support and a continued focus on its API.