Viceroy Hotel Group Will Debut New Samsung/ALICE Smartwatch
Get great content like this right in your inbox.
Subscribe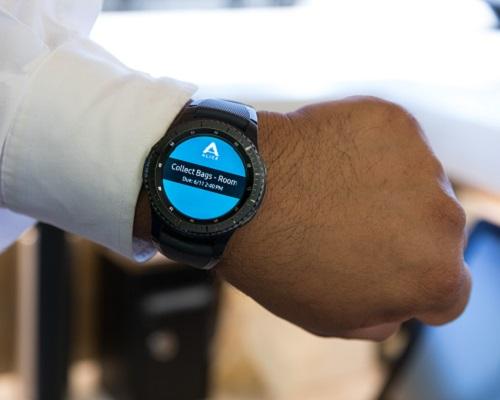 Samsung Electronics America Inc., and hotel operations platform ALICE introduce a new hotel management solution that uses smartwatches to improve staff communications, speed responsiveness to guests, and enhance customer service.
With connected, LTE-capable smartwatches easily accessible on their wrist, hotel employees in key operations – such as housekeeping, maintenance, and bellman service – can manage customer requests and resolve incidents more quickly and efficiently across departments.
 The wearable solution was created by Samsung SDS, which is Samsung's software and solutions organization. The solution combines the ALICE hotel platform and a Samsung Gear S3 smartwatch to help hospitality workers—who are often mobile—enhance productivity and guest service through 'hands-free' connectivity. Luxury hotel company Viceroy Hotel Group brought together ALICE and Samsung, and will be first to implement the digital solution to help Viceroy's employees, who are constantly on the move.
 With this solution, when a guest request or urgent need arises (i.e. towel delivery, broken toilet, luggage pickup), the department's employees receive silent vibration alerts via the smartwatch on their wrist. The appropriate employee can respond to and accept the task with a tap of the smartwatch, informing staff that someone is attending to the guest.  Managers can efficiently track tasks in real-time until service is completed.
The joint solution will debut at the HITEC 2018 conference in Houston, Texas, with demonstrations at the Samsung booth 1929 and the ALICE booth 2319 from June 18-21.
Transforming Hotel Communications
Samsung and ALICE's hands-free solution is ideal for hotel staff who need to handle objects and complete tasks with both hands, while keeping eyes focused on nearby guests. This includes maintenance workers on a two-handed repair job, room service carrying trays and housekeeping handling cleaning devices and who do not have instant access to phones. This also eliminates risks of dropping devices on the job, silences disruptive radio communications, and does away with hotel 'corkboard' check-ins.
In addition, the solution helps personnel across the hotel improve responsiveness, a key component of service in the industry, where most requests are interruption-driven and ongoing preventative tasks are superseded by reactive customer requests. Completing even mundane tasks –from fixing a clogged toilet to providing special VIP service—must be attended to in a responsive, quick matter to ensure success. 
Accelerating Service
Viceroy Hotel Group, a modern luxury hotel brand with hotels and resorts around the world, will be first in the hotel industry to test the Samsung-ALICE wearable solution. The hotel is deploying the Samsung-ALICE smartwatch solution at their Viceroy L'Ermitage Beverly Hills property to provide staff with an easy-to-use device that is supportive of mobile workflows and contributes to customer satisfaction. With plans to roll out the wearable solution across their portfolio of hotels, Viceroy plans to shave minutes off each task-based request as a result of the smartwatch approach, increasing efficiencies.  Minutes make all the difference in service-based environments, which must remain sensitive to a guest's time.
"In the true spirit of connection, it's been exhilarating to bring together two leaders in their respective industries to help discover new ways to create game-changing solutions that will advance the hotel industry," said Darren Clark, Vice President of Technology at Viceroy Hotel Group. "We are excited to be an intrinsic part of the creative process by finding ways to make the smartwatch an integral, productive part of our strategy, and provide our team with seamless, real-time communications with guests."
 The solution will be available this summer. For more information on the ALICE platform, visit here.
Samsung is at HITEC booth 1929 ALICE is at HITEC booth 2319