Kiosks Drive Up to 40% Lift on Orders: Appetize
Get great content like this right in your inbox.
Subscribe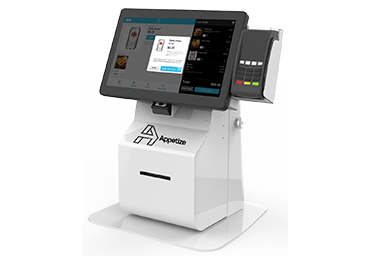 Appetize, a Point of Sale (POS) and enterprise management platform, announced strong results from its self-service kiosk technology seeing up to 40% increase in order size across its customer base.
Appetize is at the forefront of a growing industry shift toward self-service kiosks and has recently expanded its kiosk reach with new customers Louisiana State University, AT&T Center, home of the San Antonio Spurs, and SSA (Service Systems Associates), foodservice provider for the Cincinnati Museum Center and other attractions.
Appetize's Interact self-service platform offers embedded upsell functionality and data shows that consumers are 47% more likely to add an item on a kiosk than when asked to do so by a cashier. The company is seeing consistent results from kiosks across multiple industries, including attractions, education campuses, restaurants, and sports and entertainment facilities. Some recent data shows customers are experiencing both an increase in order size and items per order, including:
AT&T Center selected Appetize to be its point of sale platform arena-wide in 2018, and in 2019 they deployed self-service kiosks and have seen an 18% increase in average order size.
SSA (Service Systems Associates), a food service provider for leading cultural attractions, deployed Appetize self-service kiosks at attractions like Cincinnati Museum and saw a 40% adoption rate in less than six months and a 20% increase in average order size. 
LSU deployed Appetize self-service kiosks in its arena and has seen a 16% increase in average order size and 25% more items per check at kiosks compared to terminals at point of sale counters.
"We have been working with Appetize since 2017 and recently deployed kiosks to enhance our food service and offer a more convenient and frictionless experience for our students and guests," said Matthew LaBorde, Assistant AD from LSU. "Appetize made it extremely easy for us to deploy a self-service platform and shift toward the future of ordering at athletic events."
Designed to enhance the guest experience and increase staff productivity, Appetize's cloud-based self-service platform, Interact, gives businesses an intuitive checkout interface with custom menu ordering and branding for both Quick Serve and Retail environments. The platform also includes a back of house management suite, real-time connectivity for fulfillment and cashless payment experience, and more.