HT-NEXT 2019 Panel to Discuss Evolution & Efficacy of Staff Alert Tech
Get great content like this right in your inbox.
Subscribe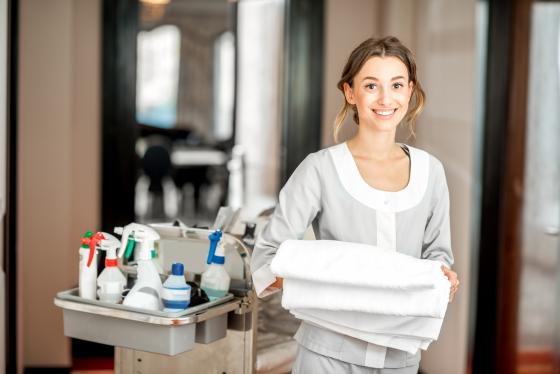 During HT-NEXT, attendees will have the chance to listen to a panel discussion on the topic: "The Evolution & Efficacy of Staff Alert Technology." The safety and comfort of staff and guest is a fundamental element of hospitality and in many respects, a legal requirement of operators. Many new technology innovations have emerged to aide in this responsibility. This panel will talk through the landscape of security risks, threats, and vulnerabilities while talking through what solutions are available and identify emerging opportunities to integrate solutions used either within properties, or by public agencies, or both.
Panel participants include:
Nicole Fessler, Director of Risk Management, White Lodging Services Corporation. Fessler has been with White Lodging since 2002. As director of risk management, she is responsible for workers compensation, OSHA/safety, DOT regulations, general liability, emergency procedures, and background checks/drug testing. She received a degree in Human Resources Management from Purdue University and the Certified Workers Compensation Professional (CWCP) designation from Michigan State University. By utilizing a collaborative approach with the risk and information technology departments, White Lodging successfully launched staff alert devices in the Chicago locations this past July.
Clarence Izzard, Global Director of Safety & Security, Marriott Vacations Worldwide. Izzard's work for the last 28 years has regularly put him at the forefront of creative new risk management strategies, including developing, implementing and directing security and safety programs in the hospitality industry globally. Adept at risk management for hotels and resorts facilities. He provides threat & risk assessments as well as successfully championed cost-effective programs and procedures to heighten security awareness, asset protection, and adherence to security requirements.
Katie Lee, Director, Hospitality Systems, Sonesta International Hotels.  
The panel will be moderated by Armand Rabinowitz, Sr. Director of Strategy & Workgroups, HTNG. Armand leads strategy with a mission to foster collaboration among industry members working to improve technology that is critical to business operations in the globally connected era. Armand excels at bringing people and products together to create new technology solutions. Armand also focuses on enabling the HTNG workgroups to continue the tradition of creating educational content, solutions and standards. Armand has a bachelor's degree from Vanderbilt University's School of Engineering. Armand has an extensive background in information technology and emerging technology, working for over a decade in the technology and hospitality industries.
Hospitality Technology (HT) and Hospitality Technology Next Generation (HTNG) are collaborating for the third year in a row to host HT-NEXT 2019, a unique conference for the hospitality technology industry. HT-NEXT 2019 will take place April 8-11 at the Hilton Riverside Hotel in New Orleans.
HT-NEXT (https://www.ht-next.com) brings together hotel technology solution providers with leaders and influencers from leading hotel companies spanning IT, finance, marketing, distribution and operations. In 2018, the event attracted nearly 600 hospitality professionals. After the event, 87% of these attendees said they met a valuable new contact at the show, and 97% of attendees said they brought back a specific idea to implement at their organization.
HT-NEXT features emerging trends and the ability to dig in to work together to solve current industry problems. The program will feature thought-provoking keynotes, diverse educational sessions, HTNG workgroups and a technology exhibit hall for attendees to discover cutting-edge solutions. The Hotel Visionary Awards and the HTNG TechOvation Award are also presented live during the event.