HITEC 2019 NEWS: Beekeeper to Unveil 'Documents' – a Digital Library for Frontline Teams – at HITEC
Get great content like this right in your inbox.
Subscribe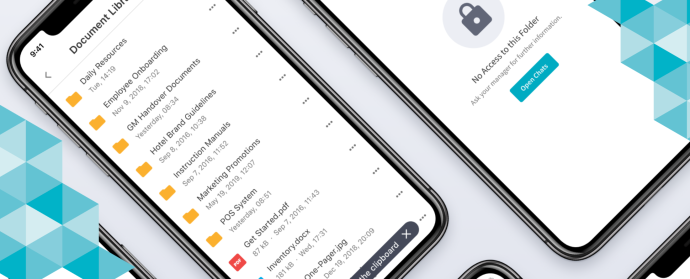 This month, digital workplace app developer Beekeeper will unveil a new feature at HITEC Minneapolis that will serve as a digital library for a hotel's non-desk workforce. The new feature, called "Documents," will enable hotel administrators to share work collateral with specific teams, departments, or locations in an easy-to-navigate folder structure that employees can access from their mobile devices. Managers can own and edit folders for their teams or locations, ensuring every employee finds the exact, locally relevant information they are looking for. Documents on Beekeeper will be on display June 17 to 20 in Booth 919 at the Minneapolis Convention Center.
Documents on Beekeeper saves workers considerable time by providing the most up-to-date information in one place. It also prevents employees from sharing sensitive documents ad-hoc via Dropbox, Google Docs or private messaging apps. Anyone who has ever scoured email, combed through old chat logs, or waded through an unorganized Google Drive to track down that one document that was absolutely needed for a time-sensitive project, will appreciate the convenience of Documents on Beekeeper. It's an organized, clean, secure, digital document library that's already connected to your team's favorite collaboration platforms. It's easy to access and it contains every document employee's will ever need. 
Engaging Employees with 'Documents'
Engage Hospitality is the first hotel company to go live with Documents on Beekeeper. Stephanie San Juan, Director of Strategy and Implementation for Engage Hospitality, is responsible for overseeing all communication efforts for the San Francisco-based management company.
"Engage Hospitality is growing pretty fast – we actually doubled in size over the past two years – so quality onboarding is a major priority," San Juan said. "Documents enables us to onboard new hires everywhere from start to finish with the right information in a highly accessible format. Before Documents on Beekeeper, it was difficult to share relevant material with our new hires or onboard GMs at new properties. This information was kept on our department heads' laptops, so if someone was on vacation, it presented a real challenge."
"With this new feature, we are storing year-over-year GM reporting, along with HR and onboarding materials," she said. "We are also running training via Documents, holding everyone accountable for informing themselves and maintaining the Engage Hospitality standard. This new Documents capability is great for facilitating our continued growth, and it saves our HR professionals valuable time, allowing them to focus their efforts on more high level, strategic initiatives." 
With Documents on Beekeeper, hotel admins can:
Increase alignment between teams, getting everyone on the same page regardless of their location

Easily onboard new properties and personnel with the latest brand guidelines and SOPs

Improve individual productivity 

Save time for frontline teams

Eliminate ad-hoc document sharing on private messaging platforms

Upload relevant documents for location-specific teams

Create a home for essential reporting and handovers

Present relevant paperwork to everyone in one central location
Documents on Beekeeper Difference
Documents on Beekeeper differentiates itself by serving as a highly targeted, location-specific document sharing tool for mobile device users. It gives distributed workforces the right information specific to their locations; this is crucial for ensuring operational efficiency.
To pre-schedule an appointment with Beekeeper during HITEC Minneapolis, email [email protected]. To learn more about Beekeeper and its award-winning employee-engagement platform, visit www.beekeeper.io/hotels.