Tech Startups Showcase Their Products During Comcast NBCUniversal LIFT Labs Accelerator
Get great content like this right in your inbox.
Subscribe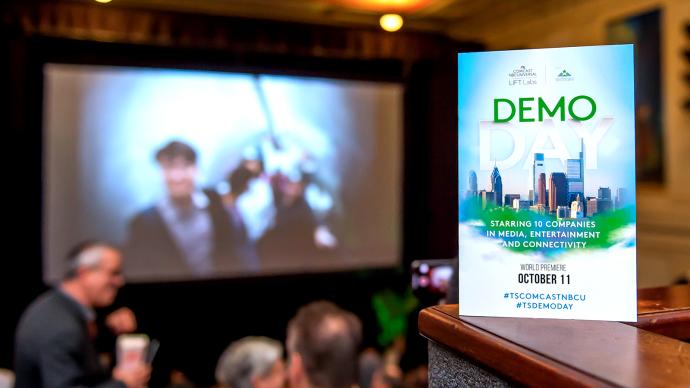 Ten tech startups from around the world who are building innovative media, entertainment, and connectivity companies showcased their products and stories on Thursday at "Demo Day," the finale of the inaugural Comcast NBCUniversal LIFT Labs Accelerator, powered by Techstars.
A founder from each company took center stage at The Franklin Institute and pitched their business to hundreds of investors, mentors, Comcast NBCUniversal team members, and Philadelphia's tech and startup community, while a global audience watched online via livestream.
During the 13-week accelerator program, the 10 companies worked with more than 50 mentors across Comcast NBCUniversal, including Comcast Cable Chief Business Development Officer Sam Schwartz; Senior Vice President of Strategy & Business Development for Universal Pictures Pank Patel; and NBC President of Digital Enterprises Maggie Suniewick to refine and test their business models.
Mentors that engaged with the startups also included executives from the NBC broadcast and cable networks, Universal Studios, Universal Theme Parks, DreamWorks, Comcast Business, Strategic Development, Comcast Ventures, LIFT Labs, and the teams that build XFINITY products and services. Comcast NBCUniversal mentors joined an esteemed Techstars community that includes over 75 mentors who have deep industry, investment, and entrepreneurship experience.
It was announced during Demo Day that many of the startups landed pilot projects during their time in the accelerator, and others are in the works. As of Demo Day, three of the companies are maintaining a presence in Philadelphia after the program, where Comcast NBCUniversal is headquartered.
In the last 13 weeks, the companies learned from more than a dozen talks from founders of companies, multiple media trainings, and hundreds of business meetings. They also recently visited NBCUniversal headquarters at 30 Rock to meet with executives and participate in practice interviews with CNBC Squawk on the Street, TODAY, NBC Nightly News, and Your Business with JJ Ramberg.
Of the ten startups, two in particular are already working with the hospitality industry to implement their products or software. Those two are: alive5 and Pium.
alive5 alive5 offers the easiest way for small-to-medium-sized businesses to engage customers and accept payments on any digital messaging channel. The company supports over 800 customers, including 200 of the top pro and college sports teams, major hotel brands and Comcast Spectacor. alive5 is now partnering with Spectra Venue Management, which manages hundreds of venues throughout North America, to pilot alive5's messaging and concierge services.
Pium, New York City and Seoul, South Korea: Pium allows you to experience a variety of mood-boosting scents throughout your day with one connected device and a subscription-based scent platform. The company has plans to partner with Universal Parks and Resorts and Loews Hotels to offer a sneak peek of the product to hotel guests.
Comcast NBCUniversal LIFT Labs will begin accepting applications for its second accelerator class, run in partnership with Techstars, scheduled to begin next July in Philadelphia. Founders from around the world who are serious about developing the next generation of media, entertainment and connectivity companies are encouraged to apply starting in January 2019 by visiting https://lift.comcast.com/accelerator/.
Comcast has a long history of supporting startup communities and LIFT Labs is just one of the many ways in which entrepreneurs can gain valuable access and insights to Comcast NBCUniversal. Comcast launched its first venture arm in 1999, and in 2010, Comcast Ventures was formed and has since grown into one of the most active corporate venture arms in the country.  LIFT Labs, with its first location in the new Comcast Technology Center opening later this year, offers programmed talks, mentor sessions with Comcast NBCUniversal employees and partners, plus events and other educational resources designed to help entrepreneurs launch and grow their businesses.  For more information, including access to free resources, visit www.ComcastNBCULIFT.com or follow @LIFT_Labs on Twitter.