Starbucks Vet Joins eatsa as CEO
Adam Brotman has been appointed Chief Executive Officer of eatsa, effective immediately. Tim Young, former CEO and eatsa co-founder, will continue to lead product innovation and technology development for the company in the role of Chief Technology Officer.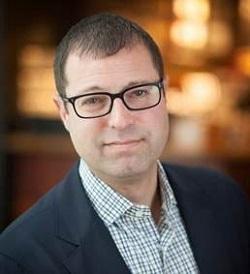 Brotman joins eatsa following his most recent role as co-CEO, President and Chief Experience Officer at J.Crew, where he was responsible for launching their first-ever loyalty program. Prior to that, he spent a decade in various leadership roles at Starbucks, where he served as Executive Vice President of Global Retail Operations as well as Chief Digital Officer. A long-time technology innovator,  Brotman was CEO and co-founder at PlayNetwork, a provider of digital music and video services for restaurants and retailers worldwide, prior to his time with Starbucks.
 Brotman's deep industry expertise across the restaurant and retail technology industry will be a significant asset to eatsa as it continues to build out its ordering and loyalty offerings. During his time at Starbucks, he was integral in developing and driving much of the company's best-in-class digital platforms, such as loyalty, mobile apps, mobile payment, mobile ordering, customer-data driven personalized marketing, promoted and social media strategies, digital partnerships, and more. In addition, after being CDO for Starbucks, Brotman was responsible for store operations at the company, covering such areas as order fulfillment operations, deployment, store technology operations, labor scheduling, and more. 
eatsa is a San Francisco-based technology company providing software, hardware and data solutions to the restaurant industry. The eatsa Platform is an end-to-end data-driven technology solution for customer engagement, ordering, fulfillment, and pickup that drives mobile adoption, creates efficiencies in labor, increases throughput and elevates the customer experience for restaurant operators. eatsa currently provides technology solutions to brands including Wow Bao, MAC'D, Evergreens and Deliveroo.