04/24/2018
MURTEC Wraps Up Another Successful Restaurant Technology Conference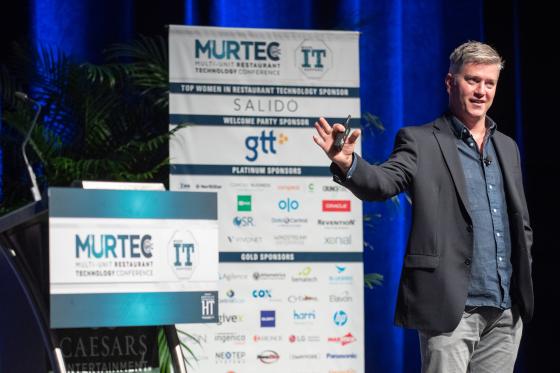 LAS VEGAS—The Multi-Unit Restaurant Technology Conference (MURTEC) wrapped up another successful conference in Las Vegas on April 13.

Now in its 23rd year, MURTEC is the gold standard for restaurant tech education, networking and solutions. Produced by Hospitality Technology (HT), the event took place April 11-13 at the Paris Hotel in Las Vegas.

With the theme, "Where IT Happens," MURTEC 2018 provided attendees with the opportunity to learn from and network with individuals that could help them improve digital customer engagement and loyalty. More than 750 executives from both restaurant and technology companies attended.

Information technology executives from quick service restaurants, fast casual, full-service and upstart brands were in attendance.
 
Educational sessions covered a variety of hot topics including: data security, self-service, automation, kiosks and mobile POS, beacons, EMV and P2PE, Internet of Things, guest Wi-Fi and more.
 
The robust schedule included power panel discussions and MURTEC University. Now in its fifth year, MURTEC University sessions were led by topic experts and open to operators only, this year's sessions included: Architecting a Digital Transformation and Redefining eCommerce; Decoding Loyalty Data to Get Beyond Discounts; Payment & Innovation Security.

Operators shared some of their best advice during the Power Panel discussions, Avoiding Integration Pitfalls; Guest Experience of the Future: De-stressing the Guest and Removing Friction.
 
Robert Stephens, founder of The Geek Squad, delivered the opening keynote, sharing how he took a creative idea and scaled it, and along the way transformed tech support. "There's always a way to outmaneuver the competition," Stephens said.

Day 2 included a networking luncheon with 18 topic tables, each moderated by an operator. Topics included: Incentivizing Employees by Using Data to Set, Measure, & Reward for Performance; Integrating Self-Serve Tech to the POS: Improve Service & Ops with Kiosks & Tablets; Leverage Technology for On-Demand Data Delivery; Leveraging Tech to Attract & Retain Millennial and GenZ Workers; Capitalize on Analytics Investment to Improve Restaurant Performance; Challenges and Solutions for the Self-Service Experience; Don't Let 3rd Party Delivery Derail Your Bottom Line; Using 3rd Party Delivery Services and their Impact on Your Restaurant; Topic: Securing SD-WAN: Why it's Mission Critical; Delivering Order Accuracy with Speed & Service; Finding the Right Technology Balance to Increase Revenue & Guest Satisfaction; Transforming Customer Engagement; Secure and Future-Proof Your Network for a Dynamic Guest Experience; Data Deciphered: Strategies for Managing Labor and Food Costs; eSecurity & Protecting Your Brand from Today's Cyber Criminals ; Mobile Technology: How to Engage Customers and Manage Your Business Better;  QSR Technology: The Good, the Bad & the Ugly; and, Systems Integration: The Secret to Better Customer Engagement.

New in 2018, MURTEC offered guided Tech Tours of the solutions available on the show floor. Each tour was organized by solution category and stopped by 8-10 exhibitors to give attendees an introduction and overview of vendors in Analytics & Enterprise Management Solutions; Accounting, Back Office & Labor Solutions; Payment & Cash Management Solutions; POS Hardware & Software; Networking & Security Solutions; Kitchen, Inventory & Supply Chain Solutions, and eCommerce, Mobility, Loyalty / CRM. Tours ran approximately 30 minutes and were repeated so that operators could attend multiple tours.

The schedule included fast-paced, concurrent MURTALKS. Within a framework of 20-minutes, speakers offered attendees valuable perspective on six topics: Epic Fails: What I learned from APIs That Aren't What They Seem; AI as Reality for Restaurants; Behind the Automation Experience: New Approaches for a Self-Serve World; What I Learned From Giving Kiosks a Second Chance; Beyond Bitcoin: Blockchain as a Future-proof Tech Strategy; and Delivering on the Delivery Experience.

The schedule included longer breakout sessions: Restaurant or Tech Company? How to Become a Modern Digital Organization. In How AI Can Improve Operations: Enhancing Guest Experience & Driving Sales, Benjamin Calleja, CEO, global restaurant design company Livit Design, shared how to use smart, integrated technology to create experiences that influence guest behavior and ultimately drive sales.
 
During 2018 Restaurant Technology Study Deep Dive, Daniel Connolly, dean of the College of Business & Public Administration at Drake University, and HT's Editor-in-Chief Dorothy Creamer, shared insights and gave context to the findings from HT's 2018 Restaurant Technology Study.
Operators are earmarking dollars for IT and more specifically investments in mobile and digital customer management. About half of operators (47%) claim they will increase technology budgets and only 7% plan to decrease spending this year. The lion's share of spending, 58%, is earmarked for CRM/loyalty/digital and mobility.

TOP WOMEN IN RESTAURANT TECHNOLOGY
The day concluded with the Top Women in Restaurant Technology Awards, sponsored by SALIDO. Now in its second year, these awards recognize leading women in technology. This year's honorees include Rising Stars: Caroline Wise, Tripleseat Software; Lauren LaFortune, Sage Hospitality; and Marissa Polichene, Toast. Innovators recognized for 2018 are Tamy Duplantis from Le Duff America; Anne Fischer Papa John's International; Mary Hamill, HotSchedules; Susan Lintonsmith, Quiznos; Veronica Luna, Taco Bell; and Michelle Matthews, Dickey's Barbecue Pit. Kathy Yeoman, Darden Restaurants, received the Lifetime Achievement Award.
 
Day 3 started with an action-packed hour. In Ten Minute Wins, six operators from four different companies shared a challenge they faced and the technology solution or strategy they implemented.
 
The IT Leadership Panel featured a frank dialogue with top technology executives from Hooters of America LLC, Potbelly Sandwich Shop, Sonic Drive-In and TGI Fridays.
 
MURTEC 2018 concluded with the closing keynote from Nikki Barua, co-founder and CEO, BeyondCurious. Barua, who spoke on How to Unlock Growth and Innovation Through Agile Intelligence, shared case studies about how brands were using technology to improve the customer experience and grow their businesses.
 
A detailed recap of MURTEC 2018 will be in the May issue of Hospitality Technology.
 
MARK THE CALENDAR
The 24th MURTEC will be March 11-13 at the Paris Hotel in Las Vegas.