Grubhub's Partnership with Yum! Brands Pays Off
Get great content like this right in your inbox.
Subscribe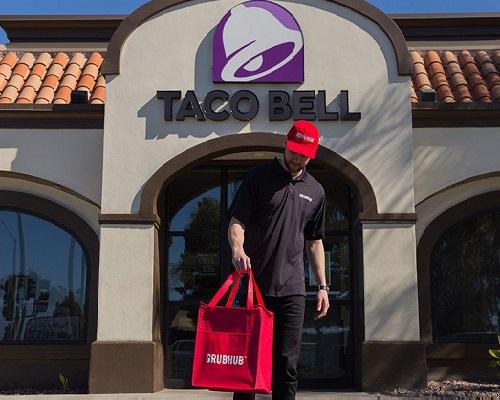 By all key metrics, Q1 2019 was stellar for Grubhub Inc.
The online and mobile food-ordering and delivery marketplace announced financial results for the Q1 ended March 31, 2019. The company posted revenues of $324 million, a 39% year-over-year increase Q1 2018. Gross Food Sales grew 21% year-over-year to $1.5 billion, up from $1.2 billion in the same period last year.
Grubhub processed 521,000 daily average orders, or Grubs, in Q1, up 19% from Q1 2018.
Active diners grew 28% year-over-year to $19.3 million in the first quarter; 1.6 million net active diners were added, marking another quarterly record of additions.
Give Them What They Want
In an quarterly earnings call with analysts, Grubhub said it feels that it is winning chain and enterprise conversations, because no one else has its combination of marketplace growth, delivery, delivery as a service, loyalty programs, including where the customer data is shared via POS integration.
During the quarter, Grubhub added 5,000 new enterprise locations by expanding our relationships with Dunkin Brands, PizzaHut, Auntie Anne's and Jersey Mike's among others, and launching a number of new enterprise partnerships, including Smoothie King, Halal Guys, Golden Corral and Smokey Bones.
To drive awareness, Grubhub increased advertising across all of its marketing channels, including TV ads.
A big driver of these KPIs is its partnership with Yum! Brands. Grubhub said its national campaign to offer free delivery to Yum! Brands' customers, including Taco Bell, was a huge success.   During an earnings call with analysts, the company said the campaign attracted many new diners to the marketplace. Diners that placed their first order with Taco Bell during the free delivery period are returning to Grubhub at the same or better rates as a typical diner, even after the free delivery campaign ended, the company stated. Some comeback and order Taco Bell again but the majority are trying other restaurants on the platform as well.
In other news, the Grubhub and Tapingo teams are also working together to create a unified ordering experience on college campuses. The integration is expected to be complete before fall classes begin.