Flippy the Burger-Flipping Robot Tests Frying Skills at Dodger Stadium
Get great content like this right in your inbox.
Subscribe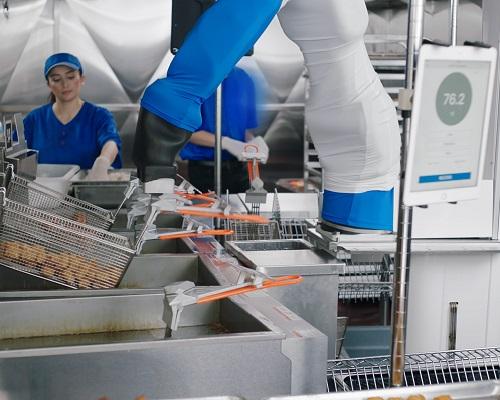 Flippy, Miso Robotics' burger-flipping robot, can also work the fry station. 
Miso AI cloud-connected platform now enables the company's autonomous robotic kitchen assistants to perform frying cooking tasks.
Working the Fry Station
The robotics and AI solutions company has been piloting Flippy as a frying assistant since July 30 at the Chick 'n Tots stand in Dodger Stadium, the home of the Los Angeles Dodgers. Flippy has helped stadium team members consistently cook and serve more than 10,000 pounds of fresh chicken tenders and crispy tater tots t fans, producing up to 80 baskets of food per hour.
"The robotic kitchen assistant helps us more quickly and safely cook perfectly crispy chicken tenders and tater tots," said Robin Rosenberg, VP and Chef de Cuisine for Levy. "It's amazing to see the kitchen assistant and team members working together, and the consistency of product is incredible."
Stationed in front of the fryer, Flippy assists with the frying process using three key Miso AI platform features: Miso See, Miso Serve and Miso Move. Miso See enables the six-axis industrial robotic arm to properly identify and locate food, cookware and cooking utensils, Miso Serve equips it to make optimal cooking decisions in real-time and Miso Move provides robotics control for safe and efficient grilling, frying and preparing food as assigned. Each allows Flippy to assist with picking up baskets and placing them in the fryer, gently shaking baskets in the oil and monitoring cooking time in addition to hanging baskets to drain excess oil, placing them at a designated station for temperature testing and skimming the fry oil. This permits team members to dedicate more time to food preparation and assembly as well as to improving the fan experience.
"New technologies at large scale venues and events like this need to add value for both guests and team members," said Jaime Faulkner, CEO of E15. "Working with Miso, we were able to create a process that both delivers high quality food more quickly, and gives kitchen team members a chance to hone sought after skills working with robotics and automation."
Flippy will continue frying at the Chick 'n Tots stand at Dodger Stadium through the end of the 2018 LA Dodgers season. Miso Robotics, Levy and E15 will continue to plan additional opportunities during the offseason and Miso Robotics will further expand the capabilities of its autonomous robotic kitchen assistants, as well as applications for Miso AI.
In related news, Miso Robotics' kitchen assistant product line has received full certification by NSF International for meeting sanitation standards for commercial kitchen equipment and secured an ETL Listed Mark by Intertek for meeting UL electrical safety standards.