Domino's Adds Virtual Dinner Bell to Mobile App
Get great content like this right in your inbox.
Subscribe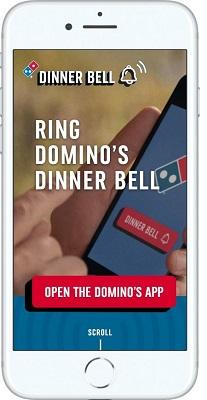 Domino's Pizza has added a virtual dinner bell function to its mobile app.
"Let's face it, sometimes yelling at everyone that pizza is here just doesn't work," said Dennis Maloney, Domino's chief digital officer. "Domino's virtual dinner bell makes that job easier, as it rings right on everyone's phones, no matter where they are, so that everyone is ready to enjoy their piping-hot pizza together."
To take advantage of Domino's dinner bell feature, customers must have the most recent version of Domino's mobile app and a Pizza Profile. Once logged in, customers can invite friends and family to join their dinner bell group. When the group leader places an order, they can ring the bell to notify family and friends that the order has been placed. When Domino's Tracker says the order is out for delivery, it will automatically ring the bell again to remind everyone to get to the table ASAP.
More details on Domino's dinner bell can be found at www.dominos.com/dinnerbell.