04/30/2018
Chipotle Teams Up with DoorDash for Delivery
Chipotle Mexican Grill has teamed up with DoorDash to offer delivery nationwide. The new partnership makes Chipotle delivery available from more than 1,500 Chipotle restaurants across the country, the company's largest delivery footprint to date.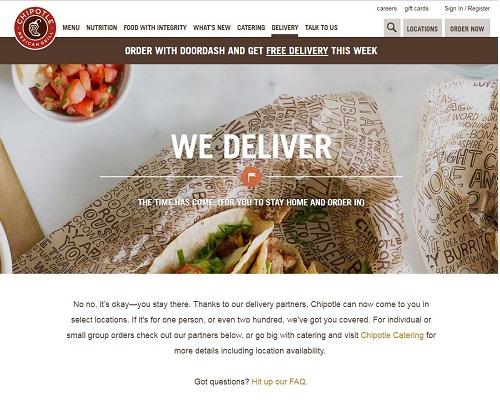 "Delivery is an important way we are making Chipotle even more convenient and accessible to our customers who want to get Chipotle delivered right to their home, office, or wherever they are," said Curt Garner, chief digital and information officer. "By partnering with a delivery leader like DoorDash, we are making it even easier for customers to enjoy all the real ingredients that make up our delicious food."
To launch this partnership, Chipotle customers are eligible for free delivery on Chipotle orders of $10 or more placed through DoorDash from April 30 to May 6. Chipotle customers in areas across the U.S where DoorDash is available can place their orders on the DoorDash mobile app or website.