Chicago's Hotel EMC2 Doubles In-Room Dining Sales in One Month Using Concierge Robots
Get great content like this right in your inbox.
Subscribe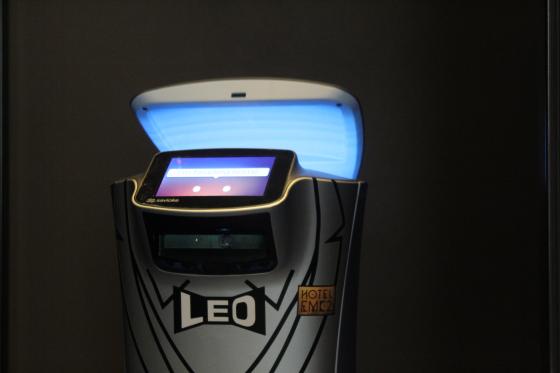 At the beginning of October, Hotel EMC2, an art and science inspired hotel in Chicago's Streeterville neighorhood, officially rolled out a room service delivery program that uses its in-house concierge robots: Leo and Cleo. This program, available 11 A.M. to 11 P.M., allows the robots to deliver a limited menu of food and beverage products to any of the hotel's 165 rooms. Items on the robot delivery menu include Windy City (assorted popcorn with Chicago Craft Soda), Pimento Toast & Old Style (pimento cheese spread, sourdough toast, four Old Style Beers), Milk & Cookies, as well as Assorted Pastries and a Fruit Bowl. Hospitality Technology reached out to Hotel EMC2's General Manager Mark Shouger to learn more about this program and how it has been received by guests so far.
HT: Is the menu constrained by the robot's size/space for carrying food?  
SHOUGER: The Chef has created specialty items which Cleo and Leo can both accommodate. 
HT: Is there a temperature control within the robot carrying space to help products hot or cold?
SHOUGER: Actually, specialized temperature and size appropriate, non-spill vessels were acquired for this purpose.
HT: Are there plans to eventually rollout more items on the menu?
SHOUGER: The menu will absolutely evolve over time to meet guest requests and highlight our Executive Chef and Pastry Chef talents.
HT: What has been the guest response to getting room service at their door by robot? 
SHOUGER: The response has been tremendous and all positive. In-room dining sales have increased almost two-fold. Here are some actual guest comments from social media reviews. Please keep in mind that these are just since November 1.
"You must try out Leo and Cleo, robots who provide you with various amenities like clean towels, coffee or many other things you may need."
"Cleo and Leo, the resident robots, can't help but bring a smile to anyone who gets a delivery or shares an elevator with them."
"Service was impeccable, anything we asked for, we had. There were 2 robots to deliver towels, personal items and select food items to your room."
"Robots will deliver water to your room, as well! So fun. Great place."
"The robots are a modern addition to hotel hospitality and it works. Very accommodating and friendly staff."
"The hotel is a modern, cool and hip decors with 2 robots to deliver items to your room."
HT: How do the robots improve the guest experience?  
SHOUGER: The robots offer a service, sure.  But they are also entertaining and a "WOW" factor for the guests who are often seen taking photos with them.  Many folks even call them by name!  They truly help differentiate Hotel EMC2 and the guest experience here.