Alibaba's Ele.me to Deliver Starbucks in China
Get great content like this right in your inbox.
Subscribe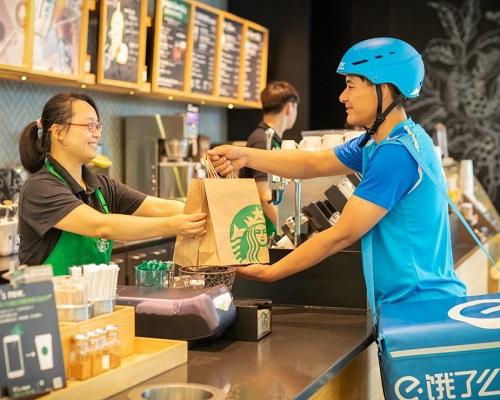 Working with Ele.me, an on-demand food delivery platform in China with 3 million registered delivery riders, Starbucks will pilot delivery this September in 150 stores in Beijing and Shanghai with plans to accelerate and expand its delivery program to more than 2,000 Starbucks stores across 30 cities by the end of calendar year 2018.
Both Starbucks and Ele.me, a division of Alibaba Group,  collaborated to develop a customized delivery infrastructure that has been meticulously determined each step along the way, including dedicated Ele.me delivery riders, precise delivery time, and custom carriers. Both companies have created a tailored order-to-delivery Starbucks program that parallels the experience and quality that customers have come to expect in Starbucks retail stores. Through this delivery partnership, Starbucks and Ele.me have pioneered a best-in-class coffee delivery service standard for Chinese customers.
Fulfillment and Delivery through Hema Supermarkets
In addition, Starbucks will partner with Hema supermarkets to be the first retail brand to establish dedicated "Starbucks Delivery Kitchens" within their locations. Locations in Shanghai and Hangzhou will open next month.
These "Starbucks Delivery Kitchens" will utilize Hema's fulfillment and delivery capabilities to complement the delivery of handcrafted Starbucks coffee and tea beverages offered through existing Starbucks stores. Starbucks will also leverage Hema's consumer insights and fulfillment expertise to further penetrate and better serve the needs of customers.
Belinda Wong, CEO, Starbucks China, said, "..Through our partnership with Alibaba, we are breaking the physical and virtual barriers between the home, office, in-store and digital space, making China the first Starbucks market to deliver a seamless Starbucks Experience across all facets of our customers' lives and further reflecting the uniqueness and strategic importance of the market."
Digital Innovations
A key strategic initiative under the partnership is the development of a pioneering, first-of-its-kind virtual Starbucks store in China. This digital partnership will see Alibaba develop a centralized online management hub, with the unique capabilities to integrate and deliver a consistent Starbucks Experience across multiple digital platforms. This innovation will transcend the traditional limitations of a single-app visit by providing the consumer an elevated, and even more personalized Starbucks digital experience across the Starbucks app and Alibaba's customer-facing mobile apps, including Taobao, Alipay, Tmall and Koubei.
This latest innovation will revolutionize the traditional offline-to-online model by extending the reach of the Starbucks Experience into the everyday lifestyle ritual of the Chinese consumer.