5 Tech Trends Shaping Guestrooms of the Future
Get great content like this right in your inbox.
Subscribe
WHAT'S INSIDE
What the Future Holds for Booking & Room Selection
Mobile: The Platform for Innovation
Adapting to Automation
TVs Evolve to Service Facilitator
Hotel Networks Flex Their Fiber ... and Muscle
EXECUTIVE ROUNDTABLE: How Guestrooms are Getting Smarter & Hyper-Personalized (Sponsored)
TECH SHOWCASE: Redefine Guest Convenience With ASSA ABLOY Hospitality Mobile Access (Sponsored)
TECH SHOWCASE: Crossing the Next Boundary with Telkonet's EcoSmart Platform (Sponsored)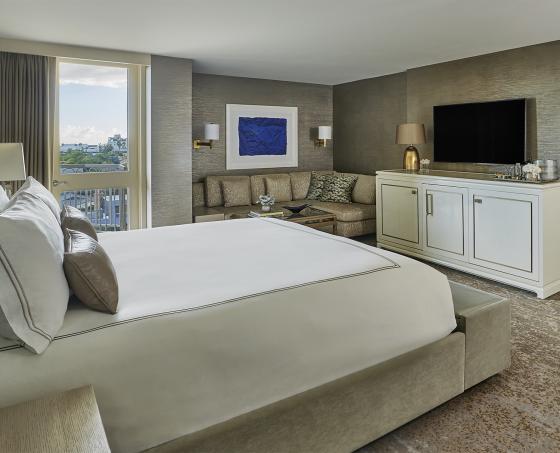 Guest experience is top-of-mind for hoteliers and should be for bottom-line reasons. According to Hospitality Technology's 2018 Customer Engagement Technology Study, almost half (48%) of consumers say that high-tech features in the guestroom will influence them to book at a particular hotel. In a broader sense, 33% said that a hotel simply having cutting-edge technology would drive a booking decision. IT investments for hotels, however, are notoriously skimpy – with the average technology budget coming in at 4% of overall revenue in 2017 according to Hospitality Technology's 2018 Lodging Technology Study. About three out of five (61%) of operators plan to invest more in technology in 2018, but with lack of budget and the burden of maintaining legacy systems being named the top two challenges facing hotel IT departments, putting IT dollars in places that will reap ROI is a top concern for those holding the purse strings.
In this special report, HT takes a look at five major areas where technology is going to shape the hotel guestroom in the near future and in many cases is already having an impact. These are areas that will require investment and can offer returns as HT's research reveals that 65% of guests are willing to pay more for hotels that offer the technologies they deem important.