08/11/2017
4 Tips for Restaurants Considering Chatbot Tech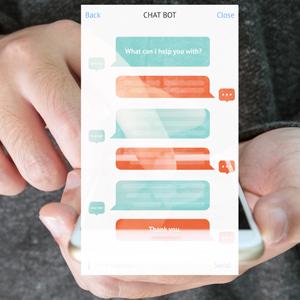 As consumers embrace messaging technology like Facebook Messenger, savvy marketers are looking for ways to monetize this growing, sticky mobile channel. Gartner has reported that 72 percent of respondents to its mobile messenger survey use a messaging app at least once per day. When you consider that Facebook Messenger alone now claims it has 1.2 billion users, that's a very big opportunity.
Enter "chatbots." A chatbot mimics human conversation using technology based on artificial intelligence, and enables consumers to engage with businesses using platforms like Facebook Messenger, voice-based applications like Amazon's Alexa and others.
Chatbots have evolved what was once a simple platform for consumers to exchange messages, pictures, videos, and GIFs into an expansive ecosystem with developers and businesses getting on board fast. As of April, USA Today reported an estimated 100,000 chatbots have come online.
Chatbots have started to become mainstream with restaurants for ordering, but they also offer are much greater opportunities to engage with consumers through new touch points, particularly with tech-savvy Millennials. According to a Retail poll, 86 percent of Millennials surveyed said that brands should use chatbots to promote deals, products, and services.
However, most restaurant brands are still determining how best to implement this new technology. This article from Punchh provides operators with a few tips as they consider the role of a chatbot in their business.
Messaging Apps Aren't Just for Ordering - While ordering through a messaging app has been the first wave of activity within the restaurant industry, expanded services are being rolled-out at a rapid pace, for example, enabling visitors to earn and redeem loyalty points. In the future, customers will also be able to pay for purchases, provide feedback, take surveys, redeem gift cards, play games and more using messaging apps. Restaurants can use these interactions to learn about and predict consumer behavior, and can then personalize and target loyalty members with offers that can then be redeemed directly from the chatbot or through any other channel. 
Don't ditch your app – Next-generation solutions are exciting, but restaurants cannot lose track of who their customers are -- and importantly, where they are. Chatbots make it easy to extend reach to customers who may have been reluctant to download an app, and can strengthen loyalty with the occasional visitor. However, restaurants should keep open every channel for communication, whether it be through the website, a mobile app, messaging platform, as well as in-person point-of-sale, to ensure every customer is engaged through their preferred method. Further, traditional restaurant apps target a restaurant brand's important, core loyal customers who can account for between 45-60 percent of overall sales. 
Consider the role of the bot. Depending on a restaurant's needs and/or audience, chatbot technology can act as a productivity tool. While on-site employees prepare and serve food, a chatbot can be used to answer basic questions like, "how many rewards points do I have?" or "Are you open on Christmas?" The use of the bot will depend on the experience a restaurant wants to offer visitors. And with millennials, who prefer to not speak with actual people, becoming a core customer group, chat bots will provide a bridge to the younger audience. As an

example

, millennials are already responsible for an increasing share of a U.S. pizza sales market expected to reach nearly $45 billion this year, with the 80 million millennials buying pizza expected to outspend baby boomers in 2017, according to the Pizza Industry Analysis 2016. 
Connect everything. Chatbots are not the silver bullet for driving sales, but needs to connect to your marketing systems and other technologies that you use. A chatbot is simply one more tool which can be used to gather intelligence which will enable a restaurant to better understand its customer preferences, how to best engage with them and inspire loyalty. However, whether it be a chatbot, an app, a website ordering platform, point-of-sale is the critical binding component to connecting the consumer with their purchase and preferences. Without it, every transaction is the equivalent of a one-off, cash-based purchase. Given the right data and customer history, restaurants can expand and adapt the capabilities of its chatbot through data, which can also help restaurants gather feedback which could affect everything from the food it serves, to the hours it is open.
Chatbot technology is still in its infancy. However, when you consider that 60 million businesses have sent a collective 2 billion messages on Facebook Messenger, the opportunities chatbots bring are inspiring. Restaurants that are not afraid to explore their role in a larger consumer engagement program will open their brand up to a much wider audience of tech-savvy, loyal customers who are quickly becoming the largest share of restaurant customers. Those who embrace this new technology will be rewarded with an expanding audience of customers and more efficiencies that will, in the end, contribute to higher repeat traffic and sales.