TrustYou Research Finds 83% of Digital Natives Say Online Reviews Play an Important Role in Their Booking Behavior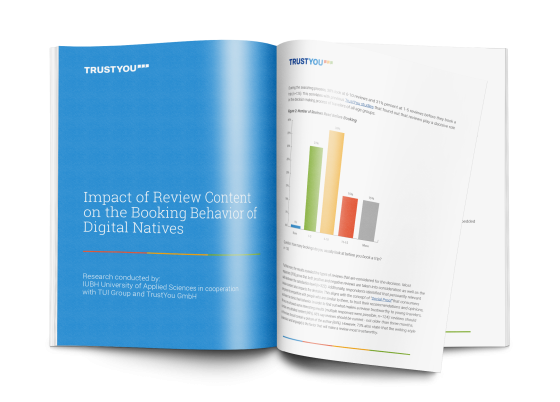 TrustYou announced the release of its latest research paper, highlighting the impact of review content on the booking behavior of digital natives. The free white paper is based on a study which was undertaken in collaboration with the IUBH International University of Applied Sciences and the travel company TUI. The study narrowed down its target group to consumers of the age of 18 to 28, born between the years 1990 and 2000 and unveils their preferences in terms of consuming online review content. Furthermore, the research reinforced the importance of review scores and widgets on hotel websites, OTAs, and tour operators, along with their role in guiding the purchase decisions of modern travelers. The study is available as a free download.
As the importance of a good online reputation undeniably impacts travelers' booking decisions, TrustYou has now participated in this research to target younger generations of travelers, born and raised in the technological era, pinpointing the exact review attributes that drive them towards a booking.
Among the findings of this study, the most important insights can be summarized in the following way:
83% of the digital natives say that reviews play an important or a very important role for making a booking decision

To trust a review, young travelers appreciate an authentic writing style (73%) as well as detailed (69%) and current (66%) reviews, not older than 3 months

For hotel bookings, they prefer Booking.com (68%), followed by Google (61%), TripAdvisor and Expedia with 30% each as a review source.

68% believe that scores are the best way to present reviews. Furthermore, 51% consider a consolidated representation (e.g. combination of a visual (e.g. stars) and score) to be good and 29% prefer widgets.
TrustYou believes that by studying the particularities of each generation of travelers, hoteliers can better understand what they want, expect and demand from a hotel business.