Survey of Hoteliers, Guests Reveals Insight on Voice Technology, In-Room Entertainment Trends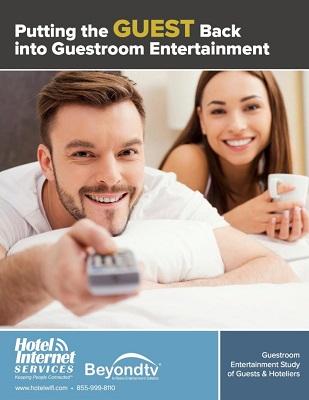 In the past two years, guest demands for enhanced connectivity, instant service and enhanced convenience have significantly increased. 
That's according to research conducted Hotel Internet Services (HIS), a full-service provider of internet services and solutions for the hospitality industry. HIS surveyed more than 500 guests and 200 hoteliers in order to determine the impact that new technologies such as voice control and online content streaming are having on the hospitality market and hotel revenues.
Following a similar survey conducted by HIS in 2016, "Putting the Guest Back into Hotel Entertainment" demonstrates how guest demands for enhanced connectivity, instant service and enhanced convenience have significantly risen over just the past 2 years.
Notable findings from the survey results include the fact that today's guests overwhelmingly opt to travel with a smart device, with 96 percent of respondents indicating that they travel with at least one device. This represents a 10 percent increase in just two years when compared to the 2016 survey results, indicating an ever increasing need for hoteliers to adopt mobile device-compatible services. When asked what features should be present in a guestroom entertainment system, more than 80 percent of guests indicated a desire to wirelessly cast content from their devices onto guestroom televisions. More than 90 percent of surveyed hoteliers agreed that today's guests would prefer to be offered wireless casting abilities, rather than traditional video on demand (VOD) services.
With hotels around the world universally experiencing diminishing profits from VOD, the HIS survey significantly points to entertainment platform functions that hoteliers can deploy alongside wireless casting in order to regain these revenues. For example, more than 60 percent of surveyed guests indicated that they would like the ability to order amenities and services via the guestroom television, if given the option. Another 61 percent of guests also indicated a preference to access information on available hotel services, such as restaurant hours, via the guestroom television.
With voice technology having gained significant attention within the hospitality industry in recent years, the HIS survey also offers valuable insight into how such platforms go beyond simply serving as a means of standing out from competitors. Instead, results consistently indicated that a majority of guests valued the enhanced convenience of being able to use voice in controlling room amenities, such as lighting, televisions or thermostats. Of particular significance to hoteliers and their revenues, is the fact that a considerable number of guests indicated a desire to use voice-activated devices to request amenities, learn more about hotel services or communicate with a property's various departments. Such functionalities not only serve to enhance guest satisfaction and enhance profits, but can also work to reduce the number of personnel and other resources needed to complete requests, minimizing operational costs.
Download a copy of the HIS survey on guestroom entertainment and voice control technology here.