Ski Resort Uses Text Messaging to Interact with Guests
Get great content like this right in your inbox.
Subscribe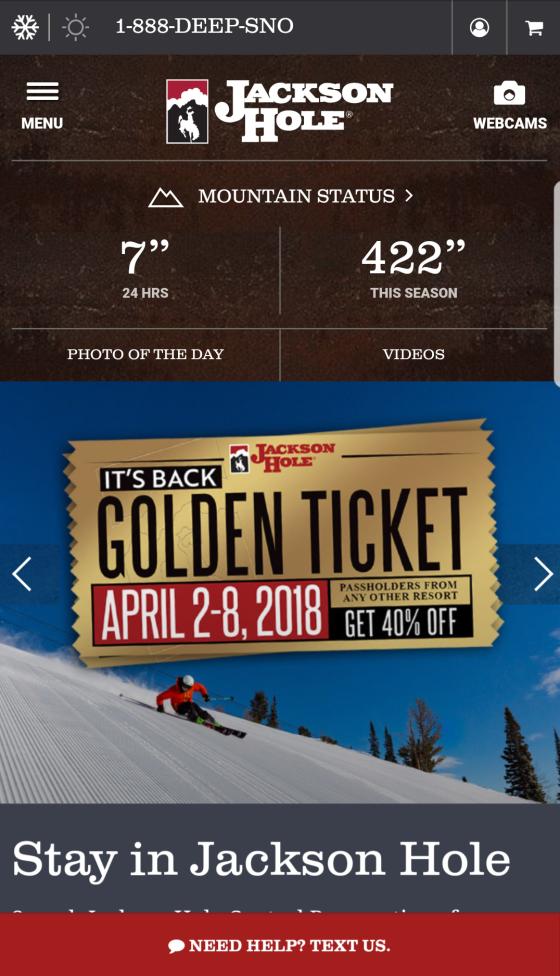 Founded in 1965, Jackson Hole Mountain Resort recently celebrated its 50th anniversary as a destination for local and world travelers alike who are interested in trying their luck on the 2500 skiable acres it provides. The resort often deals with hundreds of client questions per day specific to its online store, the purchase of day passes, directions to the resort, and more. For years, Jackson Hole offered skiers the choice to call or send in their questions via email. However, the resort wanted to be even more flexible in the way in which guests could reach staff with questions. Knowing that more and more consumers prefer text messaging a company representative rather than chatting over a phone call, Jackson Hole decided in February 2017 to give consumers the option to text their questions. To do so, it turned to Quiq for messaging software, to augment its digital engagement capabilities and to add texting.  
After just a couple of months using the new platform, Jackson Hole already saw a significant increase in the number of text messages it receives a month, and a decrease in phone calls and emails. So far this season it has had more than 4,300 conversations with individual guests. Overnight email volume has dropped considerably.
While many chat and messaging solutions rely on artificial intelligence, Jackson Hole decided instead to forego AI for live staff responses. All texts and website chats are monitored by staff members and responded to from 8 a.m. to 8 p.m. PT during the week, and 8am to 5pm on the weekend. After hours, they disable the web chat function. However, it continues to receive and hold onto text messages so that staff can respond to questions as soon as they come in each day.
Knowing its consumer base was rather tech savvy, Jackson Hole decided to forego any advertising of the new texting platform and instead uses a persistent "bar" at the bottom of its mobile website that follows the consumer from page to page. The bar says: "Need help? Text us." Upon clicking on the bar, consumers are prompted to send a message to a phone number that is pre-filled in the "To:" form of their preferred text messaging app. From there, the text conversation proceeds like it would with any other contact.
One of the features Kim Essensa, guest services manager, Jackson Hole Mountain Resort likes best is that Quiq offers the staff flexibility when it comes to answering questions. Some services require that the same person who begins the exchange also be the person who ends the exchange. However, with Quiq, if a staff member replies to a text conversation and then picks up a phone call – another staff member can transfer the text conversation without the consumer knowing there was a change in personnel. This is very helpful, as guest services staff are often multi-tasking and may need their colleagues to step in.
"I was adverse to implementing text messaging into our call center at first," Essensa says. "Mostly because we have so many forms of communication I was afraid of adding one more. We have had live chat for many years which has proven useful, but I never saw the benefit of text messaging until we tried Quiq. I now believe that text messaging is one of the most useful tools for our call center to answer a range of questions in a timely manner. Guests love it because they can fire off a simple question at their leisure without calling."