Pizza Inn's Express Concept Targets Convenience Stores, Airports, Entertainment Venues
Get great content like this right in your inbox.
Subscribe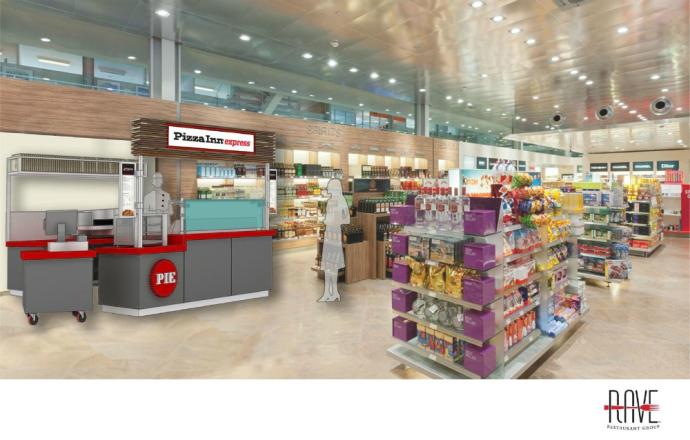 Pizza Inn debuted a new prototype for a non-traditional licensing model called Pizza Inn Express, or PIE for short, designed to give customers a fast, seamless experience.
"Convenience stores are a $575 billion industry with 70% of sales attributed to in-store purchases," said Scott Crane, chief executive officer of Pizza Inn parent company, Rave Restaurant Group, Inc. "This could be a game-changer for Pizza Inn as we tap into new markets and expansion opportunities for our flagship brand. We're already seeing great interest from existing and potential franchisees who see this model as a new way to serve customers the same iconic, quality pizza they have come to expect, but in a faster setting."
Geared towards convenience stores, but also an airport or entertainment venue option, the licensing deal for Pizza Inn Express will allow customers to order and pay at a kiosk for grab-and-go or pick up their food at a designated spot. Pizza Inn has a strong presence in the Southeast, where the convenience-store segment has the nation's highest grouping of independent operators. Pizza Inn expects to have its first prototypes operating within the next 90 days.
"The PIE kiosk is attractive to non-traditional operators because it allows them to move quickly, be more nimble, and react to changes in customer traffic and facilities, all at a minimal investment," said Pizza Inn president Bob Bafundo. "It's a branded concept that's attractive enough to be the permanent centerpiece in a travel center or airport, yet nimble enough to provide the same benefits traditional operators get from a food truck."
With a domestic comparable store retail sales increase of 1.4% from the same period of the prior year,  Pizza Inn is riding a growth trajectory with positive sales and development that is keeping RAVE's turnaround plan on-course.  Pizza Inn Express was developed as a new strategy to compliment the expansion and refresh initiatives at Pizza Inn.