NRF News 2018: Two-Sided Lockers Streamline Restaurant Order Prep
Get great content like this right in your inbox.
Subscribe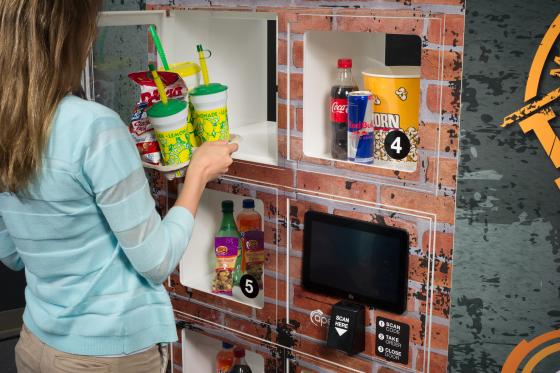 National Retail Federation (NRF) Show attendees got a first-hand view of order pick-up and fulfillment solutions from Apex Supply Chain Technologies®. Apex featured its full-range of innovative retail technology at #NRF2018, and showed how brands including Fanatics, Delaware North, Carolina Panthers and Casey's General Store use Apex to automate retail processes, including buy online pick up in store (BOPIS) and mobile device management.
Apex solutions can help to decrease costs while increasing productivity by eliminating low-value, manual tasks. More and more, this technology is helping retailers, restaurants and foodservice to make the customer experience and operations seamless.
Orders Increase 26% with Self-Serve, Automated Order Pick-Up
Retailers and restaurants are automating order pick-up with Apex AnyWhere™ lockers so customers can skip the line when picking up their purchases. Automating this process also brings customers into the store, helping increase orders by as much as 26 percent according to Deloitte.
Retailers use Apex AnyWhere™ lockers to give their customers more fast and convenient options in how they buy, pick-up and return purchases without adding staff. Restaurants and foodservice brands rely on the AnyWhere Flow-Thru lockers. The lockers' two-sided design creates an efficient workflow for preparing orders. This ensures stores can handle the additional demand created by popular mobile order apps.
Repair Costs Shrink 40% with Self-Serve, Automated Asset Management
From the front of the store into the supply chain, the AXCESS™ self-serve, automated locker helps manage, track and control highly-valuable, mission-critical equipment, such as handheld scanners, radio headsets and other mobile technology.
Used in the back of stores, warehouses, distribution centers and other critical points in the supply chain, these smart lockers help eliminate waste and inefficiencies associated with resources required to manage this equipment. And the costs to repair and replace these mobile devices are proven to shrink by as much as 40 percent.