New England's The Hotel Concord to Offer Volara-Powered Alexa Technology in Rooms
Get great content like this right in your inbox.
Subscribe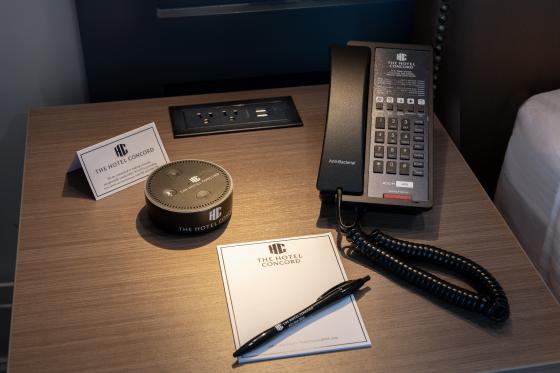 When The Hotel Concord opened its doors in August, Volara was there to ensure that guests' experiences are memorable and engaging. By equipping every room in the boutique hotel with a custom branded Volara-powered Amazon Echo Dot, guests are speaking requests in their rooms and staff are acting on those requests instantly. Located on the fourth and sixth floors of the Capital Commons building, as well as a portion of lower floors for the hotel's lobby and fitness facility, The Hotel Concord is the first in New England to engage travelers with this voice technology.
"It was important to our team that we embrace best practices in guest service, including using  guest-facing technology that would appeal to business and leisure travelers alike," said Michael Simchik, managing partner of New Hampshire-based 100 Market Group, owner and developer of the six-story, mixed-use building that also features The Lobbyist bar, O Steaks and Seafood restaurant, and office space. "Placing tablets in rooms was an option but it really doesn't have that 'wow' factor.  We wanted something different . . . something fun that would be engaging and easy to use.
"My son, Jamie, who is spearheading this hotel project, is an avid user of smart home technology," Simchik said. "He read an article about Amazon's desire to bring voice technology into hotels with 'Alexa for Hospitality.' We gave Amazon a call, and they directed us to Volara. Since deploying this technology, we have had overwhelming success, interest and utilization. We couldn't be more pleased."
General Manager Sue O'Donnell said finding in-room technology that delivers an exceptional experience while also being attractive, having a small footprint, and complementing the room design was a top priority.  The Amazon Echo Dot powered by Volara met that criteria and more.
"Our rooms are beautiful," O'Donnell said. "They are purposely different sizes and shapes, so they aren't cookie cutter. While the rooms are big, we wanted to make sure the amenities don't clutter the room or nightstands; we don't even offer alarm clocks for that reason. With the Amazon Echo Dots, we don't need alarm clocks. When I bring guests to their rooms and show them around, I make a point to ask 'Alexa, what time is it?' That's when the fun begins. We explain to guests that they can simply say 'Alexa, ask the hotel for more towels,' or 'Alexa, tell the hotel I forgot my shampoo,' and guest services will respond to their request. With Volara powering this device, it makes our customer service better, quicker and more efficient. It keeps us on top of things, and our guests really appreciate it."
Unlike a smart speaker in the home environment, O'Donnell said the Amazon Echo Dot powered by Volara is a "system" that is continually evolving to meet the ever-changing demands of hotel guests. The Hotel Concord serves as a corporate hub during the week for business travelers and is a leisure destination on the weekends. Different questions have been programmed to accommodate this diversity.
"Everyone is familiar with Alexa," O'Donnell said. "Most people use it at home; it's part of their everyday life. Now they expect it when they travel. As the only hotel in New England currently offering this voice technology in rooms, we are really standing out in the market."
Simchik said he is considering expanding Volara's functionality from in-room service requests to back of house interdepartmental communication, controlling the room environment (including lights and temperature), and taking music channels from the TV and playing them through Alexa's iHeart radio component.
Dynamic, Secure Solution
Volara provides platform agnostic voice-based conversation management software and a secure integrations hub. Its software turns the major natural language processing platforms into a hotel business tool that drives more efficient guest service, influences guests' behavior, improves net promoter scores and helps hoteliers understand their guests better.
Volara is a hotel-focused solution with an Alexa for Business Solution Designation, and it is a launch partner for Alexa for Hospitality. Today the company provides conversation management and secure integrations for 98 percent of the hotels using Alexa technology in the United States.