Mobile Pay Users Might Revert Back to Tapping Contactless Cards, Research Finds
Get great content like this right in your inbox.
Subscribe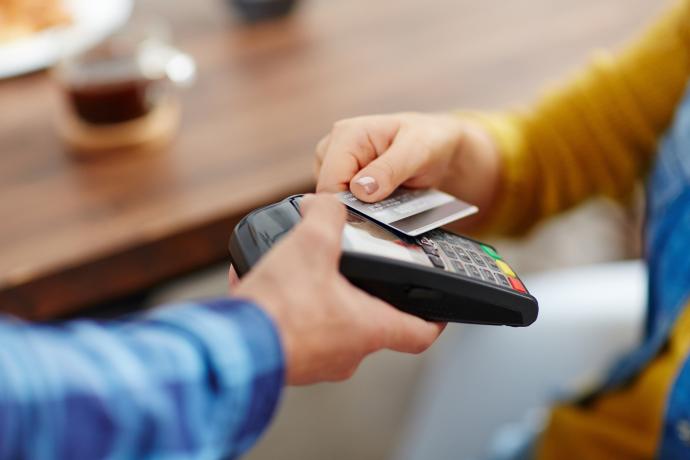 The death of plastic. Apple Pay's launch in 2014 invited headlines touting the digital payments revolution, but in the years since, plastic has thrived. Consumers swiped, they dipped, and now they're beginning to tap– all with a physical card. Some argue that the proliferation of tapping a physical card at checkout will increase comfort tapping one's phone. However, a new issue of Auriemma Research's Mobile Pay Tracker suggests that contactless cards may have some mobile-friendly consumers reverting from digital to physical payments.
Although mobile payments and contactless cards utilize the same near-field communication (NFC) technology, adoption of mobile payments is well behind contactless cards. Three plus years after its mainstream release, mobile payments have only been used by one-third of those eligible—far less than the 59% of contactless cardholders who have tapped with their contactless card.
Consumers appear amenable to contactless cards, specifically because the device (i.e., the physical card) is so familiar. Mobile payment users, however, are even more open to tapping their cards because they've been exposed to tapping with their phone. Three-quarters of mobile payment users have used a contactless card to make a contactless payment, compared to just four-in-ten non-users.
"Consumers have been repeatedly asked to change their payment behavior," says Jaclyn Holmes, Director of Auriemma Research. "While adjusting to various card payments is easy, the larger switch in the physical mechanism of phone payments takes more time."
Mobile payment users are enthusiastic about contactless technology. The majority (60%) expressed interest in using contactless cards, compared to just over one-quarter of mobile payment non-users. Mobile payment users are also more likely to believe contactless payments can improve everyday purchases. Over one-third say their experience with self-checkout lanes, grocery stores, vending machines, and public transportation would be made better if they were able to use contactless payments.
Until now, many terminals were not accepting of EMV contactless payments because of outdated technology. This has been a struggle for EMV contactless cards as well as Apple, Google, and Samsung Pay. However, with Visa now requiring all contactless terminals to support NFC contactless technology, both EMV contactless cards and mobile payments will have the space to grow.
Although these upgrades will make mobile payments an option at an increasing number of locations, that doesn't mean mobile payment adoption will rise. Overall, consumers are uncertain about whether contactless card payments are better or worse than mobile payments—65% say they are about the same, 18% say they are better, and 17% say they are worse.
Those who believe contactless card payments are better typically say they are faster, easier, and more secure than mobile payments—three things mobile payment users often describe when asked why it is better to pay with mobile then with plastic. Those who believe contactless card payments are worse often express concerns about security (e.g., more susceptible to fraud, wouldn't be any safer) and say they still need to take out their payment card.
"Consumers will have more options at checkout than ever before, but will they choose contactless cards or a mobile wallet?" asks Holmes. "Although upgraded terminals benefit both methods, the point-of-sale experience continues to be fragmented for mobile payment users who must pull out their physical card when things go awry."
With contactless cards, technological barriers to tapping won't upend the entire payment process. Consumers can still dip or swipe. This alone makes the case for contactless cards, which offer the mobile payment benefits people love without the barriers that have persisted since its rollout.
Survey Methodology
This Auriemma Research study was conducted online within the US by an independent field service provider on behalf of Auriemma Group (Auriemma) between July-August 2018, among 1,518 mobile pay eligible consumers. Respondents were screened to own an iPhone 8/8+7/7+/6/6+/6s/6s+/SE/X or Apple Watch (in combination with an iPhone 5/5C/5S) – a Samsung Galaxy S9, S9+, S8, S8 Edge/Edge+, S7, S7 Edge, S7 Active, a Samsung Galaxy S6, S6 Edge/Edge+, S6 Active or Galaxy Note 5, Note 7, or Note 8 – Gear S2 or S3 watch (in combination with an Android/iPhone smartphone) – and/or other Android phone with KitKat (4.4) OS or newer. All respondents also have a general-purpose credit card in their own name