Legrand Expands Furniture Power Center Collection
Legrand, a provider of lighting and power solutions, announced it has expanded its Furniture Power Center collection to include a full suite of products with USB-C ports, designed to charge the latest devices from leading smartphone and tablet manufacturers with ease and innovation. The two latest introductions with USB-C capabilities include:
Round Furniture Power Center with USB-C
As guests are moving out of hotel suites and into public spaces and lobbies to work and socialize, it is increasingly important that these spaces be outfitted with intuitive and convenient charging options. The new Legrand Round Furniture Power Center offers power in a small, circular unit that is easily installed flush with any furniture piece to blend into any existing design scheme. Perfect for tables in guestrooms or lobbies, as well as upholstered furniture, these units bring guests the convenience of outlets and USB charging ports in a subtle, stylish way. This new offering is available in two options: one with a power outlet and USB-A and USB-C ports, and one with only USB-A and USB-C ports.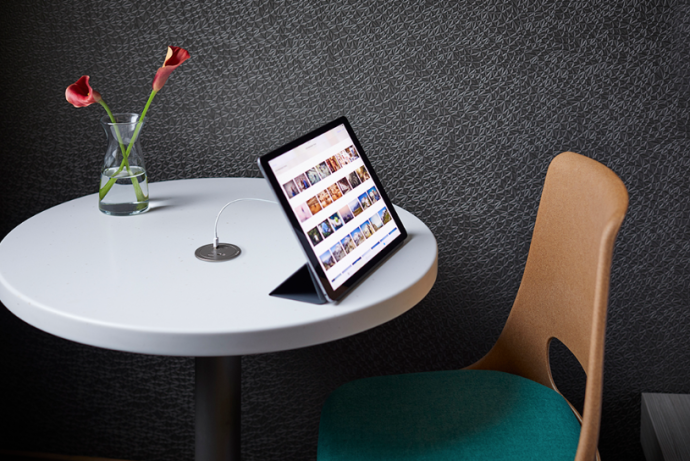 Desktop Furniture Power Center with USB-C
The new Desktop Power Center Slim with USB-C from Legrand offers all of the convenience and charging power of the original desktop power center, but with newfound charging capabilities to accommodate the latest devices via USB-C ports. Perfect for desks, tabletops and workstations in commercial and hospitality settings alike, the power center boasts efficient charging capabilities, recognizing various devices and determining when to shut off during peak loads. The units mount directly to surfaces and keep unsightly cord clutter from overwhelming the space. Available in black and white/gray, the new Desktop Power Center Slim with USB-C is equipped with power outlets, one USB-A port, and one USB-C port.