iPad AppTakes Menus from Paper to Fully Digital in Less than an Hour
Get great content like this right in your inbox.
Subscribe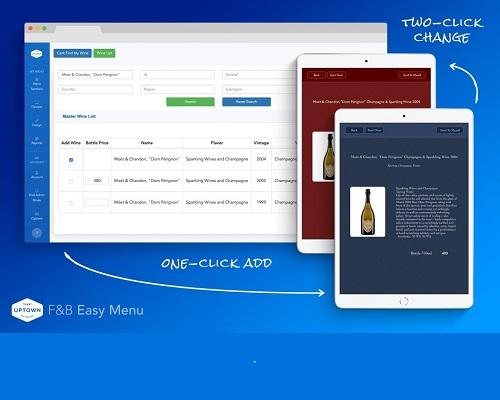 Uptown Network released F&B Easy Menu, an iPad app that empowers food and beverage professionals to easily transform paper menus to fully digital and then update them across the business in real time. F&B Easy Menu is available now on the App Store, with a 21-day free trial and a $10 a month per iPad fee once live.
F&B Easy Menu provides an effective, affordable solution for digitally transforming menus.  It enables hospitality brands of all sizes to improve their guest experiences with iPad menus and reduce paper consumption.
Now, brands of any size can use and benefit from F&B Easy Menu. Larger enterprises can use a combination of Uptown Network's enterprise solution and F&B Easy Menu.
F&B Easy Menu is the culmination of almost five years of R&D and collaboration with hospitality industry leaders.  Highlights of the app include:
Transformation of any paper menu into an iPad interactive menu in about an hour. No coding or software skills are required. As F&B professionals check boxes and upload images, all of their iPad menus change in real time.

The menu integrates with the restaurant's web site in real time, so if an item is 86'd it disappears from the restaurant's web site also.

An iPhone app is available to 86 items in about 15 seconds, with F&B Easy Menu redrawing the menu on all the iPads and web sites in real time.

More than 100,000 curated, cloud-based beverage tasting notes on wines, microbrews, waters, cordials, tequilas, cognacs and other items allow for rapid creation of beverage books, with the check of a box.

The resulting menus actually look like menus, not apps. Guests can use the iPad just like they would a paper menu (without the need for reading glasses or penlights) or choose to use it interactively.

Menus can easily be translated into any language.

Other benefits of F&B Easy Menu include staff empowerment, increased revenue, a social media boost, and improved restaurant operations.
Restaurants that use F&B Easy Menu benefit from an integrated sustainability approach that eliminates paper menus. With an estimated 3 million restaurants in the world—some with 10 menus and some with 200 – it's estimated that F&B Easy Menu could eliminate 150 million paper menus by using iPads to help the environment (based on an average of 50 menus/restaurant).