11/08/2018
Hyatt Wins AEE's 2018 Western Europe Region Energy Project of the Year Award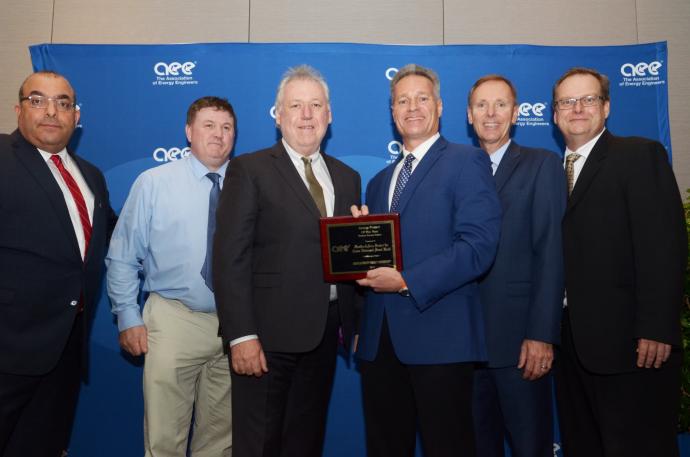 Quimera Energy Efficiency (QEE) is celebrating the success of winning one of the AEE Awards 2018 by presenting the Monitor & Save project in collaboration with Andaz London Liverpool Street hotel.
Winning the AEE award represents a big contribution towards sustainability goals of Andaz London Liverpool Street and is a big milestone for Quimera Energy Efficiency in terms of recognition of all efforts and quality of the project.
The innovative approach of the Monitor & Save project provides intelligent monitoring-based commissioning service with no investment required from the client to fully optimize the facility. The in-built intelligent solution based on the IoT technology is costumed to every building's needs and is provided under performance based scheme resulting in continuous and autonomous commissioning.
In the case of the Andaz London Liverpool Street hotel, the project kicked off in 2016 and within a year 21% of electricity and 27,1% of gas consumption was saved. This translates in 500.000kg of CO2 emissions saved to enhance the sustainability of our environment. This was achieved using the methodology of Monitor & Save, including the Bopstem technology provided by Wisestate, which is a ground-breaking IoT solution for HVAC control and automation without suffering guest comfort.
"Andaz London Liverpool Street, in line with Hyatt's overall sustainability strategy, is committed to operate in an environmentally conscious way and we value that Quimera Energy has been able to deliver on their promise to reduce consumption and footprint and win the AEE Award because of this," commented Otto Steenbeek, General Manager at Andaz London Liverpool Street hotel.
The AEE Regional Awards Presentations took place on October 16, as part of the World Energy Engineering Congress, in Charlotte, USA and was received by Robert Patten, Vice President of Engineering & Capital Planning representing Hyatt Hotel Corporation who mentioned: "Quimera Energy works with Hyatt hotels to optimize our central cooling plants, heating plants, air handling systems, building automation system, and achieves very impressive results."
He was accompanied by Mr. John Chambers, Business Development Director at Quimera Energy Efficiency.
The Association of Energy Engineers (AEE) is a prestigious American association which shines the light on the important work that is being done in the field of energy by individuals, organizations, agencies, and corporations. Recognition of excellence by one's peers and other professionals in the energy industry is the purpose of this program from the Association of Energy Engineers. AEE among many other certifications also provides CEM, BEP, EEP and CIEP certifications that are recognized as proof of a high level of competence within constantly changing fields of energy. Quimera Energy is proud to take part on the recognition of the high quality work of energy engineers delivered in the Monitor & Save projects spreading around the world.