HT EXCLUSIVE: NoMo SoHo Hotel Discusses Why It Offers Guests a Complimentary Smartphone
Get great content like this right in your inbox.
Subscribe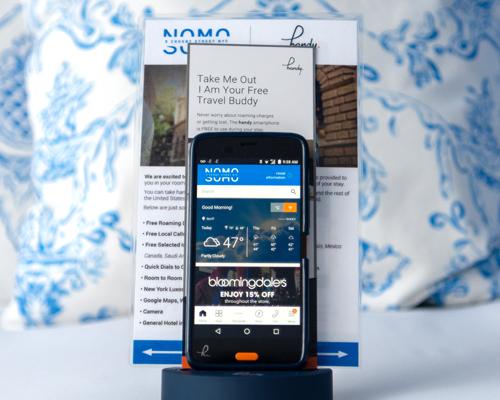 NoMo SoHo Hotel, recently announced the debut of "handy," a smartphone tailored for hospitality and designed as a complimentary amenity for hotel guests. While many North American hotels are implementing wireless door locks, innovative mobile apps, or in-room tablets to control everything from the lights to the drapes, NoMo SoHo is the first hotel in North America to offer its guests a smartphone. HT was interested in knowing why NoMo SoHo chose handy over these other more popular technologies and how it has been received by guests thus far, so we interviewed Anthony Guinehut, General Manager of NoMo SoHo Hotel, to find out more.
HT: What are some of the key features of handy? How do they benefit your guests?
Guinehut: Some of the key features are:
Free voice calling to selected international locations that represent the hotel's key travelers. Our demographics show these locations as top feeder markets, allowing us to specifically tailor to our guests needs. Handy is also available in a variety of languages to benefit our guests, including: English, Simplified Chinese, Traditional Chinese, Japanese, Korean, German, French, Italian, Spanish, Russian, Thai, Arabic, Portuguese, Hungarian and Polish.
Free data plan. We believe this is one of the best benefits, especially to our international travelers. International data plans have become more prevalent but the cost from most providers can take away from the travel experience. The free data access carries a tremendous value-add to the guest allowing them to spend money in other areas of their exploration. 
A one-time New York City phone number and personal extension. Having a local phone number can offer guests the benefit of security and ease of access. Keeping their personal number private can help users feel safer and more connected with our city.
Connectivity to the hotel and direct dial to hotel services anytime, anywhere. We love this one the most. Allowing our guests to contact any department, at any time, from anywhere is the start of a bridge between technology and hospitality. Our industry has seen a significant influx of new technology over the years that have ironically reduced the human experience (self-service kiosks, for example). Handy is allowing the guest to choose their level of interaction with our ambassadors. Many of the requests from guests can be completed digitally but it also offers the option to direct dial from anywhere.
Access to LUXOS, a local luxury lifestyle and travel guide that allows travelers to discover new experiences. LUXOS collects and curates some of the world's top travel options. These suggestions offer guests a level of recommendation they may not have otherwise known. The city guide is essential in offering unique experiences.
HT: Why did you decide to move forward with a smartphone vs. creating a mobile app?
Guinehut: Our team made the decision to offer a fully functional device because it allows us to go beyond the guest's expectation.
HT: How have guests responded to handy?
Guinehut: We've had overwhelming adoption rates in the first 30+ days — 91% of our guests are using it. It's been fascinating to see the curiosity and engagement from a technical stand point, but we've also noticed that it's encouraging our guests to personally interact with our ambassadors; they're asking questions about the device, how it works, and what the benefits are.
HT: How is the guest's personal phone data erased upon checkout?
Guinehut: When a guest arrives to their room they are greeted by the handy device on the desk. Upon first interaction with the device, it requires the guest enter a check out date. This is the fail-safe that automatically erases each guest's personal data.
HT: Does this mean there is no traditional in-room phone?
Guinehut: Currently our standard in-room phones remain in the room. Soon, we anticipate handy to replace the need for a traditional land-line guest room telephone. There are currently state regulations being addressed regarding e-911 that will ensure guest safety and usher in a new era for our industry.
HT: Why do you think this technology will promote loyalty among your guests?
Guinehut: We believe that guests have been waiting for a service like this - the option to choose their own blend of technology and hospitality, with the added benefits of an enhanced, hassle-free travel experience.