A Hotel with "No Vacancy" Requires Excellent Tech Amenities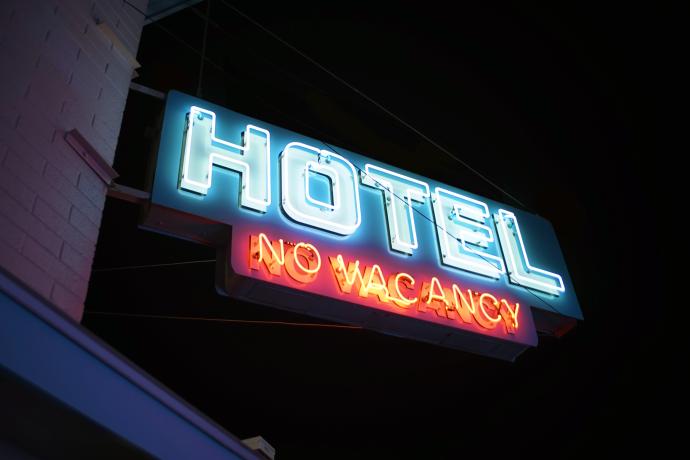 Technology has become a central focus of the hospitality industry. Why would someone stay at your hotel, sans Wi-Fi and on-demand cable when they can go three blocks up the street and get free hi-speed internet and unlimited movies?
No longer just a tool, technology has become a critical part of almost every business, and the hospitality industry is no exception.  While the primary reason for a hotel stay remains a clean place to sleep and shower, consumers are often influenced to choose one hotel over another based on the amenities offered, including the tech amenities. In this day and age, technology is a weapon - no matter your line of business, and just a few bad google reviews describing your Wi-Fi as "spotty" or "slow" can be all it takes to send revenue down the tubes, no matter how clean the sheets are or nice your pool is.
Technology is also important when it comes to running systems behind the scenes that guests interact with in a less obvious way. For instance, the booking systems used by today's tech-savvy consumers are also critical to the success of your hotel. While drive-up, cash-pay bookings still happen, they are happening less and less. Instead, solid cash flow is tied more often to a solid booking system. As websites across the internet compare your room prices to everyone else within a few miles radius of your hotel, the only thing worse than being a few dollars more expensive than your competitors is having your booking system down and not showing up in the search results at all. When the system is down, it doesn't matter what your going rate is because you've just lost out on putting yourself in front of a large portion of today's customer.

Should this booking system outage last long enough, your hotel is bound to find itself in the red. Even worse, the hotel could face serious revenue shortfalls if the outage occurs during a busy season, e.g. winter for a ski-type resort, summer for a water park destination, or during any of the year's biggest sporting events, concerts, or trade shows.
"But they can call us! We take reservations over the phone."
But what if your reservation system is down? Is there a current procedure to make up for that? Is it better than what many have, e.g. 'Closed until our system comes back online -- sorry for the inconvenience!' After a couple of hours, the costs of that inconvenience really start to add up.
It's preferable to avoid these situations in their entirety, and to do that requires that your IT staff truly understand these applications, the servers that power them, and most importantly: the interdependencies between the two.

How would remote staff ever think to have you check if someone unplugged the VPN device or its network connection for the on-site booking server if they aren't aware there *is* a critical on-site booking server at any location with >100 rooms? It's these critical, key details and related information that must be documented.
In an ideal world, your CMDB software would automatically discover and record the details about your IT infrastructure: what hardware is where, what software is installed on it, what IP addresses it communicates on, and what it's connected to (both physically, and logically including permanent & transient connections.)
Your CMDB should be the first place IT staff look for this information, no matter where it lives: at the corporate datacenter (physical, virtual, or hybrid) or on just about any network/IP-connected hardware, including mid-range and mainframe.
With this auto-discovered, always up-to-date information at their fingertips, IT staff can turn to their CMDB anytime they don't have a complete understanding of a particular IT system, and the information they need will be at their fingertips. From day-to-day support tasks to large, time consuming project work, staff can utilize the actionable intelligence and insights within an up-to-date CMDB system to prevent disasters, help boost corporate IT efficiencies to the next level, and most importantly, to ensure IT staff provide the services that best meet the needs of the business.
About the Author
Matt Altieri has worn many hats over the course of an exciting 17+ year career in the IT Industry, and is currently Device42's DevOps Evangelist!