Sponsored Content
GUESTROOM INNOVATIONS TECHNOLOGY SHOWCASE: Voice Tech Makes Waves in Hotel Rooms
Get great content like this right in your inbox.
Subscribe
As guests invest in voice-enabled controls and automated innovations in their homes, hotels will need to identify ways to design and enable the guestroom environment in similar ways. Not only can voice-controlled devices improve the overall guest experience, the technology affords hotels ancillary benefits in operational efficiencies as well. Hospitality Technology's 2018 Lodging Technology Study reports that 70% of hoteliers' believe AI/voice-enabled devices have the most potential out of emerging technologies.
Streamlining guest services and bolstering employee efficiencies frees up staff to focus on more "human" interaction when guests want and/or need it, says Mitch Bolen, general manager, Sheraton Westport Hotel (www.sheratonwestport.com). The property is currently testing Angie by Angie Hospitality (https://angie.ai/), a cloud-managed, intelligent digital room assistant with multi-lingual voice and high-resolution touchscreen interfaces.
Angie provides guests with access to hotel amenities and services such as in-room dining. Additionally, it enables them to control the room TV, lighting and temperature; listen to music through Bluetooth speakers; and make hands-free telephone calls. Lighting and temperature settings are remembered for future visits.
Bringing the smart home concept into the hotel room will require integration and connectivity. For Gustaaf Schrils, CIO, White Lodging (www.whitelodging.com) he sees the real power of AI in the combination of various pieces to create a truly powerful impactful innovation. One example would be fully automating the check-in/out process, including room selection, with biometrics (facial recognition), artificial intelligence, machine learning and blockchain.
"If you combine machine learning, artificial intelligence, motion sensors, beacons and robotics together with a vacuum cleaner you can have an intelligent vacuum cleaner that can automate the carpet cleaning in the entire hotel," he says. "With voice recognition, machine learning and artificial intelligence and an Echo you can have a successful automated concierge and even a PBX for calls, wakeup alarms and service requests."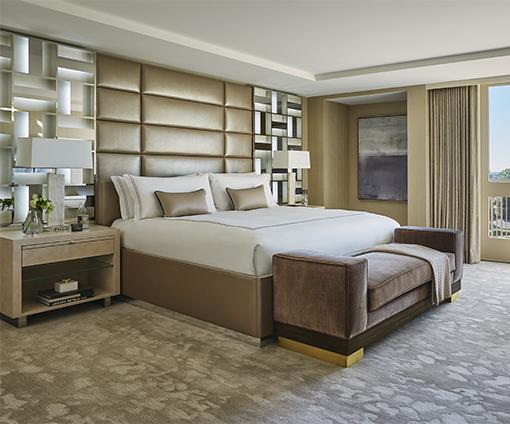 The next-generation of guest mobility should offer a seamless experience and that should include services from arrival, pre-check-in through the entire stay with mobile key and payment all through the guest's own device. Beyond this, AI will be imbedded in everything from chatbots at the time of booking to being a guest's personal concierge on property.  
"Voice controlled services will have an impact within the guest room experience," Darren Clark, vice president of technology at Viceroy Hotels & Resorts, says. "There will be integrations for hotel services, TV, AC, and lighting controls."
InterContinental Hotels & Resorts recently collaborated with Baidu to offer guests at its InterContinental Beijing Sanlitun and InterContinental Guangzhou Exhibition Centre access to AI Smart Rooms utilizing voice control technology. The voice tech allows guests to use more natural phrases, instead of commands to control the room's lights, curtains, etc. For instance, "I'm going to bed" will trigger the curtains to close and lights to dim.
Implementation rates of voice-enabled technology are starting to soar as options have become mainstream to say the least. Amazon announced Alexa for Hospitality and Marriott International became the first to introduce the new Alexa experience at select properties. Guests are able to ask Alexa for information, request services, call the concierge, and more. Alexa can also be configured to allow guests to control and adjust in-room devices like lights, thermostats, blinds, and TVs to their individual preferences or ask Alexa to play music.  
"So many of our guests use voice technology in their home, and we want to extend that convenience to their travel experience," says Jennifer Hsieh, Vice President Customer Experience Innovation, Marriott International. "Guests of Charlotte Marriott City Center and Marriott Irvine Spectrum will be among the first to experience a curated list of Alexa for Hospitality features. We will be evaluating guest feedback and adoption to inform how we expand the skills, features, and functionality offered through Alexa in our hotels."
Alexa for Hospitality will support the ability for Amazon customers to temporarily connect Amazon accounts to the Alexa-enabled device in their room. Once connected, guests will be able to play their personal music from services including Amazon Music, Spotify and Pandora; and listen to audiobooks with Audible. Hoteliers can also use Alexa for Hospitality to measure engagement through analytics and adapt services based on guest feedback.
TECHNOLOGY SHOWCASE
Angie Hospitality Pioneers Purpose-Built Voice Technology
Angie Hospitality, founded by hospitality industry veterans, is the developer of the world's first voice-based 24-hour interactive guest room assistant, purpose-built for the hotel environment. The 2017 HTNG TechOvation Award winner, Angie is an enterprise-class, cloud-managed platform built on a secure, scalable and highly-available architecture that is continuously monitored, allowing the system to self-configure for each property and room. By integrating with popular PMS and other hotel systems, Angie recognizes guests' loyalty status and program benefits and can remember individual preferences for future stays.
AT A GLANCE
Technology Type: Virtual Assistant, AI Voice Assistant
Top 5 Most Innovative Features
1. Interactive guest room assistant with voice and high-resolution touch screen interfaces
2. Voice control over guest room amenities, including televisions, lighting and thermostats
3. Secure and customizable Wi-Fi access point
4. High-fidelity Bluetooth speaker for music and hands-free phone calls
5. Cloud-managed platform that can self-configure for each property and room
Convenient Room Control, Guest Service and Energy Management
Angie's multilingual voice and high-resolution touch screen interfaces are easy for guests to access, use and understand. They are able to access a variety of property and local information, as well as order room service, contact housekeeping and maintenance, make new reservations and much more. Using open standards to integrate with existing hotel systems, Angie also provides convenient voice control of lights, thermostat, television and drapes. With built-in occupancy sensors, Angie can be configured to automatically turn down lights and adjust the room temperature when rooms are unoccupied, minimizing utility costs and contributing to property sustainability.  Angie's flexible platform includes a privacy setting that allows guests to turn off voice control and use only the touch screen, if preferred.
Telephony & High-Fidelity Bluetooth Speakers
Through high-fidelity Bluetooth speakers, Angie allows guests to enjoy their favorite music and make hands-free calls using their mobile phones. With additional available modules, Angie has the ability to integrate with the hotel's PBX system to add IP telephony and replace aging in-room telephones.
The first 24-hour interactive guest room voice assistant, telephone, room control and Wi-Fi technology solution purpose-built for the hotel environment.
Secure In-room Wi-Fi Access Point
Leveraging existing network infrastructure, Angie instantly upgrades property Wi-Fi, offering fast and fully encrypted internet connections. Guests can easily personalize the in-room network so that their devices connect automatically as they do at home.
Company Contact Information:
6203 San Ignacio Ave., San Jose, CA 95119
+1 866 HEY ANGIE | +44 20 7993 2088