Go Moment Introduces Enterprise-Level Real-Time Guest Engagement Business Intelligence (BI) Solution Focused on Texting
Get great content like this right in your inbox.
Subscribe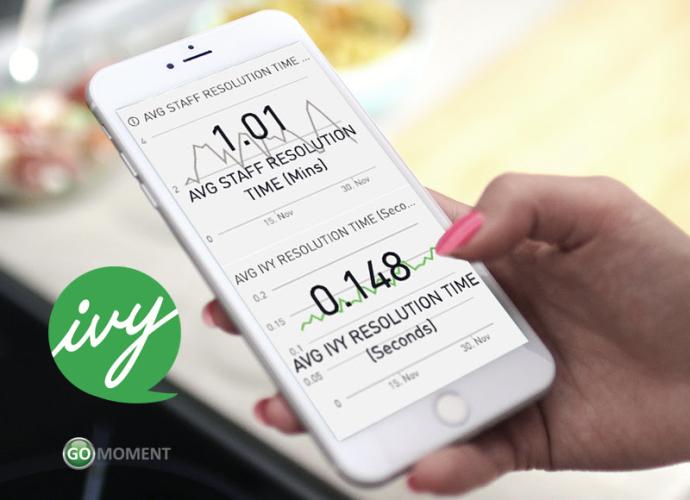 Go Moment®, a provider of real-time artificial intelligence guest communication solutions for the hospitality industry, announced Ivy® Analytics 2.0, an Enterprise-ready real-time hotel guest engagement and staff productivity business intelligence tool.
Facilitated by the implementation of Go Moment's smartconcierge solution, Ivy®, these business intelligence and analytics capabilities give hoteliers visibility into guest engagement and communications at scale. Hoteliers get an immediate snapshot of guest issues, which then influences hotel operations and evolves the guest experience by proactively reducing unanticipated or unaddressed guest service concerns. Go Moment's Ivy® Analytics provides insights on the combined productivity of the hotel staff plus Ivy. One Go Moment client, for instance, could see that Ivy had saved its staff 900 hours in the last year, with Ivy's response time averaging 0.1 seconds.
Go Moment's new data platform enhancements enable hotel group executives to review their analytics on a per-property basis, viewing success benchmarks and trends over time. These metrics can then be compared against other properties or in relation to a competitive set of other hotels. The top three features of Go Moment's new real-time analytics that hotels use to drive success are:
Response time by all staff, with Ivy included — This powerful benchmark also reveals consistency in service. Top-performing hotels with Ivy have a two-minute or less resolution time, improving guest engagement rates and raising guest satisfaction

Real time guest sentiment and campaign activity – Hoteliers can better grasp the impact of service delivery on guest satisfaction. This conversion datapoint looks at guest feedback at mid-stay, and how many guests look to write positive reviews.

Resolutions of guest issues by staff versus resolutions by Ivy — This metric reveals Ivy's multiplication factor relative to hotel staff communications. Go Moment offers custom improvements to the smartconcierge AI-driven responses to further enhance Ivy responses and automation rates over time.
Other analytics include total outgoing and incoming messages, number of times guests are successfully reached, total unique guest responses, engagement rate, and average staff resolution time per user and as detailed as hotel staff person by name. Staff using Ivy were measured to be 8% more engaged per year.
Later this year, Go Moment will announce exciting new expansions to its AI product suite, which will also contain powerful business intelligence, new booking revenue opportunities, and guest sentiment insights.