3 Ways Operators Can Strike the Right Balance Between Tech and Touch
Get great content like this right in your inbox.
Subscribe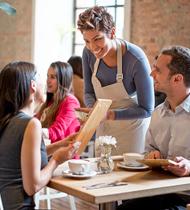 Tech is taking the restaurant and hospitality industries by storm — putting the pressure on these businesses to adopt technology or risk getting left behind. One of the largest concerns for the hospitality industry surrounding tech adoption is the fear of losing human interaction. This article from Gather will discuss how restaurant and hospitality operators can preserve human interactions while investing in technology to make their businesses more profitable and efficient.
 
1. Don't cut back on front-of-house staff
 
Despite this push for restaurants to become more technologically savvy, 68 percent of diners agree that automation in restaurants takes away from their dining experience. The hospitality industry revolves around just that — hospitality. And providing exceptional customer service is hard to do solely through tech, making it difficult for restaurants and hospitality groups to strike a perfect balance.
 
Restaurants often turn to cutting back on front-of-house staff in an attempt to lower costs. But these employees may be the only ones who engage with the customer directly, and reducing the number of face-to-face interactions with the guests can be detrimental to your customer experience. Not only do guests want to interact with other humans, but they want to interact with friendly humans. Hiring employees based on their potential emotional intelligence or ability to build relationships is often more important than their skill level — it's easy to teach someone how to operate the cash register, but teaching "people skills" is a different story. Keeping quality front-of-house service a priority can help restaurants maintain a strong human element in the dining experience.
 
2. Use tech to make the customer experience even better
 
No matter how you choose to integrate technology into your restaurant, your tech systems should make the customer experience more convenient, not more complex. One of the most important things to remember when deciding to integrate tech is not to do it simply for the sake of doing it. If the tech doesn't make your business more efficient or make the customer happier, it may not be worth it.
 
One way to improve the customer experience via technology is through a customer relationship management (CRM) system. Success is made when a business understands its consumers' needs, preferences and purchasing habits. Investing in a CRM system that aggregates data about customer preferences or behaviors can help elevate guest relations and make each interaction more personal — before, during and after they visit your space. These systems allow you to keep notes on your customers, so during their next visit you can easily recall things like drink preferences or food allergies and accommodate them without asking. Being able to make those little connections can quickly and easily elevate the customer experience.
 
3. Make your tech work together
 
Integrating technology into your restaurant doesn't have to mean purchasing complex hardware systems. It can be as simple as integrating mobile apps or digital services to make business operations simpler for both your employees and your guests. Creating a proprietary app can take months to develop and train employees and guests on — ultimately increasing the workload for everyone involved. In contrast, by integrating out-of-the-box third party apps, such as HotSchedules or Upserve, to streamline event planning, invoicing, employee schedules and more, restaurants and hospitality groups can seamlessly communicate with employees and guests, using devices they already own and are familiar using. With little need for training, these out-of-the-box services reduce time and workload, allowing restaurants and hospitality groups to focus on what matters most — customer service.
 
The future of hospitality and restaurant technology needs to prioritize elements of human interactions while making backend processes more efficient. No matter how much technology you have in your arsenal, you can't replace good hospitality and guest experiences. Technology should be used to complement and enhance hospitality, not eliminate it.