3 Tactics to Drive Hotel Staff Communication Effectively
Get great content like this right in your inbox.
Subscribe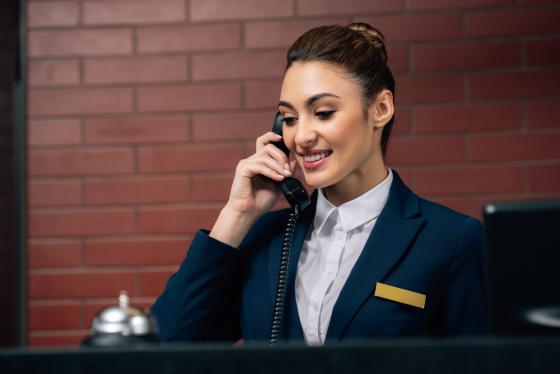 In the hospitality industry, the single biggest competitive advantage is delivering the best customer experience. Simply doing what is expected isn't enough anymore. Employees must go above and beyond to create memorable moments and truly connect with guests and customers.
Maintenance and housekeeping must stay "on their toes" ready to assist guests or other team members at a moment's notice. Customer service teams need access to information and resources that allow them to help guests as quickly as possible. And management needs visibility into what's being communicated across teams so they can ensure accountability and find areas for improvement.
Many factors impact a company's ability to do all of these things, but there is no doubt that communication sits at the core. Effective communication translates to increased efficiency, engagement and retention. However, creating a culture of connectivity isn't so easy within the hospitality industry when you consider large, sprawling resorts that need to quickly coordinate maintenance, housekeeping, management, front-line teams and more. Unfortunately most, traditional enterprise communication tools just don't cut it because hospitality teams typically aren't tethered to one of the biggest enterprise communication tools of all: computers.
For those in the hospitality industry who want to cultivate a culture of connectivity, Zinc  – a communications platform built for the hospitality industry – offers three tenets of effective communications that have been proven successful.
Be engaging with your employees
The first step is to break down barriers between teams so the entire property can worktogether cohesively. If teams can't coordinate behind the scenes, you will struggle to improve guest experiences when it's "showtime."
For starters, management needs a way to disseminate need-to-know information to all employees or a subset of employees. There may be new policies that are being implemented, and it's crucial that all of the teams are on board so the experience is consistent for customers – regardless of whom they interact.
Additionally, there may be information that a specific group of employees needs to know about, such as a security issue that needs to be resolved discreetly. In these cases having multiple modes of communication in place can help meet employees where they are, and helps them feel like they are on the same page even if they aren't physically in the same place.
Once you've built a culture of connectivity amongst employees to improve behind-the-scenes operations, you can start to optimize interactions with guests.
Be timely and efficient with guests
If employees can always easily reach other, then they can work together to serve guests better and faster. Take for example when a guest complains about a maintenance issue in their room. Multiple teams most coordinate with each other to share the right information and mobilize to fix the issue. Teams can respond faster if they can create conversations around service issues that bring in the relevant team members and that uses the mode of communication that's best for the issue at hand.
In cases like this, context is key. Perhaps the teams need to share photos or videos to know exactly what tools are needed to resolve the issue as fast as possible. Similarly, when a VIP guest is arriving, teams can broadcast an alert complete with photos and need-to-know information to the appropriate staff so they can deliver the best experience.
Be data driven so you can measure and improve
Once these modes of internal and external communications are in place and all the communication records can be stored, management can start to look at the data to find areas of improvement. Analyzing the types of service tickets, issues and messages being sent can help bring visibility into previously grey areas of operation and reveal trends and patterns. With a complete picture of how teams communicate across the property, management can hone-in on problem areas and proactively address information gaps.
With these three principles in place, all staff – from back-of-house to customer-facing teams – are enabled to go above and beyond to create a memorable experience for every guest.