Value of Hotspot 2.0 Wi-Fi in Improving Guest Experience Confirmed by HTNG European Conference Trial
GlobalReach Technology, a Wi-Fi authentication and solutions provider, and Hospitality Technology Next Generation (HTNG) have released new figures showing the success of the HTNG European Conference Hotspot 2.0 service. The next generation Wi-Fi network and one-time sign up app were used on hundreds of devices by representatives of major hospitality brands and industry suppliers in conference attendance at the Penha Longa Resort, a Ritz Carlton, Marriott property near Lisbon last month.
The quality and ease of use of hotel Wi-Fi is recognized as a major source of customer dissatisfaction. A significant stream within the HTNG European Conference was dedicated to upgrading the guest experience through improvements to the quality, control and business value of hospitality Wi-Fi services.  Recognizing Wi-Fi's importance in our industry, HTNG had recently initiated a new work group to improve Wi-Fi quality and guest experience.
To support the drive, and to demonstrate the solutions which already exist for improving guest Wi-Fi services, GlobalReach installed an event-wide Hotspot 2.0 network in collaboration with GuestTek and the Marriot IT team, comprising of 454 Wi-Fi hotspots covering the entire hotel and conference center, including every room, bar, conference and meeting room.
All 203 HTNG European Conference delegates were sent a Hotspot 2.0 profile in pre-event emails, and received a hard copy card upon check-in at the event. The Hotspot 2.0 profile was loaded to their devices by scanning the QR code supplied or through the GlobalReach Odyssys online signup server (OSU) webportal. Once loaded, delegates had a secure, 'mobile-like' connection across every corner of the conference, without needing to login again and again.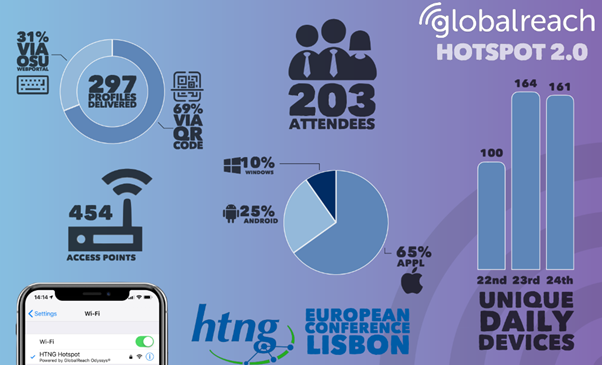 Presenting at the conference, Mike Blake, CEO of HTNG said: "Thank you to our partners that made the Hotspot 2.0 seamless Wi-Fi access work for this event. Downloaded the app and it just worked. It didn't disconnect. Wi-Fi the way it should be." 
HTNG Hotspot 2.0 Service Results
-          454 conference-wide next generation hotspots
-          297 profiles delivered
-          69% via the QR code
-          31% via the web portal
-          100 devices downloaded the profile before the event began
-          Over 160 devices connected on day 2 of the event