04/05/2019
Transformative Tech on a Global Scale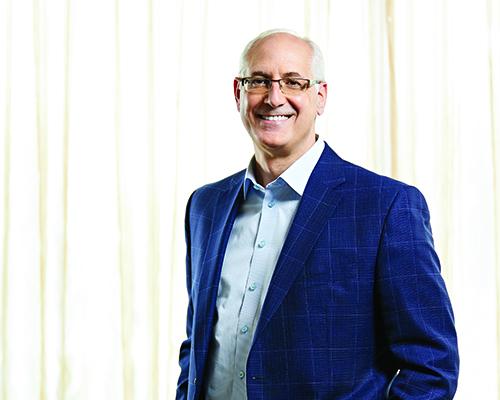 Eight years ago, Marco Trecroce was appointed as the first Chief Information Officer for Four Seasons Hotels and Resorts, the world's leading luxury hospitality company, founded in 1960. Despite being the global leader in luxury hospitality, the company hired Trecoce to transform the brand with modern technology improvements, while maintaining the high-touch service for which it is known. To accomplish this, he knew the company first needed to build an infrastructure to support a more technology-forward strategy.
The result has been an extensive global IT and business transformation — with the first phase of the transformation to emphasize global infrastructure as the foundation for change. Four Seasons currently operates 111 hotels and resorts, and 41 residential properties in major city centers and resort destinations in 47 countries. It has a workforce of more than 50,000 people and runs software that supports 19 different languages. Trecroce stresses that managing IT for a global brand brings different challenges when supporting hotels across continents to ensure business consistency and that local requirements are met. With this in mind, Four Seasons recently extended its digital experience with the introduction of a mobile app and mobile chat service available in over 100 languages to service their diverse guests in their preferred language. The chat app is managed by actual people — Four Seasons employees on property - not bots. The company was honored with a 2018 Hotel Visionary Award from Hospitality Technology for this initiative. 
In an exclusive interview, Hospitality Technology spoke to Trecroce to distill the key pillars of the Four Seasons IT transformation.
HT: As the first CIO for a legacy brand, what was your primary objective for a company that had operated without technology leadership for almost half a century?
MARCO TRECROCE: My primary objective was to create a transformation plan. Given how much needed to be done, it needed to be broken down into two five-year plans, as we worked towards a 10-year transformation. The first five years were what I consider foundational — taking care of some basic IT needs that had to be done — such as improving the hotel internet speed around the globe; upgrading our infrastructure; implementing comprehensive security; and building a global team versus managing a small centralized corporate team in Toronto. This all took about five years and, in doing so, we migrated a number of technologies that were on-premise and moved them to the cloud where appropriate. Workday was the first internet application that we introduced on a global basis in 2011. At that time many companies were still considering if they should move to the cloud. We then were able to use that technology to build out additional applications. Getting the groundwork done allowed us to focus the next five years on delivering more transformative IT initiatives and really moving our digital strategy forward. 
HT: Four Seasons was an early adopter of cloud technologies. Why was this an important part of your strategy? 
TRECROCE: We made a conscious decision to choose applications that were born in the cloud —this is because they are architected and written for the internet and are very different from older applications that are hosted in data centers. There is a very clear delineation. Software written for the internet can be easily deployed worldwide.  Some hotels have challenges depending on locations where internet might be hard to get, for example, in the middle of the Serengeti, or in other countries where the cost of internet is expensive and there is not as much competition. In these areas, hotels may struggle to increase bandwidth, so it helps to have light technology that is written for the internet, performs very well and doesn't consume a lot of bandwidth. If I can only find one software option that is born in the cloud, but it is not specifically developed for hospitality, I will still choose that option and adapt it for hospitality. Cloud is more important to me because I have to deliver globally. 
HT: What are some of the systems that Four Seasons has leveraged that weren't
specifically built for the cloud? 
TRECROCE: We have leveraged Adobe as the platform for the web, and it drives digital experience. We also use enterprise SaaS platforms like Salesforce, Workday and Microsoft. We made a decision three years ago that if a technology was going to affect our guest experience, whether it be around digital or mobile, we would bring that in-house to ensure everything is up to Four Seasons' standards, from the branding and the look and feel, to our digital service. Our mobile and chat app is now custom developed. The strategy here is that if it is truly going to differentiate us, we will own it and control it directly. If it is not going to differentiate us, we will standardize on common platforms that will allow us to expand applications. 
For example, we have built out nine different business applications on the Salesforce platform in two years. Salesforce came in primarily with an objective to provide our hotels with a more sophisticated way to do guest recognition. We have a custom front-end to Salesforce that allows employees to recognize guests better. 
Workday powers all our global employees around the world — it started with HR, moved into talent management, then learning and expense management. It is predominantly the lens of employees and culture.  
Microsoft is the newest IT initiative for the company. Over the next two years we will completely transform the business by consolidating between 10 to 12 independent applications into a common consolidated Microsoft platform reducing our overall IT costs and increasing our efficiencies. For the first time, we will provide all employees with the ability to connect and collaborate globally with modern software. Our corporate communications team will also be able to connect and share company information with our employees on mobile and desktop applications. This is going to be very transformative for the company and change how we collaborate.
Over the last eight years we have become trusted IT partners to our corporate departments and hotels during the IT and business transformation. 
HT: What were the nuances to working with technology suppliers of solutions that are
not "built" for hospitality?
TRECROCE: Some of our partners were missing functionality that we wanted, but they committed to build it and they did. When I speak to large vendors, I am clear with them that part of the selection comes down to cultural fit. It cannot just be about if the technology will work. If you have a vendor or supplier that does not culturally fit with how you want to work and cannot deliver on promises, then the partnership will not work.  
HT: What do you ask of suppliers?
TRECROCE: For me as CIO, I am looking at multiple factors. The real question to suppliers is — is it truly architected for what they are promising? Then we undertake our own due diligence. The number of times we have gone back to a potential partner because they have not passed our checks and asked them to remediate is quite surprising. We catch things all the time. If the problems are too large, then we change vendors. 
HT: Moving into the transformative phase for Four Seasons, what has been most exciting here?
TRECROCE: As mobile becomes pervasive it starts to touch guests in a very different way. We have seen incredible guest engagement scores with our chat app as guests love talking to us on a worldwide basis regardless of the social channel or language preference. We have found that the best way to connect guests on a global basis is to break down the barriers of language and culture. Our guests have a strong affiliation with our brand because they trust us. For us the big differentiator here has been the Four Seasons mobile and
chat application.
This initiative has turned out well and is going to evolve with a move to more sophisticated chat technology. We will enable rich content where chat messages are not just words but images, video and experiences. This will enhance our guest experience to a new level.
HT: Along this digital transformation, what challenges did you face specifically because
of Four Seasons global status?
TRECROCE: Mainly we have two challenges.  One is finding hospitality vendors who we can use globally.  The second is connecting our global workforce together to foster collaboration.
We have seen big rewards from leveraging platforms that can go around the world and stand up many different technologies that are all mobile-enabled. The workforce is very different and diverse. Younger associates may have a different way of collaborating, not wanting to use email for example, while other employees have been here a long time and prefer traditional email. Moving into the world of Microsoft will give choice of how the workforce collaborates.    
We focus on how we as a brand can effectively communicate globally. With more than 50,000 employees globally, we are going to give our employees a digital identity and completely change how we connect our people, how
we collaborate, and how we service guests on the digital side.
HT: How did you get buy-in for this massive change in company culture?
TRECROCE: In eight years, the company has completely transformed, from an IT lens, in just about every functional area of the business. We have proven that with a modern toolset we are able to take costs out of business and drive efficiencies. We have made the investments and are now starting to see synergies. Employees interact with guests and each other through digital experiences, which allows us to have a better and more holistic understanding of the customer. That has always been the goal, but you need the right technology to achieve it. We are delivering a vision that a few years ago we could not have remotely tried to pull off without the investments and foundation that we have since put in place.
Our IT department has done an outstanding job of working with stakeholders and delivering on projects. There is a sense of trust and collaboration, which is an enabler for more. If the business does not see value in technology or the department, they will look elsewhere. If they see value in what we do, they will want to involve us in the planning meetings and have us as partners. Our buy-in came from helping our business deliver successful IT projects.
For this IT transformation to be successful, we needed to have the senior people across every department in the organization all working collectively and in harmony, especially for some of our recent large cross-functional projects.
---
Eye of the Tiger Team
Marco Trecroce, CIO of Four Seasons, details the
efficacy of thinking with small teams first when it comes to technology projects. Trecroce explains that project teams are often intentionally kept small because "the smaller you are, you can get things done faster." Trecroce favors building "Tiger Teams" of no more than five key individuals who assume lead project roles to deliver IT projects. These key roles are a combination of both IT and business leaders.
The majority of Four Seasons tech projects fall into the Tiger Team classification. Trecroce makes sure vendors are working with a small, high-quality team of Four Seasons people. Another unique factor at Four Seasons is that often the very senior level executives are extremely plugged in and actively engaged in these project committees that they believe to be transformative.     
"We have great continuity and experience in our IT team," Trecroce says. "IT people have internal customers that they support and they tend to stay with their departments and build deep knowledge of how the department works which leads to greater depth in support for the department … rather than assigning IT resources based on availability. It's given rise to greater speed of execution and trust."