Restaurant Technologies Expands Grease Cleaning Tech
Get great content like this right in your inbox.
Subscribe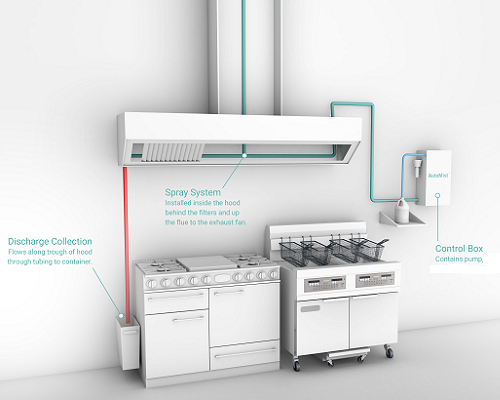 Restaurant Technologies, a provider of cooking oil management and exhaust cleaning solutions, has launched AutoMist in Detroit, Dallas, Denver & Baltimore/DC area markets. AutoMist, a solution designed for the restaurant back-of-house, automates and simplifies the cleaning process for grill and fryer hoods, flues and fans, improving overall working conditions and fire safety in kitchens.
Every year, thousands of restaurant fires are reported to fire departments across the country, resulting in numerous injuries and millions lost in property damage. With the AutoMist system, restaurants minimize fire risk by keeping the hood, flue, and fan areas of kitchens consistently clean and free of grease and fat build-up that can catch fire and cause catastrophic damage. Daily automatic cleanings using a special blend of water and detergent stave off grease accumulation over time, helping to keep employees, restaurants and diners safe from potential fire. Restaurants already using AutoMist include McDonald's franchises and P.F. Chang's.
AutoMist relieves operators of having to hire third-party vent- and hood-cleaning services. The AutoMist solution runs daily and employees simply have to dispose of the used solution into a sink. From an employer's perspective, improved fire safety and simplified processes translate to less downtime, lower risk of equipment damage and a better overall work environment.