Redefining the Guest Experience with the Right Digital Signage Strategy
Get great content like this right in your inbox.
Subscribe
The number one focus of the hospitality industry will always be customer satisfaction. Hotels and resorts are continuously adding technology into their establishments to enhance guests' experiences. One innovation that has become increasingly popular to achieve this goal is digital signage. Digital signage not only can enhance guests' experiences but also improve your establishment.
Up-Front and Behind-the-Scenes Solutions
Digital signage in hotels is used to give guests information that cannot be found on their phones or smart devices. There are different kinds of content that can be shown on your screens: Many hotels use displays to welcome guests, show current weather updates, promote services, and more. Mainly, we see digital displays placed in hotel lobbies, restaurants, and hallways to add visual appeal and modernization to the spaces. One example, the Intercontinental Miami, utilizes digital signage and interactive lighting in their lobby to create a luxurious welcome when guests enter the hotel. The more visually appealing and customer-oriented an establishment is, the more guests will remember their stay and keep the hotel in mind for future visits.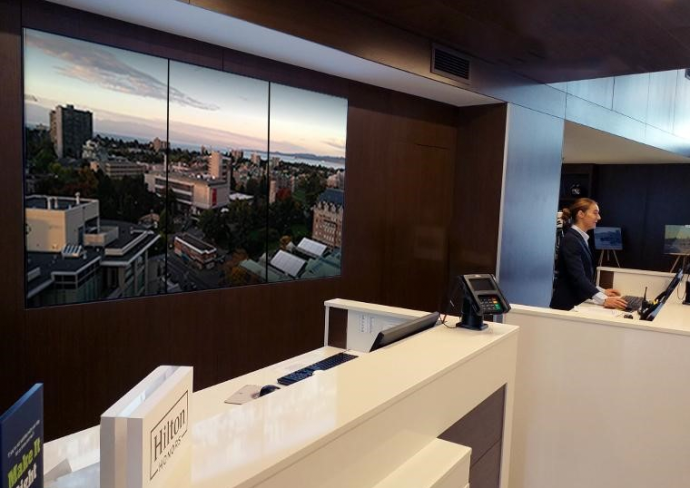 The DoubleTree by Hilton in Victoria, Canada is a great example of how to upsell and showcase what you have to offer using digital signage. The hotel has one of the best views of the city, and decided they wanted to showcase this to their guest utilizing digital signage. The team partnered with a digital signage company to deploy a video wall behind the reception desk that showed live-camera feed of the panoramic view. This allowed guests to see what the view would be like from the rooms and excite them about their stay. After seeing the success of the video wall, the DoubleTree decided to show more than just the view from the hotel, but also footage of tourist attractions in the area. From just a simple display, the DoubleTree shows how easy it is to create big-impact content to improve the overall experience of an establishment.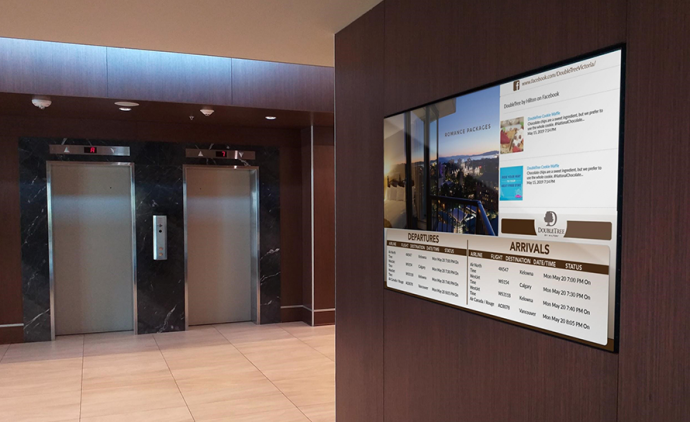 Besides upselling services to clients and guests with digital signage, productivity within the staff can be increased. One place that displays can improve production is in restaurant kitchens. Screens can be placed in both the prep rooms and the cook line to make sure all food for one table order finishes cooking at the same time. Restaurants can also store recipes in their system, so staff can go back and forth between recipes for making a signature dish.
Getting Started with Digital Signage
There are three basic components when it comes to digital signage: displays, software, and hardware. Displays are the type of screens your content will be shown on such as LCD screens, video walls, electronic billboards, menu boards, kiosks, and many more. Having displays on hand is great but how your content will be managed is most important. When choosing a digital signage solution, you should first look in to what software is best for you. Choose a software that fits your needs and is user-friendly. Software that includes cloud-based digital signage technology is usually preferred because it allows more control of your content.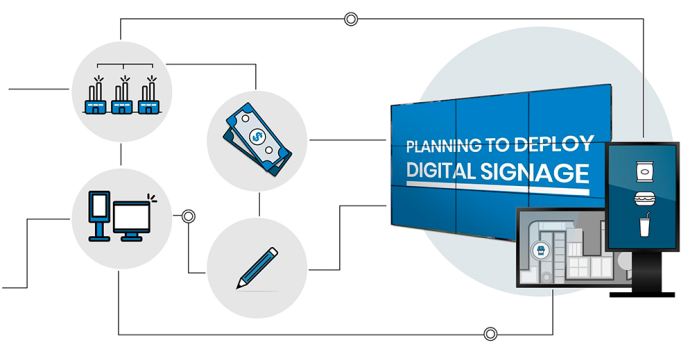 Implementing digital signage, can be difficult if you don't know what your objectives are. Here are a few important aspects to consider when planning to deploy digital signage:
What is your goal?

What is the budget?

How many locations are being managed?

Where are your heavily trafficked locations?

How many screens will be needed?

What is the content strategy?

Who will be creating the content?

What solution will the IT department be comfortable with—cloud-based, on-premise, etc.?
Future of Digital Signage in Hospitality
Communication has become fragmented due to the evolution of the internet and smart devices. More and more people are always on their phones and rely on their devices to receive the most up-to-date information. Industries need to compete with these small screens by finding new ways to incorporate smart products into their business plans. It is imperative to get your message seen and understood. When it comes to hospitality, many might not know what can or should be communicated that will better guests' experiences. But the way that hotels and resorts can distinguish themselves from competitors is by implementing innovative technology that tells a story and captures attention while still being useful to the end user.
Digital signage is all about communicating a message through displays, but not all audiences are the same. The future of digital signage is being shaped by AI: Soon, displays will be integrated with technology such as facial detection software, which will provide targeted information depending on who is in front of the screen. This information can then send hotels metrics such as the total number of people that looked directly at the screen and the length of time spent. With crowd analytics, we'll also be able to learn behavioral motions, which will ultimately help with things like security matters.
There's a lot to look forward to when it comes to digital signage in the hospitality industry, with the magnitude of improvements continuing to change over time. In order to increase customer satisfaction and, ultimately, the bottom line, companies should understand that digital signage is a great option for their business.
About the Author
Alex Rodriguez is the CEO and Founder of Azulle, a manufacturer of fanless mini PCs and mini PC sticks. With his love for tech and an entrepreneurial mindset, he saw the evolution of the technology world as an opportunity to create a solution to disrupt the market. By meeting like-minded people, Alex formed a small team of technology lovers who shared the same vision of pioneering the next generation of computing. What started as a company creating just one product, has grown to three product lines of mini PCs with different generations, variations, and applications. Alex credits his team of passionate and creative members for Azulle's continuing success. They strive to continue to innovative across all industries.