Only 6% of F&B Employees Receive Technology Training
Get great content like this right in your inbox.
Subscribe
Have you noticed that when we talk about trends in F&B, we're basically talking about established customs and habits that have been going on for ages? Here are some examples:
On departure, customers are thanked and wished a pleasant evening

Customers will be escorted to their table

The kitchen area will be maintained in a clean and hygienic condition
But doesn't this feel like old news? Aren't these standardized procedures just a validation that the F&B industry is more or less stuck in the Middle Ages? Because, at least as far as F&B employee training is concerned, it is.
A month ago, TalentLMS ran a survey on F&B employee training to examine challenges that have to do with employee training in hospitality, food service, and food production and processing. The study inspected how satisfied employees are with their training, how F&B training is delivered, the types of training they receive, as well as their own personal needs and wants.
Satisfaction and employee training
The very first thing the team wanted to investigate was how satisfied employees are with their overall training experience. Shockingly, 40.5% of respondents ticked the "I'm unsatisfied" box.
But why? One of the main reasons was that employees do not get the training they really want. According to the survey, compliance is the number one training type food and beverage companies invest in. With food hygiene and food safety training taking such a large share of the pie (38%), there's almost no room for any other type of training.
Somehow, customer service and management training are squeezed in trainees' schedule with 25.5% and 21% respectively. But what about technology training? Only 6% of respondents checked it.
Still, this is not what employees signed up for. Here's a list of the top types of training they are looking for, in order of priority:
Training with the purpose to be promoted

Customer service training

Soft skills training

Technology training
Sort of different areas from the ones they're already being trained on. And how important is training to employees? According to 62% of respondents, lack of training can be enough to make them hit the road and leave a company for good.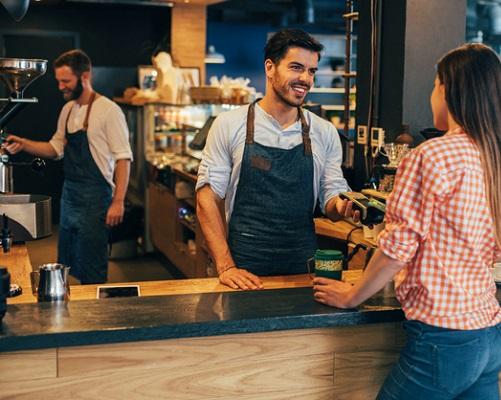 Technology missing
When it comes to technology, though, another interesting finding indicates that it's not just missing as a training type, but as a training delivery method, too.
To deliver employee training, companies mainly prefer offline means — the share of the total online delivery methods does not exceed 38%. But the question is, are there any drawbacks related to engaging in offline training only? The answer is yes.
Offline vs. online employee training in F&B businesses
The differences between offline and online training are noteworthy. The most striking one, though, has to do with training frequency.
More specifically, only 35% of offline trainees are trained regularly, while 60% of online learners take various types of training (i.e., F&B, food safety, restaurant training, etc.) at regular intervals.
Consequently, someone could easily argue that regular training equals online training.
So, on the one hand, there's one-time orientation training which does help employees perform better at work in the following areas:
Motivation

Problem-solving

Teamwork

On-the-job performance

Loyalty to their company
But on the other hand, there's regular learning which scores much better rates in every single field mentioned above. 
But is technology the only solution?
As in all problems, there's hardly one with a single solution. And, as the study clearly revealed, employee satisfaction was not affected by the delivery method. Performance was.
To keep your employees both satisfied and productive, you need to invest in a blended learning LMS. Combine human interaction with the powerful tools technology and eLearning are able to provide, and your F&B business will keep rolling smoothly.
About the Author:
Aris Apostolopoulos is a Content Writer for Epignosis. After multiple, around-the-eLearning-universe tours, his spaceship has landed on TalentLMS' blog. This is where he publishes articles related to eLearning, as well as the continuous learning philosophy, and posts on the latest industry news and trends.