Netgear Expands Switch Lineup
Get great content like this right in your inbox.
Subscribe
NETGEAR Inc., is expanding its SMB offering to include a IPV6 switching line, advanced wireless access points for its Insight cloud management solution and a streamlined satellite for the Orbi Pro Mesh Wi-Fi  family.  Additionally, a new revision of the Insight cloud management platform will bring more capabilities for business owners, MSPs, VARs and Integrators.
The new NETGEAR Smart Managed Pro S350 IPV6-ready series consists of five switch models, including 8-, 24- and 48-port Gigabit Ethernet switches with 2 or 4 SFP ports for fiber uplinks. The 8- and 24-port models will include PoE+ (Power over Ethernet Plus) variants.  They offer Layer 2 features, enhanced performance and ease of use. Purposely designed for networks where voice, video and data are all carried over a single network, these new affordable switches will become essential gear in the arsenal for nearly every small business network. Advanced features such as L2/L3/L4 Access Control Lists (ACLs), Quality of Service (QoS), Link Aggregation Control Protocol (LACP) and Spanning Tree Protocol (STP) will ensure a high-speed and secure network environment for your business.
The new 2019 CES Innovation Award honoree in the Smart Home product category, NETGEAR Business's Orbi Pro Mesh Wi-Fi Ceiling Satellite connects with the Orbi Pro Router or any other Orbi Pro satellite via the patented FastLane3 technology with a dedicated wireless backhaul for environments where wiring is challenging or impossible. Alternatively, in new builds or office expansions where power outlets are unavailable or new AC wiring is cost prohibitive, the Orbi Pro Ceiling can be powered by using ethernet cables with (PoE) utilizing 4x4 MU-MIMO Wi-Fi to cover denser environments. Automatic power and channel management between satellites enable superior roaming, coverage and performance making Orbi Pro the ideal solution for large areas.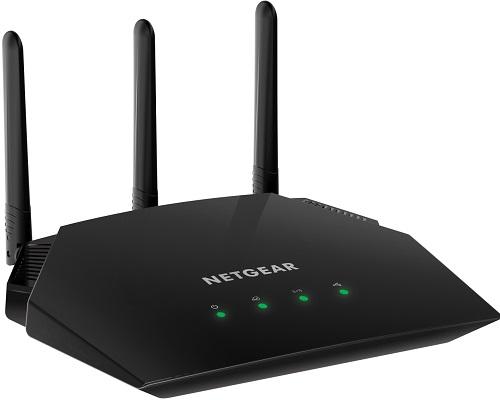 NETGEAR Insight Managed Smart Cloud Tri-band 4x4 Wireless Access Point (WAC540) is ideal for dense high-traffic environments, which require reliable high-performance Wi-Fi for mission critical business and IoT connectivity.  With 3 separate radios (a single 2.4GHz and two 5GHZ channels), the WAC540 brings a total of 3Gbps throughput, broad coverage and commercial-grade security.  Providing superior self-managing Wi-Fi with advanced features such as band-steering, beamforming, load balancing, airtime fairness and advanced roaming, the WAC540 can support hundreds of Wi-Fi clients for businesses requiring maximum Wi-Fi performance and coverage.
The NETGEAR WAC124 High-performance AC2000 Wi-Fi router, pictured, is an affordable solution; it does not require complicated installation.  It provides maximum coverage with 300Mbps+1734Mbps over independent channels by employing external antennas. As a router it is capable of supporting 3 separate and secure SSIDs over a 4x4 802.11ac Wave2 MU-MIMO Wi-Fi.