How Rosa Mexicano Grew Its Catering Business 12% in 2017
Get great content like this right in your inbox.
Subscribe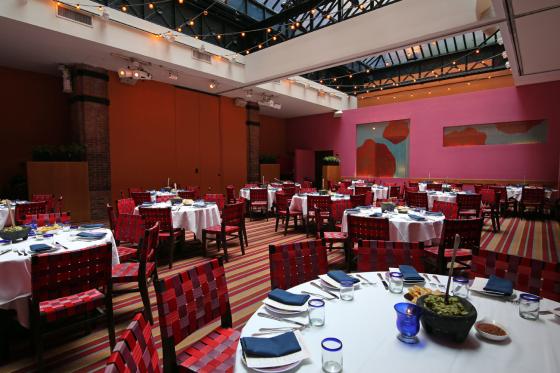 Tired of leaning on email chains and clunky calendars to manage its robust catering business, Rosa Mexicano, a private restaurant operator with 13 locations on the eastern seaboard and a footprint in Los Angeles and San Francisco, turned to Tripleseat to upgrade its event management business for both clients and employees alike.
The chain, which offers elevated Mexican cuisine in an "upscale ethnic experience," hosts roughly 3,000 events annually — or about 40 to 70 each week across all 13 locations, says director of catering Amira Gertz. The New York location includes the chain's largest private dining room, which can seat 120; by contrast, the Miami store's private room can host half that number.
"The events piece of the hospitality industry is especially ripe for innovation and the technology, tools and systems to move us forward," Gertz says. It's all too common, she explains, for events to be managed through copy and pasting information from an Excel spreadsheet, contracts written up in Microsoft Word and banquet events orders (BEOs) created from scratch each and every time.
"It's a mishmosh of making it work," notes Gertz.
Catering employees often include tech-savvy Millennials who are particularly frustrated with the business' lack of current, user-friendly resources. Case in point: Gertz says that the system Rosa Mexicano used prior to deploying Tripleseat couldn't be accessed from any computer outside the enterprise network, effectively preventing employees from handling simple requests (and growing the business) once they had left the office for the day.
In short, Tripleseat, a sales and event management web app for restaurants, hotels and similar properties, gives the Rosa Mexicano catering team what it needs most: access and availability.
"Tripleseat has helped us become a better, more focused sales team by giving time back to our employees," Gertz says. "We've grown year over year, bucking the industry trend, and some of that can be attributed back to Tripleseat."
Here's a typical scenario for catering leads in Rosa Mexicano's pre-Tripleseat days: a catering inquiry would come in, usually via phone. An employee took the message manually, and scanned and email the information to the sales manager, who would call back the potential client and start a whole chain over email.
Now, leads go directly into Tripleseat and instantly pop up in the sales manager's email, enabling that manager to focus on crafting an enticing email response. Says Gertz, if the response process used to take 10 minutes, it now takes five.
Rosa Mexicano was live on Tripleseat just weeks after signing the contract, though Gertz notes that transitioning three years of backed up data was the most time-consuming aspect. A restaurant business without a legacy catering software platform likely would be up and running more quickly.
Because it's cloud based, Tripleseat stays current with regular updates and integrates smoothly with the operator's email client (Outlook).
In the two years since going live with Tripleseat, Rosa Mexico has achieved both tangible and intangible ROI, including 2017 catering business growth that was 10% to 12% over the year prior and a further 9% expansion in 2016, notes Gertz.
Furthermore, Tripleseat has been instrumental in decreasing employee turnover. Says Gertz, a typical catering sales manager stays on for two to five years so her goal is to encourage these valuable employees to stay on longer. "If you're selling the same menu year after year, what's the incentive?" she says. "My team is thrilled with Tripleseat. Everyone recognizes the value."
Proof of just how valuable catering workers thinks Tripleseat is? An employee who left Rosa Mexicano recently compelled her new employer to install the catering management software, adds Gertz.
"Tripleseat is my silent partner," Gertz concludes.