How AI and Voice Technology Can Drive Key Growth Metrics for Hotels
Get great content like this right in your inbox.
Subscribe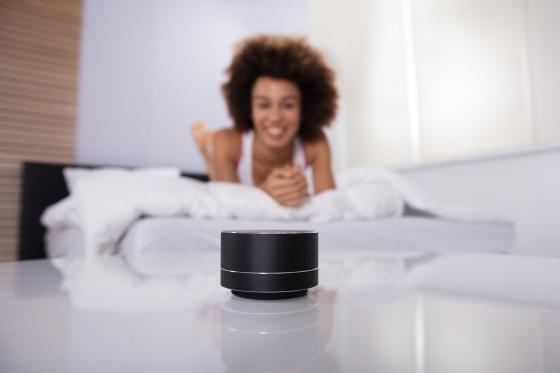 Hospitality is one of the largest industries in the world, and yet ultra-modern technology, including AI, seems to have avoided it until recently. Cloud-based PMS platforms, for instance, only just started popping up a few years ago and certain facets of the industry such as booking, itineraries, and flight search have all benefited from advances in AI, design, and data gathering. However, the technologies which have become prevalent on smartphones and via an internet browser for booking travel are not present in most hotel experiences, and especially not in the rooms where guests spend the majority of their time.
Couple this with the fact that less than half of guests who visit a hotel will leave a review. For those that do, they rarely leave actionable, specific feedback for hoteliers to use to improve their property and drive customer satisfaction. In an industry where customer satisfaction is the number one most important metric for building a sustainable business and driving loyalty and return visitors, this lack of visibility can be a huge competitive disadvantage.
Vacation rental platforms like Airbnb and Vrbo keep everything 'in-house,' meaning that visitors can search for, book, and rate stays all within the same platform. This makes it extremely easy to engage with guests, and prompt them to leave detailed feedback and actionable reviews. Something like 85% of vacation rental visitors leave all sorts of really useful information because it's a) structured to make it really easy for them to write reviews and b) they never have to leave the one app they use for planning their entire stay c) they are also reviewed which creates a chance for reciprocity and an increased interest in the reviews even after the stay (unlike in hotels).
It would be incredibly difficult to create this type of unified experience for the rest of the hospitality industry, and guests are rarely inclined to download additional apps for the brief duration of their stays. Therefore, hotels need to identify and alternative channel for engagement. This channel must be easy-to-use, require minimal setup, and is able to collect useful information from guests and interact with them in a seamless and meaningful way, without adding any burden.
It just so happens that an intuitive way of solving this problem is reaching a high level of maturity. The developments in voice technology and conversational AI, and more importantly; the recent opportunity for developers to leverage these technologies for custom solutions, mean that it can be used to address all sorts of problems within the hospitality space.
Considering the reality that most guests won't download additional apps or programs to leave a review, conversational interfaces are perfectly suited to applications within the hospitality industry. From the moment a guest checks-in, they can talk to the room, chat with the hotel's AI, and get a wealth of information relevant to their stay. They also have the ability to, quickly and efficiently, leave comments and feedback on any and every part of their stay. This leads to a new level of gathered information which would otherwise only be possible in one-to-one interactions with a concierge or host.
Many hoteliers look at app and software designers with envy. When they're building a product, they can track every iota of information regarding user behavior and interaction with the product, and early stage products in particular have a very dedicated cadre of users who are in constant contact with the developers, designers, and engineers and share their thoughts and experiences on every aspect of the product. While hospitality can never get the same level of transparency, giving guests an easier way to offer suggestions and leave feedback is a meaningful step in the journey to compete on data with the likes of Airbnb.
Voice and conversational interfaces can also be used to automate many aspects of the in-stay experience. Ordering room service, scheduling spa treatments, and having a drink brought to the pool are all meaningful actions and can be directly integrated with existing hotel PMS platforms, and can all be revenue drivers. Even something as simple shuttle information can be automated, meaning the frustrating experience of having to wait in line for a 10 second question can be avoided altogether. This could turn an average stay (which would then go unreviewed) into a positive review.
All of these benefits amount to a powerful new way in which savvy hoteliers can increase customer satisfaction. It offers a better understanding of exactly what their thoughts and wants are, and provides the ability to act upon them in real time, and with no increase to their overhead.
About the authors
Petar Ojdrovic, CEO of Home Service, is a startup veteran, computer engineer, and whiz developer. Petar has previously worked at big data and voice startups, and has a strong passion for building connected experiences.
Daniel Brownwood, CMO of Home Service, experienced go-to-market strategist, customer insights and and voice enthusiast.