09/20/2018
Hilton Announces Strategic Alliance with Playa Hotels & Resorts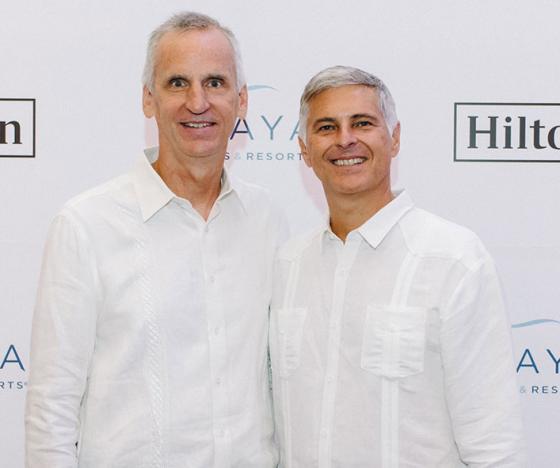 Hilton announced its strategic alliance with Playa Hotels & Resorts, marking a landmark expansion of the hospitality company's all-inclusive resort portfolio. During a reception at the soon-to-be Hilton Playa del Carmen, an all-inclusive resort, Hilton will share the company's plans to welcome two new all-inclusive resorts, to be owned and managed by Playa Hotels & Resorts, to its portfolio in the Caribbean and Latin America by the end of 2018. Hilton and Playa have initial plans to open eight additional all-inclusive resorts together by 2025
"At Hilton, we are dedicated to offering our guests the type of world-class hospitality that matters most to them, in the destinations they want to visit," said Christopher J. Nassetta, president and chief executive officer, Hilton. "Today we are pleased to begin our ambitious expansion journey with Playa Hotels & Resorts. Together we are responding to our shared guests, who are seeking attractive resort offerings. And as our all-inclusive portfolio grows, so too does our commitment to world class hospitality in the Caribbean and Latin America."
By the end of this year, Hilton and Playa Hotels & Resorts will introduce Hilton La Romana, an All-inclusive Resort, and Hilton Playa del Carmen, an All-inclusive Resort, adding 1,269 new Hilton guest rooms to its existing global portfolio. Both resorts will offer appealing leisure amenities, including expansive pools, modern guest rooms and suites, elevated dining experiences and access to some of the region's most pristine beaches.
"Our strategic alliance with Hilton is a win-win for both companies. This alliance will empower us to reach more guests, on more occasions, and in more geographies, than ever before. We view this as just a first step toward what is possible as part of this strategic alliance, and Playa is thrilled to continue to grow along-side Hilton and our other world class partners," said Bruce Wardinski, Playa's Chairman and CEO, Playa Hotels & Resorts.
In addition to growing the resort portfolio, partnering with Playa Hotels & Resorts also expands the company's presence in the Caribbean and Latin America. Hilton currently operates a robust portfolio of nearly 140 hotels and resorts in the Caribbean and Latin America, including nearly 60 properties in Mexico. Approximately 90 properties are in the region's development pipeline, which includes the first Tapestry Collection by Hilton hotel in Peru, as well as the first Waldorf Astoria Hotels & Resorts property in Mexico.