Digital Out of Home is Essential is to Targeting Business Travelers
Get great content like this right in your inbox.
Subscribe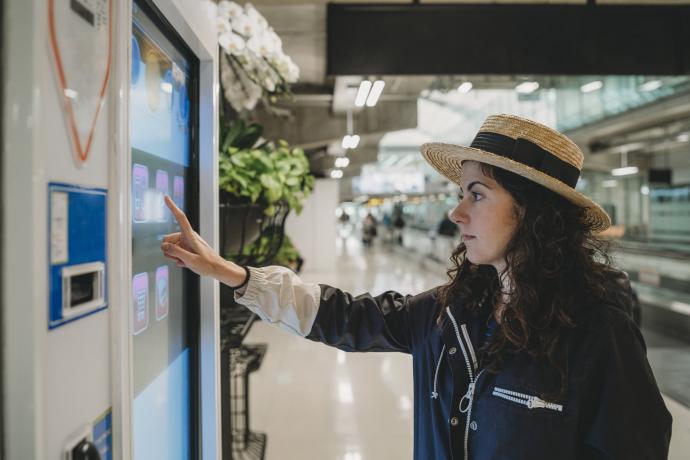 According to the Global Business Travel Association, 488 million business trips are taken annually in the U.S. While business travelers range in age, profession and personal preference, as a whole they're typically not price conscious – but they are brand loyal. These qualities make them an ideal demographic for hotel brands and the hospitality industry. They book higher-tier rooms, spend money on property and become advocates to other coworkers and travelers. But when a target demographic is on the road, how can they be effectively reached?
Mobile has traditionally been the channel of choice to reach consumers when they're on the move. But new creative formats like digital out-of-home (DOOH) are merging programmatic ad buying capabilities with traditional advertising methods. DOOH has grown dramatically in popularity, in great part because it enables marketers to personalize physical touchpoints in real-time and reach business travelers with bespoke ads at key moments.
To prove the point: digital outdoor advertising increased 35% since 2010, according to PricewaterhouseCoopers, and is projected to overtake traditional outdoor ad spending by 2020. Perhaps even more notable is that outdoor advertising was the only traditional media category to show growth last year -- hitting an estimated $33.5 billion in revenue according to a global NAR forecast. This is particularly interesting as traditional media categories include TV, radio, print, direct mail and cold calling.
Personalization Leads The Way
One of the greatest benefits of digital advertising is that it gives marketers the ability to learn from past campaigns, and refine the strategies to better tailor new approaches in real-time. With DOOH, this core benefit is no different. Updated based on real-world developments like corporate events, weather, traffic patterns or breaking news, DOOH advertising has the potential to transform how marketers create custom campaigns for audiences on the go.
In hospitality, guest experience is everything. Self-service check-in kiosks are becoming the norm with 41% of travelers saying they are more likely to stay at a hotel with a self-service kiosk. That very same digital signage can be used to advertise on-site restaurants, amenities, and loyalty programs. However, these advertisements don't need to solely be on-premise -- the global signage market has grown rapidly with digital billboards now available at airports, in taxi cabs and on bus stations. These are ideal locations for hotel brands to advertise their properties. Additionally, hotels can utilize first-party data from loyalty or membership programs to better engage desired customers where they're paying attention.
For example, a hotel brand looking to entice fitness enthusiasts with their on-site amenities and meal options can advertise on digital signage, targeting places that demographic visits often – such as gyms, health food stores, or even near parks where it's common for consumers to workout. It's a great way to offer special deals or promotions to a particular audience, either in transit or at their own property. DOOH incorporates more than just digital billboards – it includes just about any digital media screen in the public.
DOOH serves as a strong method for continued engagement, and when integrated into broader efforts it brings actionable results. For example, following a DOOH effort made by a particular hotel in the form of an in-elevator ad, hospitality marketers can work to geotarget business travelers that saw their DOOH advertising through their mobile devices. They can do this by delivering unique offers or reminders as the traveler passes by targeted locations. They can also strategically place additional digital signage to create more touchpoints and increase awareness. And because all these efforts are rooted in digital, it's easy to monitor campaign performance and KPIs.
Measurement Evolves Strategy Development
Measurement is one of the critical capabilities digital brings to the advertising medium, and with location and time data, advertisers have the ability to leverage consumer movement, such as in-store or near-store foot traffic. Tracking physical visits is one of the best ways to close the loop for marketers in the travel and hospitality vertical, and it enables them to decipher if campaigns actually lead to conversions.
One key metric DOOH campaigns can utilize is "dwell time," which showcases the difference between an actual visit to a location, and a cell phone "ping" that occurs as someone is walking by a location. For example, if a business traveler is targeted in a DOOH campaign to visit a happy hour at a hotel bar, one location data point will be tied to that specific hotel. While a marketer might get a ping if one of the targeted business travelers simply walks by the desired location, pings don't equate to actual visits. Being able to track whether someone was actually at the hotel is critical – and it's a capability now available to marketers. Tracking dwell time helps paint an accurate picture of how effective the DOOH efforts (and possible other efforts) were.
With the continued rise of DOOH, those hard-to-engage demographics like business travelers are more in reach than ever. Additionally, though a cross-channel approach and retargeting capabilities, hospitality marketers can expand and open even more opportunities to connect with them in holistic, creative and engaging way