Chipotle Launches Loyalty Program Nationwide by Giving Away $250k to Its Fans on Venmo
Get great content like this right in your inbox.
Subscribe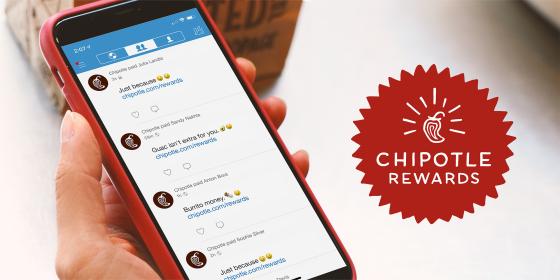 Chipotle Mexican Grill announced the national launch of its highly anticipated loyalty program Chipotle Rewards. To show people how good it feels to get rewarded, Chipotle is using Venmo payouts to give away up to a quarter of a million dollars, to approximately 25,000 Chipotle fans per day, from now through March 15, 2019.
This is the latest advancement in Chipotle's efforts to make the brand more accessible and to strengthen the relationship with its community. To start earning free Chipotle with Chipotle Rewards, people can sign up in the Chipotle app or at CHIPOTLE.COM/REWARDS. Those who enroll will earn 10 points for every $1 spent in the restaurant, online, or in the app, with 1,250 points resulting in a free entrée. Bonuses, like extra point days, will help members earn points more quickly so real food becomes real free real fast. Chipotle Rewards brings instant gratification to customers with free chips and guac after the first purchase as a member, and with surprise birthday rewards.
"Similar to how we build restaurants where people live and work, we want to have a presence in all of the places our customers spend time digitally," said Curt Garner, chief technology officer at Chipotle. "Chipotle Rewards is another access point for consumers; a way for guests to engage with our promise of real ingredients prepared fresh daily and a way for us to say thank you for joining our mission of cultivating a better world."
Chipotle is one of the most mentioned brands on Venmo, a leading payment app for splitting and sharing payments with Venmo friends in the app's social feed. For a chance to receive anywhere between $1 and $500, consumers submit the phone number associated with their Venmo account at CHIPOTLEREWARDME.COM. Within 24 hours, recipients of the payouts will be alerted of the payment in the Venmo app with a payment note from Chipotle along with a custom Chipotle pepper emoji, which is the first of its kind in the restaurant industry on the platform.
"Chipotle is one of the first brands to utilize Venmo's technology to engage with customers through this pay-out feature on the Venmo app," said Chris Brandt, chief marketing officer at Chipotle. "Our customers have been asking for a loyalty program for a long time and we're excited to partner with Venmo to reach their highly engaged network of digital-first customers to launch Chipotle Rewards, where the more you Chipotle, the more you can get free Chipotle!"