Better Customer Service Training, Better Business Outcomes
Get great content like this right in your inbox.
Subscribe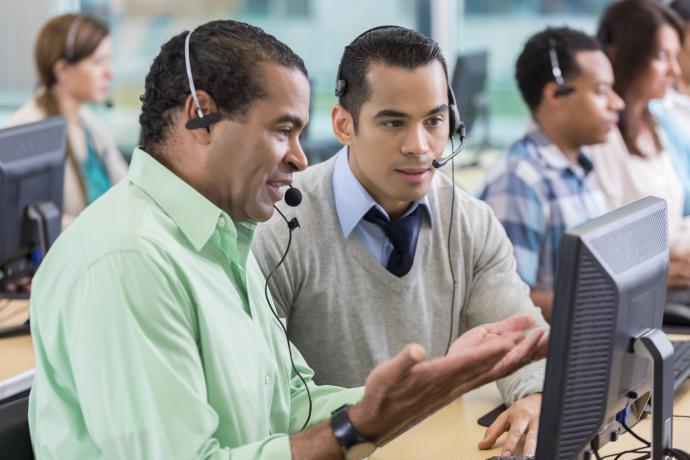 Think about your last great customer service experience and recall the high points. Perhaps you had a tricky billing problem solved quickly. Or you dined at a new farm-to-table restaurant with fantastic service. Or maybe a vendor made your job easier by going out of the way to help.
Most of us have experienced stellar customer service (as well as the opposite!)
"Great businesses see service not as a cost, but as a sales opportunity," says customer service communications platform Help Scout. Seven out of 10 U.S. consumers report that they've spent more money to do business with a company that delivers great service. Millennials in particular are willing to spend 21 percent more for great customer care.
While self-service and automated experience options are increasing in popularity, global hospitality providers can't afford to ignore the role of their guest-facing employees in an increasingly competitive market. So what's the secret to enabling your people to provide top-tier service? Deliver consistent, high quality and standardized training to your workforce and boost performance in guest-facing employees.
Getting from here to there
Gone are the days when customers who had a question or complaint had two choices: write a letter, affix a stamp and mail their concern to company headquarters or call in to an operator. As we all know now, online chat, calling out a company on Twitter and email help tickets are just a few of the ways customer can grind their axes—or get the support they desperately need.
This new state of affairs costs most companies more than a little lost sleep. It turns out that as customers handle simple issues themselves, frontline service reps are in line for the hardest cases with the most complex problems. Customers aren't calling in to get their bill balance; they are calling or chatting because the cable company promised the second repair team would fix the problem and it didn't, for example.
Get ready to offer personalized, strategic learning
All customer service learning is not created equal. We have to move away from boring, one-size-fits-all course completion metrics. Our L&D teams need to innovate! When Yum! Brands offered strategic training, the organization boosted in-store hospitality scores by as much as 2.5 percent – a significant improvement.
Saba Software recently worked with Brandon Hall Group, an HR research and analysis firm, to conduct a study on the link between learning and performance. The study found that high-performing organizations are more likely to offer personalized learning to their people than other companies are.
L&D professionals realize that learning and performance management do not merely co-exist—they are dependent on one another. By thinking in terms of business results and focusing learning and development programs on definitive behaviors, skills or competencies, leaders can solidify the learning-performance connection to achieve business results that matter to the organization. Companies that successfully connect learning to performance are also far more likely to review L&D goals compared to corporate objectives (at least quarterly); link L&D objectives to departmental goals; and tie L&D objectives to individual performance reviews.

Personalized learning is tops
Your people want to grow their skills. As competition increases for amazing employees, more companies are creating learning environments that are relevant by designing personalized learning. This type of learning addresses what the employee needs to grow in their role and career. It's employee-centric but also stays aligned to the business goals of the organization.
Personalized learning in real life
Hyatt discerned that travelers expected unique but consistent experiences around the globe, no matter which Hyatt property they entered. Everything from the check-in and checkout process, to room service and restaurant experiences, had to deliver on the wants and needs of their customers.
So Hyatt delivers personalized learning to connect colleagues around shared content to better deliver service – by their role, where they work or as part of the broader Hyatt community. This means hundreds of possible combinations for the learner to see and experience training in a personalized fashion, tailored to their needs and preferred language.

Learning and development isn't a once-in-a-while activity. It's a business-critical priority for increasing performance, staying competitive and improving employee engagement. Regrettably, many learning systems are built for compliance-driven, annual training instead of a new world of development expectations. An organization can stand out by delivering top-notch L&D opportunities for guest-facing employees that will ultimately improve employee performance, leading to a better experience for both customers and employees.
About the Author
Hawley is head of Organizational Talent and Leadership Development at Saba Software. As the OD leader at a talent management provider, she has the unique opportunity to marry Saba's ongoing performance, continuous learning and career development strategies with the company's own cloud solutions and services. Hawley is responsible for global initiatives ranging from onboarding to performance management training and leader development, as well as Saba's people and team-driven development programs. Before her L&D leadership role, Hawley served as principal product manager at Halogen Software, prior to the company's acquisition by Saba in 2017. Nearly a decade of experience in working with hundreds of HR and learning leaders to translate their business and user needs into product capabilities has provided her with distinctive insight into her current role.