04/15/2018
7 Features Restaurants Should Look for in a KDS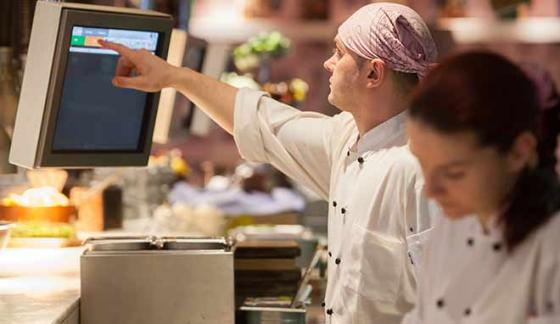 Purchasing a kitchen display system (KDS) can be a substantial investment for a restaurant. Although there are heaps of benefits to upgrading from paper tickets to kitchen automation, it is always smart to weigh out your options first. Not all kitchen display systems are created the same and many kitchen software lack features that can drastically improve the efficiency of your restaurant. To make it easier, QSR Automations put together a list of the 7 most important features to look for in a KDS.
1. Redundancy
The most valuable feature that you need to consider when purchasing a kitchen display system is redundancy. This means there is never a single point of failure for your kitchen, and will roll to a backup server to preserve your existing orders while you get the system back up and running. With 100 percent redundancy, you're assured your kitchen will never go down. Be sure to do your research about this feature, as some KDS claim to be completely redundant, but aren't. Be proactive in reaching out to third party resellers to get an unbiased synopsis of the best products here.
2. POS Integrations
Purchasing a new KDS shouldn't require you to get a new POS too. One of the most critical steps in picking out a KDS is making sure it integrates with your POS. As a matter of fact, you'll probably want to make sure that it has several POS integration options. That way, you'll have the flexibility to change your POS in the future and help protect your KDS investment.
3. Meal coursing
After a server rings in an order, a meal coursing feature allows you to send a group of items (entrees, appetizers, desserts, etc.) to the back of house all at once. Coursing managers will manage everything for you. You can set up rules as to when your KDS will display items in a meal, based on when they're supposed to get run to the table. You can base it on timing, item id, etc. This ensures you deliver each item when it should be, freshly prepared.
4. Basic routing to specific stations
The KDS will route food to the appropriate kitchen station: grill, pantry, fryer, etc. Routing makes sure that food items are moved in the right direction. This feature can be great for all restaurants, however, it is especially useful for restaurants with a large kitchen.
5. Delayed routing and meal pacing
This feature balances cook times and ensures that a table's items are ready at the same time. For example, if a two-top orders a grilled salmon fillet with a cook time of 12 minutes and well-done steak with a cook time of 20 minutes, the items will need to go on the grill at different times to guarantee that they are hot when they reach the diners. You can delay items with shorter cook times to make sure everything is fresh when brought to the customer. 
Managing cook times are important because management can see how many items are over/under their desired cook times both in real-time and through historical reporting on the KDS. This can help locate bottlenecks in the kitchen and improve efficiency.
6. Data
A reliable KDS will provide real-time and historical analytics so that you can make better business decisions. These analytics should provide actionable insight to ticket times, labor efficiencies and inefficiencies, menu reporting, ordering trends for both in-house and off-premise orders, etc.

This information is also important to provide a personalized customer experience. A smart KDS will provide you with information on customer buying and spending habits, dining frequency, style of dining preference (carryout, dine-in, or delivery), and more. Couple this with a front-of-house system that collects more granular contact info (name, email address, phone number, birthday, etc.) and you will have plenty of useful information for creating hyper-specific marketing campaigns.
7. Off-Premise Dining Capabilities
With off-premise dining demand on the rise, it is essential to find a KDS that can manage this type of traffic for you. One of the first considerations you'll want to make when launching an off-premise dining strategy is that in addition to the orders you'll be processing in-house, you'll also be taking in traffic from off-premise (online, mobile app, etc.). When a customer orders online, you want technology that provides a quote based on real-time activity in your kitchen. To do this, you'll need a KDS that offers capacity management and real-time order status updates. Essentially, capacity management weighs how busy your restaurant is so that off-premise customers receive a realistic quote time to either pick up their food or have it delivered.